My favorite detail in Helen Dealtry and Dan Barry's 1830 house in Claverack, New York: two delicate, oval-shaped pieces of honeycomb in a small pink bowl. When I moved the honeycomb into the light, in front of a window, for a shot, my hands came away sticky. Photographer Alison Engstrom and I had taken the morning train north, from New York to Hudson, to capture the couple's eclectic house and gardens; the honeycomb, they told me, was from their neighbor, a landscape designer who had designed their own back garden—with its small reflecting pool, gravel courtyard, and summer dining room—long before they came along. The house is full of unexpected moments like this: small works of art hung up high, almost to the ceiling; a dried, oversized leaf propped in a window; and outdoor guidebooks from the seventies.
Much of the house was in place when Dealtry and Barry found it online in the fall of 2016, before they moved up full-time from Brooklyn: The kitchen was painted dark, the entryway walls upholstered in burlap, and the original windows had been preserved. The previous owner, a creative director at a fashion line, had "also designed retail interiors, and had tons of artwork that he had collected during his time in London and Paris," says Dealtry, a painter herself. When he moved out, he left much of the antiques he'd collected in place; Dealtry and Barry bought the left-behind pieces; they added Dealtry's own watercolors and an eclectic mix of artwork, as well as finds that have been cast off by friends or, like the honeycomb, gifted by neighbors. (The day we were there, Barry was fixing up three cane-seat chairs given to the couple by friends: "They had them in their Brooklyn apartment, but didn't have room to keep them, so they gave them to us for free," Dealtry says.) Otherwise, much of the interior remains the same. "We have some projects we may do down the line, but love it as-is," they say.
Take a look inside (and take a tour of the gardens over on Gardenista).
Photography by Alison Engstrom for Remodelista.
Above: Dealtry and Barry, and the homeowner before them, preserved the home's original details.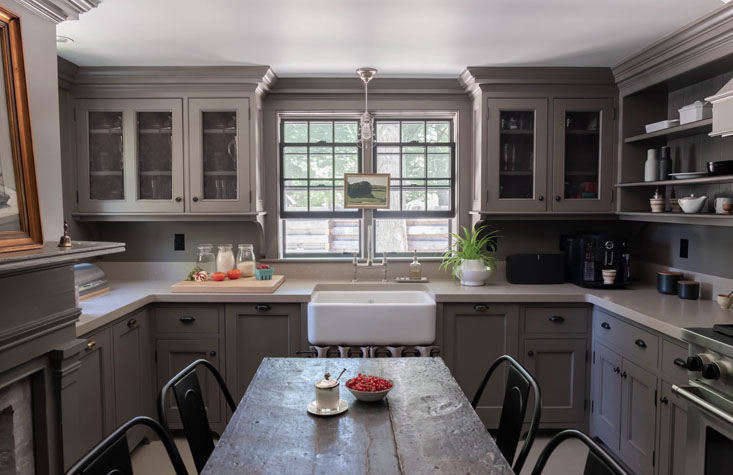 The ceramics are a mix of antiques, Ikea, and New York–based ceramicist Bailey Doesn't Bark. On the counter are small strawberries from Chatham Berry Farm ("our favorite local farm store," Dealtry says), and glass jars that hold dry goods and "full moon water," which Dealtry describes to me as having captured the spirit of the full moon, for watering favorite plants with.
Above L: The kitchen window looks out onto the garden. A wine fridge is concealed behind the cabinet fronts. Above R: An industrial sconce beside the stove, in place when the couple moved in.
Above: In the upstairs bathroom, Dealtry's watercolor nudes hang above an existing clawfoot bathtub.
More homes in and near Hudson:
You need to login or register to view and manage your bookmarks.