Here's a countertop that's billed as combining the best that nature and man have to offer. Engineered quartz, as it's known, is made of quartz and flexible resins, a combination that has
 the strength of granite counters—with better impact resistance and more forgiving installation options. When Remodelista's Izabella Simmons remodeled her kitchen, she liked the look of marble but opted for engineered quartz countertop on her island. After two years of hard use by her young family, Izabella reports, "It still looks like new."  Too good to be true? Here's what we've learned.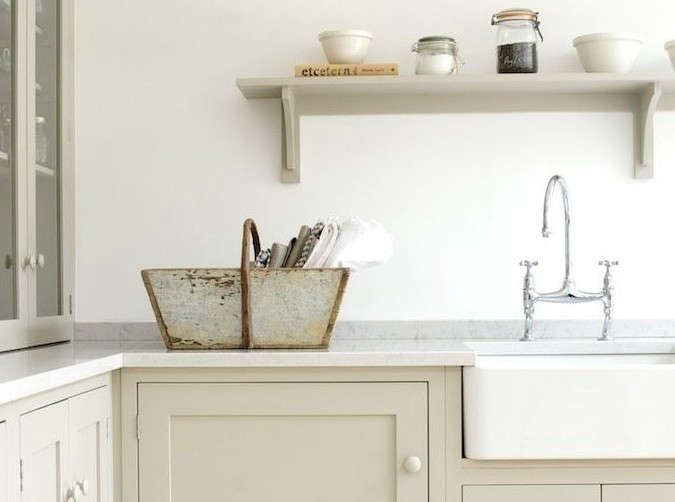 Above: This 
Shaker-Inspired Kitchen in London
 has engineered quartz counters with a marble look, 
Silestone in Lagoon
. Photograph courtesy of 
deVOL Kitchens
.
1. What is engineered quartz?
Engineered quartz (not to be confused with Quartzite, another appealing natural stone used as counters) is a manmade product created mostly from natural materials. It's made of 90 to 94 percent ground quartz and 6 to 10 percent resins and pigments that are combined into durable and nonporous slabs. The strength of quartz, even in a manufactured form, makes it naturally resistant to abrasion, scratches, dents, and even acids without the need for sealants. And the environmental impact of manufactured quartz is low: Quartz is an abundant material and the finished product is nontoxic and nonallergenic, and will last a lifetime, reducing the need for replacement.
Unlike solid-surface, Corian-type manufactured countertops, engineered quartz is not made to order. The product, like natural stone, is created in slabs of set sizes and thicknesses that vary by manufacturer. Caesarstone, for example, offers one slab size (56.5 inches by 120 inches) and two thickness options (0.75 inches and 1.25 inches). The slabs are fabricated to fit your project's requirements (size, shape, and edge profile), and are installed in pieces.
2. What colors and other options does engineered quartz come in?
One of the appealing features of engineered quartz is its wide variety of colors, patterns, and textures. And the range is continuously expanding, spurred on by competition between brands. Note that the color and texture of engineered quartz are more consistent than natural stone—to some this uniformity is an appealing feature and to others it's a drawback.
Colors: The palette leans toward natural shades, but ranges from bright whites (one of the most popular options) to reds and blacks.
Above: Honed white engineered quartz countertops in a UK kitchen by Jamie Blake of Blakes London, a member of the Remodelista Architect/Designer Directory. "There's a big trend at the moment to use lighter worktops instead of the darker granites," Blake says. "This has created a huge opening for products, such as quartzes, that come in light colors."  Photograph courtesy of Blakes London.
Patterning
The surface of manufactured quartz depends on how the quartz is ground: Coarsely ground stone produces a flecked appearance, while finely ground has a smooth look. Manufacturers have also created colors and patterns that mimic natural stone, such as marble and granite, and have even created cement lookalikes (an appealing option, since cement itself is prone to cracking, chipping, and staining).
Above L to R: Three color options for Caesarstone: Belgian Moon, Cement, and London Grey.
Finishes
The options include polished, honed/matte, and textured surfaces.
Above: In a kitchen by Mark Reilly Architecture—winner of a Remodelista 2013 Considered Design Award—the countertops are made of honed Caesarstone in Pebble. To add heft, the architect introduced a 1 1/2-inch mitered edge on the front face of the counters. Photograph courtesy of Mark Reilly Architecture.
3. Are there different brands of engineered quartz countertops?
Silestone and Caesarstone are the best known, but other brands, including Cambria, Celador, LG Viatera, and Zodiaq from DuPont (creators of Corian) are making their mark. These companies use words and color tones to try to differentiate their brands, but the reality is that their products are more alike than different. They all offer good warranties (the finer details will vary) and have similar price points and product features. The choice usually comes down to availability and color options.
Above: In a Park Slope kitchen addition, architecture firm Khanna Schultz, a member of the Remodelista Architect/Designer Directory, used Walker Zanger Pietra Cucina engineered quartz countertops (this line has been discontinued but rumor has it that Walker Zanger is introducing a new engineered quartz countertop line). "Engineered countertops are great options for durability," says architect Robert Schultz, "and there's a consistent, quality-controlled supply." Photograph by Antoine Bootz, courtesy of Khanna Schultz.
Above: New York architect Lauren Rubin's go-to brands for engineered quartz are Caeserstone and Celador. "They both grind their stones very fine to create a pure color," says Rubin. "I've used many colors, including deep browns, grays, and whites. I change the thicknesses and the finishes for different applications." In this New York apartment renovation, Rubin used Caeserstone Espresso. See the whole project in Weekend Spotlight: Combining Two New York Studio Apartments. Photograph by Alyssa Kirsten, courtesy of Lauren Rubin.
4. Where can engineered quartz be used?
Engineered quartz is hard, dense, nonporous, nonabrasive, and nonreactive to acids—attributes that make it perfect for use as countertops, backsplashes, walls, and even floors. Keep in mind that, like natural stone, it's heavy. And it's not recommended for use outside because the resins aren't UV stable (warranties are voided for outdoor applications). In terms of heat resistance, the material is reportedly not affected by temperatures lower than 300 degrees Fahrenheit. That said, it shouldn't be used as flooring over radiant heat because of possible damage from long-term exposure to heat.
Above: Silestone offers a one-piece seamless sink made of the same engineered quartz used for the company's countertops. The Integrity One Piece Sink is available in single and double models.
5. What about cleaning and maintenance?
Engineered quartz countertops are easy to clean and maintain. Warm water and soap are recommend for day-to-day cleaning. For a stubborn spill, you can use a nonabrasive cleaner such as Soft Scrub. The polished finish will stay intact with no need for ongoing maintenance other than avoiding abrasive cleaners that could dull the surface. Note that honed surfaces show more fingerprints and other signs of use than other finishes and require more frequent cleaning.
Above: Silestone Lyra engineered quartz looks like marble but is far more forgiving. Unlike marble, engineered quartz is nonporous and doesn't require sealing.
6. How much do engineered quartz countertops cost?
Slightly more affordable than premium natural stone and comparable to medium-range granite, engineered quartz generally costs between $70 and $120 per square foot installed. Price variations depend on color choice, configurations, and your location. And, as with natural stone, don't overlook the availability of remnants. That's exactly what Remodelista's Izabella Simmons did for her bathroom countertops and backsplash: "I paid half the price ($40 per square foot) for Silestone, since I was able to find leftover pieces from someone else's project," she says. "It's always a good idea to check out the scrapyard."
Above: Solid white engineered quartz, such as Caesarstone's Pure White and Silestone's White Zeus Extreme, trumps marble for its stain resistance and beats out Corian in heat resistance. In this San Francisco kitchen by Jute, a member of the Remodelista Architect/Designer Directory, Caesarstone counters are paired with custom marble tiles. See Rehab Diary: A Small-Kitchen Makeover with Maximum Storage to tour the full project. Photograph by Drew Kelly, courtesy of Jute.
7. Engineered Quartz Countertop Recap
Pros
Consistent in color and texture.
Stain-, scratch-, and acid-abrasion resistant.
Does not require sealing.
Won't chip and or crack (thanks to resins).
Resistant to bacteria growth.
Comes with long warranties.
Cons
Lacks variations in patterning and veining.
Installed in slabs, so seams are visible.
Not as heat resistant as stone; trivet use is a must.
Not recommended for outdoor use.
Should not be used as flooring over radiant heat.
For more on kitchen countertops, see the following posts.
Finally, get more ideas on how to evaluate and choose your kitchen countertop in our Remodeling 101 Guide: Kitchen Countertops.
N.B.: This post is an update; the original story ran on August 21, 2014.
(Visited 6,666 times, 8 visits today)
Frequently asked questions
What are engineered quartz countertops?
Engineered quartz countertops are made of crushed quartz that is combined with resin and other materials to form a durable and non-porous surface for kitchens and bathrooms.
What are the benefits of engineered quartz countertops?
Engineered quartz countertops are low maintenance, resistant to stains and scratches, and come in a wide variety of colors and patterns to fit any design style. They are also heat resistant and easy to clean.
Are engineered quartz countertops more expensive than other countertop materials?
Engineered quartz countertops can be more expensive than some other materials, such as laminate or tile, but they are often less expensive than natural stone like granite or marble. The price can vary depending on the brand and the complexity of the installation.
Can you cut directly on engineered quartz countertops?
While engineered quartz countertops are resistant to scratches, it is not recommended to cut directly on them as this can dull your knives. Always use a cutting board to protect your countertops.
Can you put hot pots and pans on engineered quartz countertops?
Engineered quartz countertops are heat resistant, but it is still recommended to use trivets or pot holders to avoid any possible damage to the surface.
Are engineered quartz countertops eco-friendly?
Engineered quartz countertops are not considered eco-friendly as they are made from non-renewable resources and the manufacturing process can be energy-intensive. However, some brands have made efforts to reduce their environmental impact through the use of recycled materials and sustainable manufacturing practices.