LA phenom Leigh Herzig is a self-taught designer-builder who gets things done well and within budget. After masterminding the nicest looking spec house we've ever seen—yes, she designed it from the ground up—she teamed up with LA architecture firm Standard to work on two new construction houses. We asked her to fill us in on her discoveries about bang-for-the-buck building materials and finishes.
1. Pave the way with gravel.
My go-to material for driveways and landscaping, gravel is inexpensive, looks great, and is green because it absorbs rainwater back into the soil. On driveways I insert a honeycomb sheet called EZ Roll Gravel Pavers under the gravel and it provides more support—it feels like you're walking on firm hardscape instead of loose stones.
Above: Herzig paired poured concrete with gravel dividers in the Palladian pool area of her first spec adventure, a 4,000-square-foot West Hollywood house: See Hollywood Tale. Learn all about gravel and edging on Gardenista. Photograph by Laure Joliet.
2. Get the look of steel with wooden windows and doors. 
Old factory-style steel-frame designs are so popular right now—and so expensive. I discovered that you can custom make your wood doors and windows to resemble steel. It's all about the proportions: You want the mullions that divide the glass and the frame around the door or window as thin as possible. The mullions on the doors shown below, for example, are 5/8-inches thick; they're also square instead of the more traditional ogee profile, which further helps mimic the look of steel. I eliminated the vertical mullion of each window pane to get the right ratio of glass to wood. And I finished the windows by painting the frames black eggshell.
You can get this look by working with any custom wood window manufacturer; I used a local LA company Kobi Windows. The results give the overall feel of steel doors and windows, but not an identical look—they wouldn't be mistaken for steel on close inspection, but they can be really effective in the context of a room.
Above: Proportioning and a black finish lend these wood-frame windows and doors in Leigh Herzig's spec house the look of steel. Photograph by Laure Joliet.
3. Discover brick veneer.
I love glazed brick tiles, such as Fireclay tile and Waterworks' Grove Brickworks, but they're costly. An alternative I've discovered is to apply inexpensive brick veneer tile and paint it with a high-gloss durable paint. It's an economical, DIY way to get the look and can be used both indoors and out. Pre-glazed brick tile is about $18 per square foot; unfinished brick tile is about $4 per square foot.
Above: Painted brick veneer is an affordable way to get the look of glazed tile for less. Leigh used it here in an LA house that she remodeled and flipped.
4. Consider polished concrete flooring.
Concrete is an inexpensive, incredibly durable choice: You can just polish the poured concrete foundation itself. The results are easy to maintain and they look amazing. I haven't seen a colored concrete floor I like; I'm into the natural gray, grayish white, and dark gray to black colors. True, concrete isn't the easiest material to stand on for long stretches, but it pairs well with throw rugs.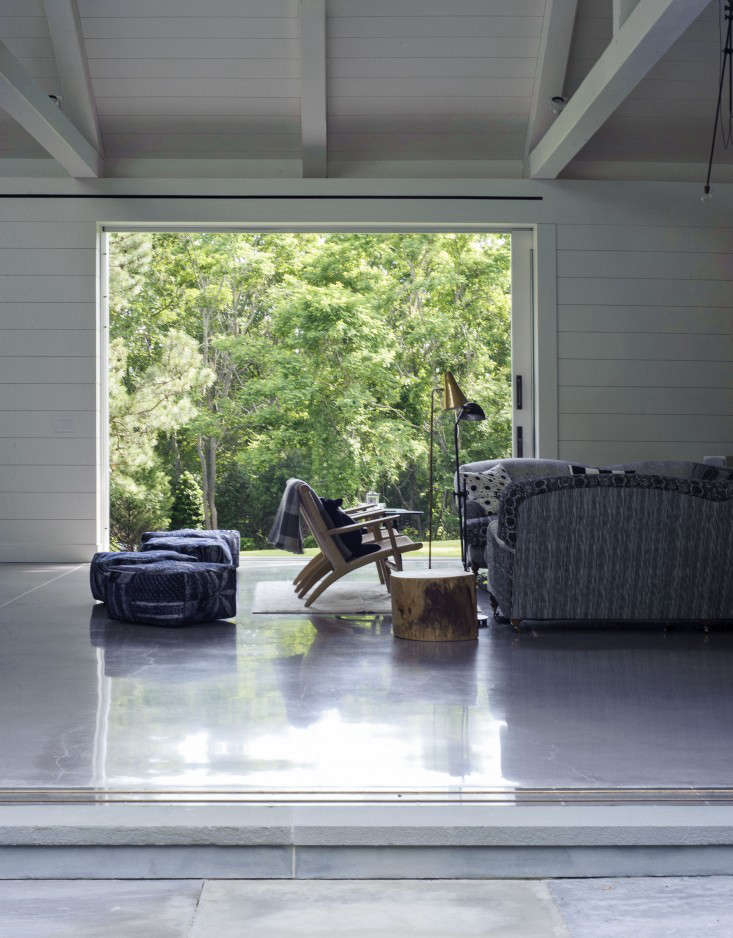 Above: Diamond-polished concrete floors in Tiina Laakonen's Amagansett, New York, living room. See more of the house in Rhapsody in Blue: A Finnish Stylist at Home in the Hamptons. Photograph by Matthew Williams for Remodelista.
5. Create wall texture with plaster.
Plaster walls have a luminous, natural quality to them: They appear to move as the sun passes through, allowing the rooms to breathe with light. But as beautiful as they are, they're costly to install, costly to repair, and tricky to fit into a construction schedule. In my spec house, I splurged on Venetian stucco in the public rooms and used matte paint upstairs to mimic the look of plaster.
A fellow builder, Mark Henkel, recently introduced me to a problem-solving alternative, Silk Plaster by John Kingsmill, that I hope will become my go-to. Technically it's not a plaster because it's acrylic based, but like plaster it's troweled on and it looks and feels almost identical—for about half the cost. It's spot repairable, so nicks and scratches are easily fixed without having to redo the entire wall. Also there's flexibility in how it can be applied, which is so important when you're managing several trades at once and on a tight schedule.
Above: A Venetian plaster wall in the front hall of Leigh's spec house. Photograph by Laure Joliet.
About to build or remodel? Get more Expert Advice.
(Visited 51 times, 1 visits today)