If you've stayed at the Ace Hotel of Shoreditch, London, with interiors by Edward Barber and Jay Osgerby of Universal Design Studio, you're probably still reminiscing about the effortless cool of your surroundings. Barber and Osgerby, along with the Ace Hotel team, extended the laid-back Pacific Northwest vibe of the original Ace to the UK location, with a few updates: indigo patchwork, perforated metal storage cabinets, a custom raw denim headboard, and chalky black ceilings.
Ready to move in permanently? Re-create the look with the following elements.
Above: The rooms are set up for living as well as sleeping. The floors are finished in low-pile carpeting from UK company Brockway.
Above: A few carefully placed industrial elements keep the look subtle throughout the hotel. Note the handy headboard pocket for the remote.
Above: The Peterson Sofa by District Eight Design has a reclaimed hardwood frame with cast-iron adjustable feet and cream cushions; £2,950 ($4,537) from Such & Such. Another option? Pull out the power tools for a DIY: Instant Built-In Day Bed.
Above: Simple Burlap Throw Pillows in a deep mustard yellow are available in a 20-by-20-inch square (shown) and a rectangular lumbar size; $67.95 each through Zazzle.
Above: Bedroom quilts were custom made by A.P.C. using denim and fabric scraps from past collections; a limited number are available from A.P.C. in London. The Atlantic Pillow is hand-stitched in royal blue over a padded lining and is $125 at A.P.C.; read more about the quilt project in our previous post, Piecing Together an A.P.C. Quilt.
Above: From Normann Copenhagen, the Kabino Sideboard is made of perforated gray steel and ash (and is also available in white steel); $1,050. Alternatively, Strong-Hold Ventilated Storage Cabinets are $1,132 from Custom Equipment Company.
Above: From Original BTC of England, the BB1 Aluminum Pendant is spun aluminum and ceramic, and comes with 60 inches of black and white cloth cord; $395 from Horne.
Above: The Parker Mid-Century Round Dining Table is made of FSC-certified eucalyptus with a walnut veneer top; $599 from West Elm.
Above: Saarinen's Executive Armchair with steel legs and a bouclé or Rivington fabric upholstery is currently $1,320 (marked down from $1,553) at Design Within Reach.
Above: Farrow & Ball's Studio Green paint in an Estate Emulsion finish gives ceilings a chalky matte look; $97 for a gallon.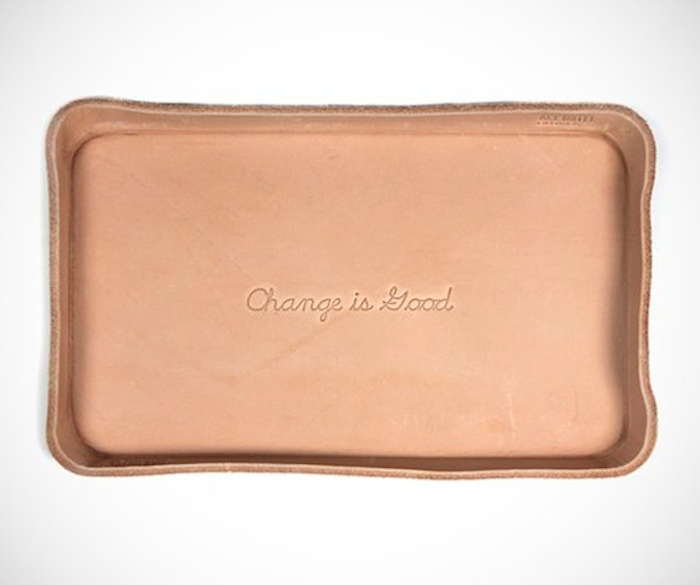 Above: Available at the Ace Hotel shop, the Ace Hotel x Billykirk "Change Is Good" Tray is made of vegetable-tanned leather that's molded and hand-stitched. Used at Ace Hotel in New York at the front desk, the trays also work well on a nightstand; $35.
Above: The Lampe Gras Model 304 Sconce Lamp has a cast steel body with a chrome (shown) or black or white powder-coated finish for $360 from Design Within Reach.
Above: DIY a fabric-covered headboard (including a pocket) like the Ace does using Vintage Selvedge Denim Fabric sourced on Etsy; $75 for two yards from Antique Jewelry Supply (find more by searching for denim fabric).
Above: For an Ace sleeping experience at home, the Suite Sleep x Ace Hotel Mattress is made of 100 percent natural latex rubber with wool batting and an organic cotton cover. Prices start at $1,749 for the twin mattress through Suite Sleep.
Above: Margaret Pritchard's wool Signal Blanket is designed on a dobby loom in London and woven at a traditional mill in Wales. It's shown here in midnight blue and white with an olive hem; £240 ($369.57). See more of the line in Material Girl: Margaret Pritchard Has a Way with Wool.
This isn't the first time we've wanted to re-create the look of an Ace Hotel room. See:
Did you know there's an Ace Hotel in Panama City? Take a look at Design News: Ace Hotel Turns Tropical on Gardenista.
This post is an update. It originally ran on September 17, 2013, as part of our London Design issue.
(Visited 307 times, 7 visits today)