Our friends at the Ace Hotel recently let us know that they're offering an array of their genius bathroom products for sale on their website (which is good news, since we always seem to gravitate to their bathroom design). Take a look at the Ace baths in DTLA, with interiors by Commune, and copy away.
Photography by Laure Joliet for Remodelista (except where noted).
Above: The black and white palette of the bath is reminiscent of the early days of cinema (note the thumbnail photo of Louise Brooks reflected in the mirror). Photograph by Spencer Lowell, courtesy of the Ace Hotel.
Above: Commune used metal factory windows to delineate the bathrooms from the bedrooms.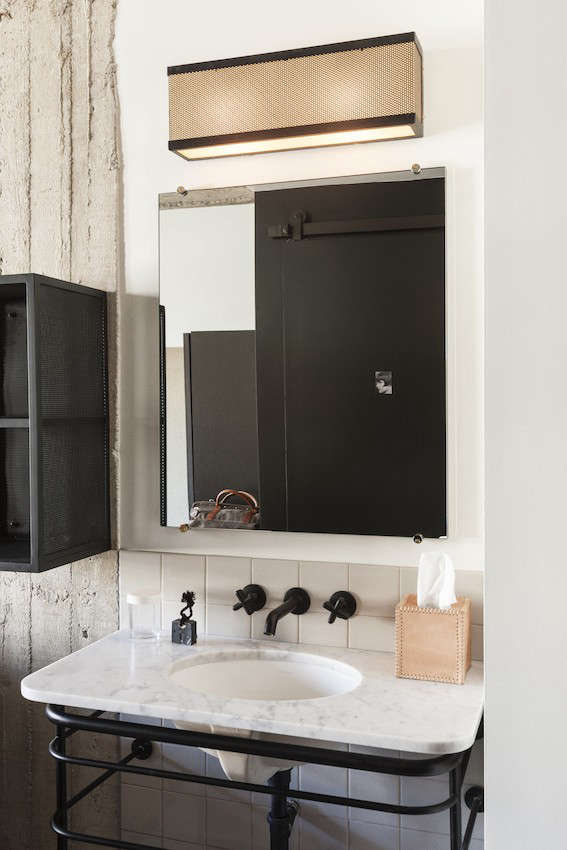 Above: Exposed concrete walls keep the space from looking too "done." And note the sliding barn door as room divider; for ideas, go to Architectural Elements: Sliding Barn Doors. Photograph by Spencer Lowell, courtesy of the Ace Hotel.
Above: A toilet paper roll hangs on a rope made of braided saddle leather.
Above: The Robert Abbey Bradley Bronze Wall Sconce measures 15.25 inches wide and can be hung vertically or horizontally; $376.05 from Lamps Plus.
Above: Duravit's Happy D Washbasin Console is a modern classic; $613.46 from Quality Bath.
Above: Dornbracht's Wall-Mounted Basin Mixer in matte black is $1,213.65 on Amazon. Update: A reader clued us in to a lower-priced option: California Faucet's Tiburon Vessel Lavatory Wall Faucet, $494.25 at Quality Bath (it's available in an array of finishes, including matte black).
Above: Pearl+ Detox Soaps, handmade in Portland, Oregon, contain crushed natural pearl, charcoal powder, and a blend of oils; a Pearl + Detox Soap Bar is $8 for the small, $16 for the large.
Above: Simplify your bathing routing with a trio of products developed for Davines for Rudy's Barbershop: a 16 oz bottle of #1 Shampoo is $20, a 16 oz bottle of #2 Conditioner is $24, and a 16 oz bottle of #3 Body Wash is $20.
Above: A wall-mounted Shower Caddy pairs with Rudy's Barbershop products; $75 for triple at the Ace Hotel.
Above: Designed by Commune for the Ace Hotel LA, the the Toilet Paper Box is made of stitched saddle leather for $74 at the Ace Hotel shop.
Above: Did you notice the thumbnail photo of Louise Brooks reflected in the bath mirror? For something similar, consider the porcelain Louise Brooks Tile Coaster; $10.99 from Cafe Press.
Remodelista's Steal This Look column runs every Tuesday. Have a look at our past Steal This Look stories, including A Black and White Bathroom with a Gothic Edge and our previous Ace Hotel Bath.
N.B.: This post is an update; the original story ran on January 14, 2014.
You need to login or register to view and manage your bookmarks.