Here we go again: another Ace Hotel for the design world to obsess over (remember the flurry when the Roman & Williams-designed Ace opened in NYC?). The new buzz-generating Shoreditch outpost features the chain's signature Pacific Northwest grunge-industrial vibe (turntables included). Stay tuned: tomorrow we'll be deconstructing one of the bedrooms in our Steal This Look department.
Located in the overhauled former Crowne Plaza, the interiors have been transformed by Edward Barber and Jay Osgerby of Universal Design Studio (their offices are two blocks away). And as with his other Ace outposts, founder Alex Calderwood is keeping it local: Much of the furniture is from UK companies Benchmark and Ercol and the carpets come from family-run company Brockway. On the premises: Hattie Fox's That Flower Shop, a juice bar from Lovage, a coffee shop from Square Mile Coffee Roasters, and still to come, Hoi Polloi, a restaurant and bar from the team behind hot spot Bistrotheque.
Go to Ace Hotel Shoreditch for more information. Unless otherwise noted, all photos via Ace Hotel.
Above: The Ace team commissioned lighting made from vintage parts from French company Wo & Wé.
Above: For furniture, the team turned to West Berkshire-based Benchmark and Ercol; photo via Monocle.
Above: Rooms feature wall murals and installations by Ace artist-in-residence Johnne Eschleman; photo via Monocle.
Above: The hotel's interiors hew to a moody palette of blacks, dark grays, neutrals, with a dash of teal here and there.
Above: A simple schoolroom-like seating area.
Above: Bedrooms feature quilts from French company APC made from denim and fabric scraps.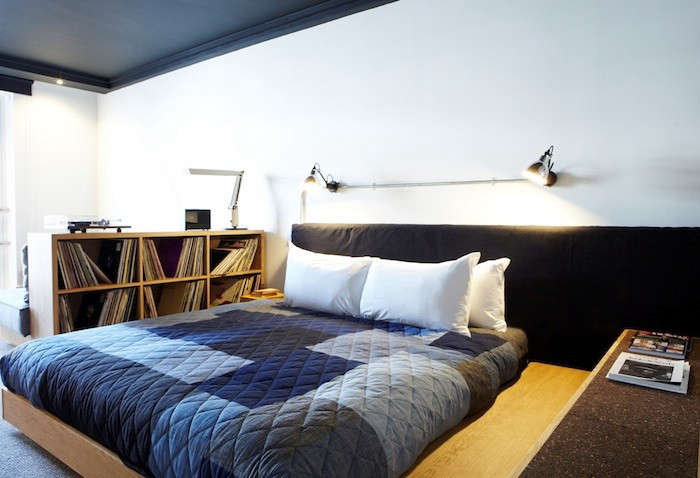 Above: A bedroom with its own vinyl collection.
Above: Turntables are by British audio company Rega.
Above: Fabric upholstered headboards with convenient storage pockets.
Above: Enamel tumblers from nearby shop Labour & Wait.
Above: Another lighting installation by French company Wo & Wé.
Above: Wall-mounted clipboards display hotel literature.
Above: Bathrobes from Wings + Horns can be purchased from the hotel's shop.
Above: The white-tiled baths have a minimalist vibe.
Take a tour of the Ace Hotel via our past posts (we've visited, and loved, them all):
You need to login or register to view and manage your bookmarks.