We're not carpenters here at Remodelista, but we tackled each of these DIYs ourselves in response to a niggling problem, such as a front-entry shoe pileup, ugly electrical cords, and cheap-looking lamp detailing. Take notes from us: Here are the top 10 projects from our Remodelista Weekend Project Hall of Fame.
1. Make a Headboard
Above: Like Alexa, have you been sleeping in an unfinished bed? She finally moved her mattress off the ground and created the perfect finished look for it–see DIY: The Three-Step Headboard.
2. Tackle Your Cord Tangle
Above: And to remedy the ugly cord issue in her apartment, Alexa strung her own Beaded Extension Cords.
3. Create a Rolling Mud Room
Above: After tripping over their shoes for too long, Dalilah and her boyfriend built this DIY: Shoe Rack Perfect for a Narrow Entry.
4. Turn Rope into a Doormat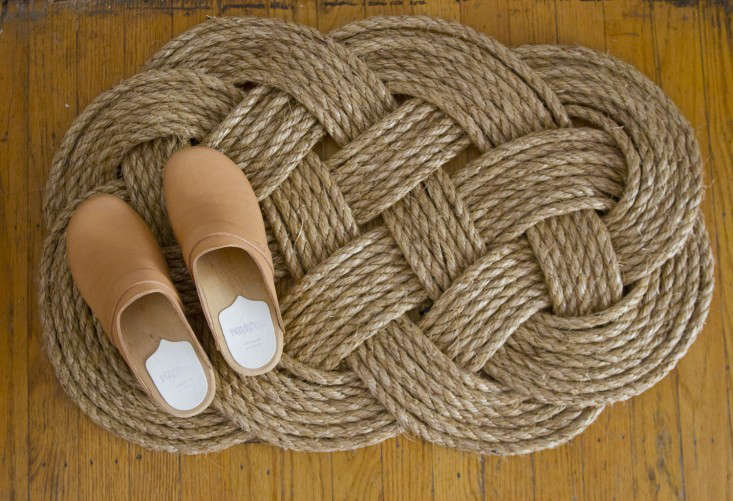 Above: Erin admits that wrestling rope into a DIY Woven Doormat was no mean feat–but she did it. And her results as so impressive that we're all ready to give it a try (or to get her to make one for us).
5. Tie Your Own Shower Curtain Rings
Above: Sarah puts leather lace to all sorts of uses, from napkin ties to Shower Curtain Rings (to replace the plastic ones in her guest bath). Read her 10 Tips for How to Transform a Rental Bath and see the rest of her house in Sarah's Refined Rental.
6. Rig Your Own Utility Closet
Above: Myles and his wife were "stoked" to finally have their own washing machine and dryer, but they didn't want to look at it–so he built the $65 Laundry Closet, Renter's Edition.
7. Upgrade an Old Dresser with Braided Pulls
Above: After our slew of posts on leather pulls (including a DIY video), Erin surprised us with her own version: see The Homemade Changing Table with $1.25 Pulls.
8. Use Color to Remedy a Rental Kitchen
Above: In her Small Kitchen Makeover, Meredith, our resident paint expert, made the eyesore faux mahogany cabinets almost disappear against a new gray palette.
8. Transform Pendant Lights with Paint
Above: Izabella liked the look (and price) of her West Elm dining room lights, but not their white plastic cords and silvery hardware. She remedied all in DIY: The $7 Pendant Light Redo with Brass Paint.
9. Roller-Pattern a Room
Above: After seeing the price of the wallpaper that she wanted for her daughter's room, Justine took matters into her own hands with an Economical Wallpaper Alternative.
We have many more Weekend Project Ideas, including:
You need to login or register to view and manage your bookmarks.