John Lee and Masha Bogdanova bought their first house, a three-story Victorian in Toronto, knowing that it was in need of major repair. Armed with a modest budget and an architecture degree each, they poured love and money into the neglected former rental: They rewired the entire house, replaced the windows, and gutted an entire floor. They also rehabbed one particularly unsightly bathroom that had been the victim of a 1980s-era remodel and was in bad shape.
The couple couldn't afford to expand the five-by-seven-foot bathroom, but they established an initial $5,000 budget to brighten it up. They kept costs down by using basic white subway tile and hanging a long linen shower curtain instead of installing a glassed-in shower. In the end, they succumbed to some pricey extras: "We wanted it to feel like a gem in our simple house, so we splurged on marble mosaic tile, heated floors, and quality fixtures," says Lee. Still, they didn't go over budget much: The total tally came to $5,500. Take a look at the difference.
Photography by Tiffany Chiang. 
After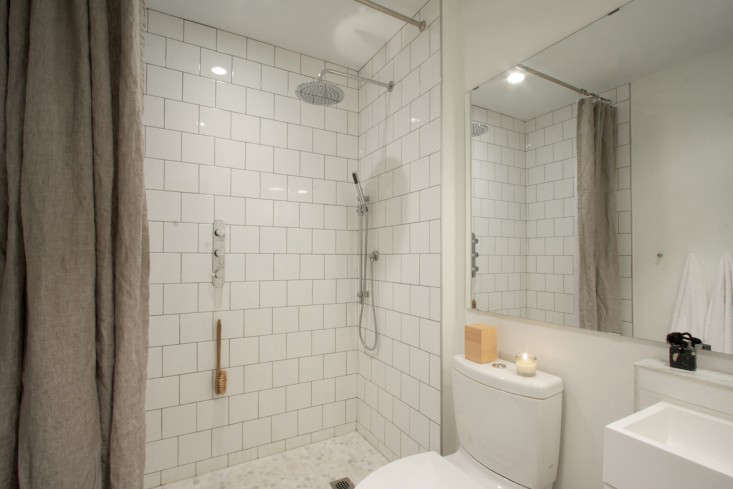 Above: Lee and Bogdanova established an all-white palette to brighten up the small space, and hung a wall-width mirror to give the illusion of depth. They installed the mirror and wall hooks themselves, but hired contractors to do the bulk of the work.
This, says Lee, is where people often underestimate costs: "It's easy to get caught up with the supply side, because it's definitely the more glamorous and fun-to-research part." He emphasizes factoring in realistic labor costs. See "Remodeling Reality" in the Remodelista book for advice on how to predict expenses and set a budget.
Above: The couple no longer feels claustrophobic in their bathroom. Their only regret is that they failed to add enough storage space–"but elegant storage solutions, like niches and medicine cabinets, tend to be expensive or space-hungry, so we've learned to live with it."
Before
Above: Lee says that, as was, the bathroom was not only badly designed but also badly kept: "It gave us the heebie-jeebies." 
Above: A full bathtub made the already small space feel smaller.
Looking for more Reader Rehabs? See Danielle's DIY Kitchen Remodel for Under $500, Rental Rehab: Small Kitchen Makeover, and Reader Rehab: A Photographer's Kitchen in London. 
You need to login or register to view and manage your bookmarks.