It's a given: the kitchen is the hardest-to-love room in a rental. Most feature a mix of the cheapest materials available chosen for all the wrong reasons. And while certain landlord-installed details, such as cabinets and counters, are not up for modification, it's still possible to make the place your own. My philosophy? Accept the things you cannot change and change the things you can. Luckily, paint is cheap.
My San Francisco apartment kitchen came with an unappealing combination of greenish-blue walls and faux mahogany kitchen cabinets. I immediately envisioned painting the cabinets–but backed down for fear of a damage fee when I move out. Instead, I decided to make the cabinets go away, or at least recede, by painting the walls dark gray. 
Above: My faux-mahogany cabinets are here to stay, so I painted the walls in Benjamin Moore's Galveston Gray, which makes the cabinets much less prominent. 

Above: Suddenly my collection of Heath ceramics is enobled against the moody gray backdrop. My grandmother's copper kettle anchors the arrangement.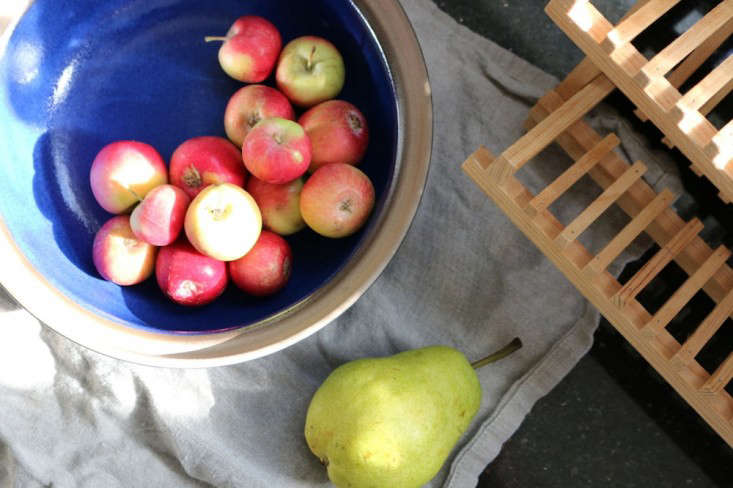 Above: A few of my favorite things go a long way to upgrading my kitchen: a Heath Covered Serving Dish in Moonstone, a tea towel from Enormous Champion, and a $9 Ikea Magasin dish drainer.
Above: In lieu of a curtain, a Studiopatró tea towel shades the morning sun.
Above: Miniature glass bowls that I use to mix spices live on the windowsill, refracting light.
Above: I've had this Ikea Fira wood cabinet for years; it's held everything from office supplies to sewing notions to spices. I painted it in Benjamin Moore's Iron Mountain, which pairs well with my walls and a Heath bowl in French Gray.
Above: I keep kitchen essentials within reach; on the wall above the sink are napkins from Fog Linen, a bird's eye maple cutting board by woodworker Edward Wohl, and my favorite serving spoon from David Mellor's Pride collection–all hung from oversized nails.
BEFORE
Above: A before shot showing my kitchen's original blue-green walls, which accentuated the glaring orange cabinets.
Above: Painting helped me prioritize what's kept on view and what's behind closed doors. Here, a before shot showing my formerly haphazard open shelves.
Have you upgraded your own rental kitchen? Tell us your war stories and post photos in the comments section below.
Iron Mountain is one of our Architects' 10 Gray Paint Picks. Explore more palettes in 10 Moody Paint Picks and 10 Happiness-Inducing Paint Colors. 
Want to see a complete rental kitchen overhaul that didn't involve permanently changing a single detail? See Sarah's ingenious counters-to-floors solution on pages 222-225 of Remodelista, A Manual for the Considered Home.
(Visited 38 times, 1 visits today)