"A cast iron skillet and a camera" is Beth Kirby's moniker. But that only begins to touch upon what she does in her kitchen. Out of her decade-old, "generic little house built by a builder," in North Chattanooga, Tennessee, Beth works as photographer, stylist, writer, recipe developer, teacher, and blogger (see Local Milk). She needed a kitchen to match her tall job description but had no idea who could deliver all that she envisioned. Then Beth came across one of our posts about Percy Bright and Tara Mangini of Jersey Ice Cream Co., a full-service, design/construction team, and knew she had found her answer.
Many emails and shared pinboards later–thanks to her photography, Beth is a Pinterest and Instagram sensation–she summoned them to Chattanooga. Vagabonds who go where their work is, the couple rented an Airbnb place nearby, and, in a matter of a month, the total transformation was complete: Beth's new kitchen is ready for its close-ups.
Photography by Beth Kirby.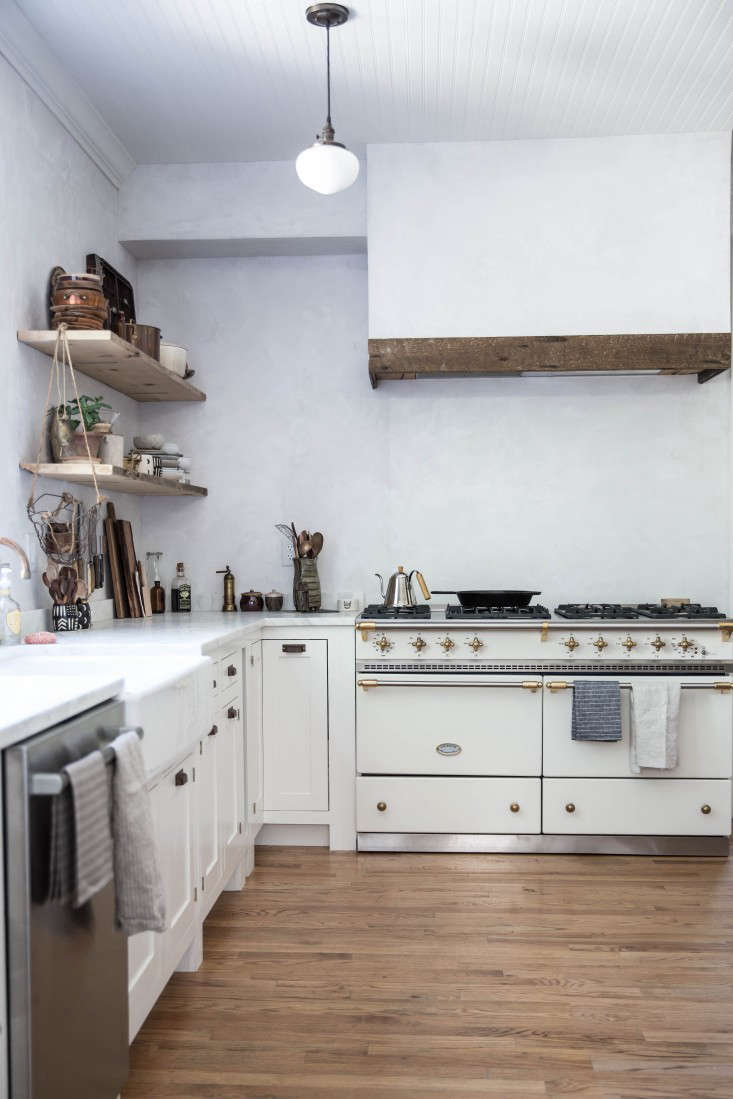 Above: "The kitchen is always the heart of the home, but for Beth it's the heart of her everything. So we really wanted to hit this one out of the park," Tara says. "The space needed to have a sense of warmth but also be clean and very usable." The state-of-the-art range is a Lacanche Sully from France in ivory.
Above: The room is set up to offer Beth a range of work surfaces and places to maneuver with her camera. It has enough space that she can hold classes and demonstrations; eating takes place in the dining room next door.
Prior to Jersey Ice Cream Co.'s arrival, Beth struck a deal with a relative of a relative: In exchange for removing the existing cabinets and stove, he could keep them, "and so nothing was just tossed," says Beth. At Percy and Tara's suggestion, the framework for the lower cabinets was preserved, and they used that as their skeleton. For budget reasons, the existing floor and fridge were also left in place, as was the dishwasher (but Beth ended up succumbing to a "virtually silent" Bosch). Just about everything else is Percy and Tara's own work, including the cabinet fronts, the island, and the Venetian plastered walls. Even the range hood is Venetian plastered. Self-taught design and construction savants who got their start remodeling Percy's former house in Philadelphia, the two are able to tackle just about any task. As Tara tells us, "We don't like to hire outside help because they almost never meet our standards."
Above: Beth's wood-handled Pour-Over Kettle is from the Old Faithful Shop, in Vancouver, and her dish towels are by Fog Linen. She was able to buy her range at cost because Lacanche was well aware it would play a starring role in her photos and the cookbook that she's working on: "My Lacanche range is basically a child to me," Beth informed her Instagram followers. "I don't think anything other than the custom Venetian-plastered hood Percy made could have done it justice."
Above: Built from scrap wood, the worktable is topped with the same honed Calacatta Velluto marble as the counters. Beth traveled to Walker Zanger, in Atlanta, to pick it out: "She knew she wanted marble. That was the first piece of the puzzle," says Tara. "We'd never worked with it before, and now we're obsessed." Beth adds: "With marble, you have to know what you're in for. It's not for Type A's. You have to decide that you want the story of your cooking etched in your counter."