"A cast iron skillet and a camera" is Beth Kirby's moniker. But that only begins to touch upon what she does in her kitchen. Out of her decade-old, "generic little house built by a builder," in North Chattanooga, Tennessee, Beth works as photographer, stylist, writer, recipe developer, teacher, and blogger (see Local Milk). She needed a kitchen to match her tall job description but had no idea who could deliver all that she envisioned. Then Beth came across one of our posts about Percy Bright and Tara Mangini of Jersey Ice Cream Co., a full-service, design/construction team, and knew she had found her answer.
Many emails and shared pinboards later–thanks to her photography, Beth is a Pinterest and Instagram sensation–she summoned them to Chattanooga. Vagabonds who go where their work is, the couple rented an Airbnb place nearby, and, in a matter of a month, the total transformation was complete: Beth's new kitchen is ready for its close-ups.
Photography by Beth Kirby.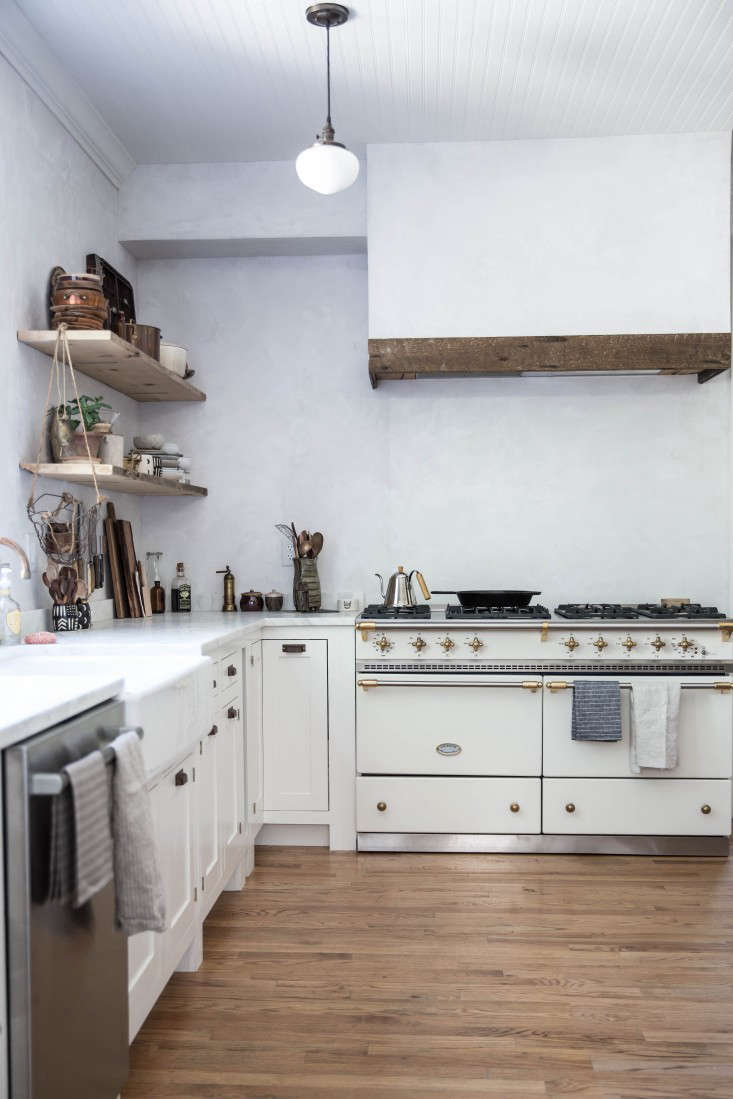 Above: "The kitchen is always the heart of the home, but for Beth it's the heart of her everything. So we really wanted to hit this one out of the park," Tara says. "The space needed to have a sense of warmth but also be clean and very usable." The state-of-the-art range is a Lacanche Sully from France in ivory.
Above: The room is set up to offer Beth a range of work surfaces and places to maneuver with her camera. It has enough space that she can hold classes and demonstrations; eating takes place in the dining room next door.
Prior to Jersey Ice Cream Co.'s arrival, Beth struck a deal with a relative of a relative: In exchange for removing the existing cabinets and stove, he could keep them, "and so nothing was just tossed," says Beth. At Percy and Tara's suggestion, the framework for the lower cabinets was preserved, and they used that as their skeleton. For budget reasons, the existing floor and fridge were also left in place, as was the dishwasher (but Beth ended up succumbing to a "virtually silent" Bosch). Just about everything else is Percy and Tara's own work, including the cabinet fronts, the island, and the Venetian plastered walls. Even the range hood is Venetian plastered. Self-taught design and construction savants who got their start remodeling Percy's former house in Philadelphia, the two are able to tackle just about any task. As Tara tells us, "We don't like to hire outside help because they almost never meet our standards."
Above: Beth's wood-handled Pour-Over Kettle is from the Old Faithful Shop, in Vancouver, and her dish towels are by Fog Linen. She was able to buy her range at cost because Lacanche was well aware it would play a starring role in her photos and the cookbook that she's working on: "My Lacanche range is basically a child to me," Beth informed her Instagram followers. "I don't think anything other than the custom Venetian-plastered hood Percy made could have done it justice."
Above: Built from scrap wood, the worktable is topped with the same honed Calacatta Velluto marble as the counters. Beth traveled to Walker Zanger, in Atlanta, to pick it out: "She knew she wanted marble. That was the first piece of the puzzle," says Tara. "We'd never worked with it before, and now we're obsessed." Beth adds: "With marble, you have to know what you're in for. It's not for Type A's. You have to decide that you want the story of your cooking etched in your counter."
Above: The plastered hood is edged with barn wood. Open shelves line the wall between the stove and sink. The vintage-style pendant lights are Mini Schoolhouse Milk Glass Globes from Etsy seller Blue Moon Lights. Tara and Percy found the vintage copper cabinet pulls at salvage shop ReStore, in Philadelphia–"the exact right number," says Beth.
Above: Did we mention that Beth is a stylist? Her magnetic knife rack was made from an organ pipe by Peg and Awl of Philadelphia; read about them in our post Frontier-Style Goods for the 21st Century.
Above: Utensils are stored in a pitcher and cup by local ceramicist Trish Riley, who shows her work at Sweet Gum Co.
Above: Most of the wooden spoons are from Sweet Gum Co., and the cutting boards are by third-generation woodworker Emily of Board & Bread, in Nashville. The black-and-white mugs are by Small Spells. The hanging wire basket came from a Chattanooga flea market: "I use it to keep fruit for easy snacking."
Above: "The ideal sink for me is neutral and classic, but not without style," says Beth, who went with Kohler's Whitehaven Self-Trimming Apron-Front Single Basin, which Tara purchased on Amazon. "I love the look of it, and for practicality's sake, I needed it big because I'm often wrangling large sheet pans and chopping blocks."
Above: The biggest game changer in the room? According to Tara, it's the multi-paned, wood-framed window that she and Percy hauled in their truck from an Atlanta salvage yard. It replaces what Beth describes as "a crappy small window that let in no light in and had a big crack." Tara and Percy lined the ceiling with inexpensive, premade beadboard (go to DIY Beadboard Ceilings to see another use of the panels).
Above: Percy integrated the big fridge into the whole by building cupboards around it.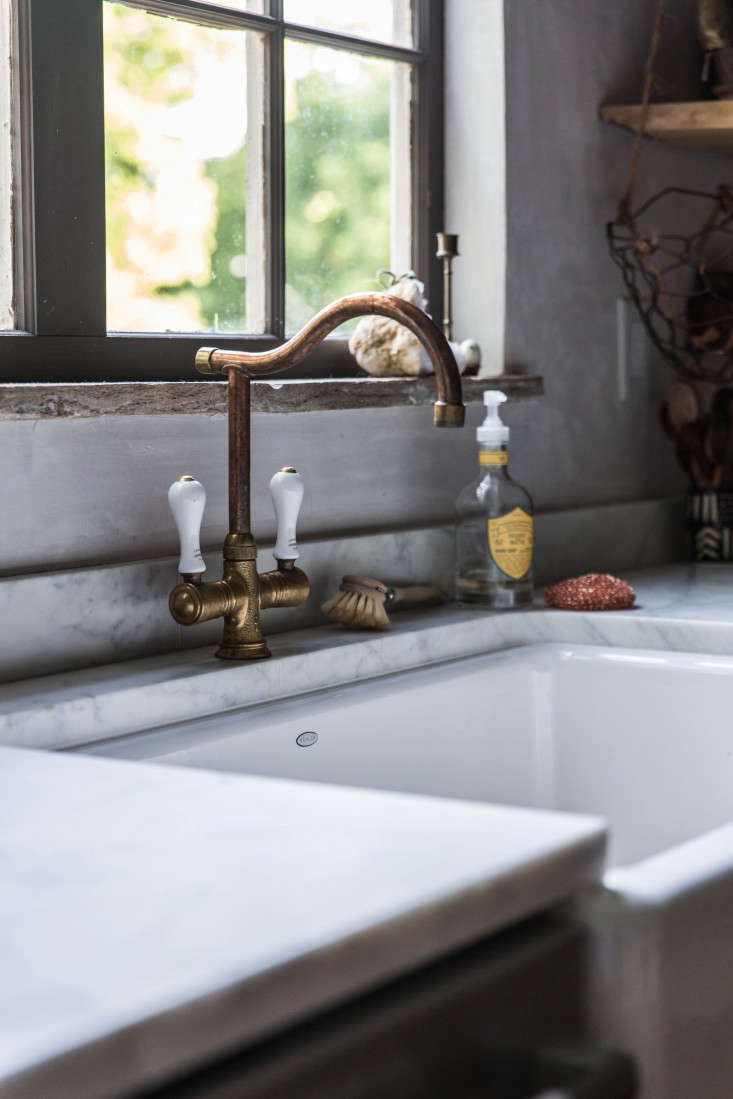 Above: Finding a faucet proved to be an unexpected challenge. "We weren't familiar with the insane wait times for so many faucets," Tara says, "and we only had a few weeks for the project." After scouring high-end online sources for days, she turned to eBay and found this vintage French brass and copper design. Beth says, "If I had been left on my own, I would still be looking at thousands of faucets. Tara found the perfect one."
Above: A sink still life. The dappled walls add depth to the light in the room. Percy learned how to do Venetian plastering from a stint working on the construction crew for Anthropologie stores.
Above: Nice-looking and easy to stow away: a Foldable Dish Rack from West Elm.
Above: Beth's photographs are often characterized by a moody, other-era look that hints of lurking spirits.
Above: Enamelware and Duralex tumblers. Says Tara: "At some point we started thinking of the project in terms of creating a backdrop for Beth's work."
Above: The new window's wooden sill is an ideal perch for a pot of succulents. The small bottles are old inkwells.
Above: A vintage brass rack, a gift from Beth's aunt, serves as a catchall at one end of the island. The gray wall next to it is thatched plaster.
Above: Another signature Beth Kirby arrangement. She uses a Canon 5D Mark III, which allows her to shoot in low light.
Above: Open shelves and a driftwood rack line supply a place for storage and display. The Hammered Copper S Hooks are from Etsy seller Ruddle Cottage.
Above: Beth got the driftwood at "a ramshackle Chattanooga store called Southeastern Salvage. I also used it for my dining room curtain rods." The hand-pinched cups and bowls are by Trish Riley. Tara created the wall's textured pattern by running over the wet plaster with a metal comb.
Above: Wood, ceramic, and brass–the tea kettle is a souvenir from a trip to New Orleans.
Above: The amber jar is an Apothecary candle by Paddywax, a Tennessee company that Beth says makes earthy, subtle scents that she swears by as pick-me-ups.
Above: Stoppered Ceramic Bottles by Vitrified Studio are each stamped with the name of a spice.
Above: The gray wall ends in an open pantry.
Above: A tall-windowed space off the kitchen is just big enough for Beth's computer area. Percy built the desk frame from barn wood and paired it with old green drawers.
Above: To keep up with all of Beth Kirby's doings, including suppers, workshops, and a forthcoming styling and photography retreat in Venice, go to Local Milk and her just-launched site, Local Milk Retreats.
Before
Above: A glimpse of the kitchen as it was. The speckled granite counters, fixtures, and upper cabinets all went to new homes.
Want to see more of Jersey Ice Cream Co.'s miraculous transformations? Take a look at Justine's Dream Kitchen for Under $3,000 and A Miracle in the Catskills, and go to Jersey Ice Cream Co.