Design-build duo Tara Mangini and Percy Bright of Jersey Ice Cream Co. are known for immersion remodeling: They move into their clients' wrecked old houses and right them–and then move on to the next. But what to do with a decade-old builder special, a 4,000-square-foot house in Riverhead, on the North Fork of Long Island, that has wood-beamed ceilings, amazing sea views, but is otherwise pretty much devoid of character and history?
"This was a huge change for us. There are killer ocean and garden views and the house is huge, but things fell pretty flat from there," says Tara. "Usually we take a lot of clues and hints from the existing space and original details; the challenge here was to create a sense of history and story in a house that hasn't been around that long." The clients–a family of six who homeschool their kids and use the house as a summer and weekend getaway from Brooklyn–let Tara and Percy take over. Six months of hard work later, here are the results.
Photography by Emily Hirsch and Erick Steinberg of Heidi's Bridge.
Above: "The house has a huge central stone fireplace that is awesome but creates two living rooms, which was a slight challenge," Tara tell us. "Sometimes there are just too many rooms and you find yourself saying, 'OK, well now what is this room for?' In this case, we let ourselves be influenced by the lighting of the space and went for one room that's light and airy with more of a daytime vibe, and another that embraces its darker side for a moody, maritime vibe."
Shown here, the day half, with pigmented plastered walls, a labor-intensive specialty of Percy's, and a pink sofa, the Linen Edlyn Sectional in Petal from Anthropologie: "We got the go-ahead from the client that a pink couch was OK by them and used that as our guide." The corner screen hides a refrigerator-like standing air conditioner that the previous owners had installed. Percy built the triangular shelves with wood storage on one of their last days in the house as a final touch.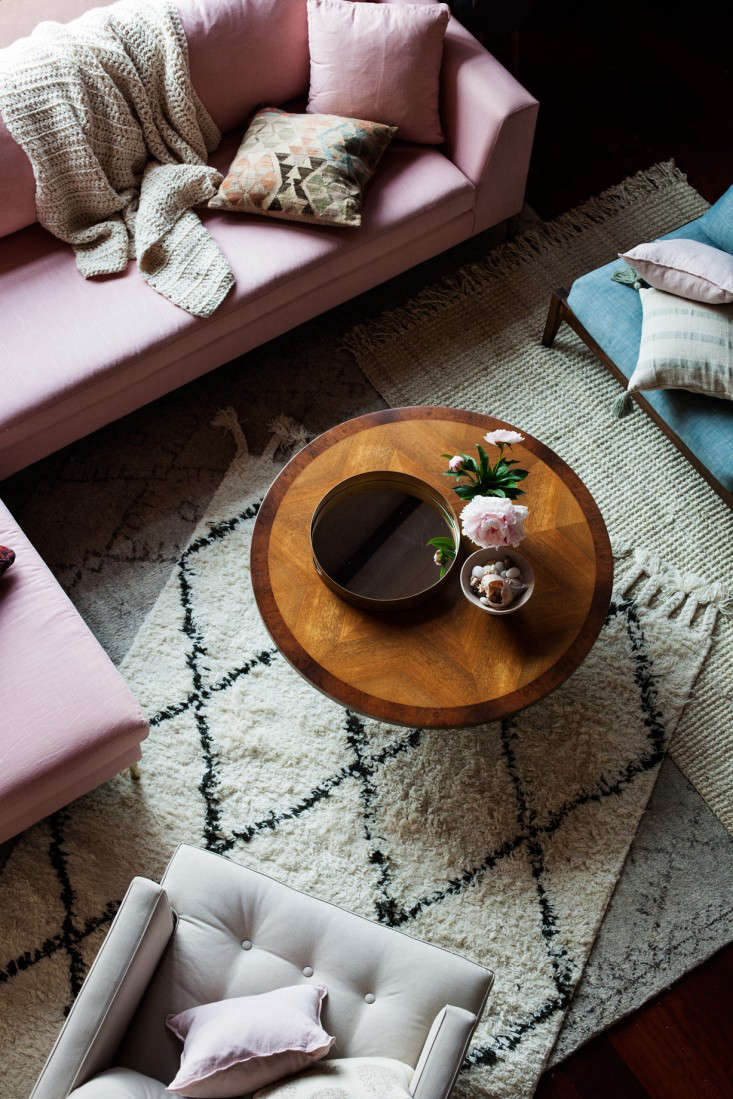 Above: Tara created a laid-back look by layering the room with Moroccan-style rugs from West Elm (the Souk Rug), Wayfair, and Overstock. The circular coffee table is from a nearby antiques shop.
Above: "We paneled and stained the walls in the dark half of the living room. It was a huge amount of work, but now it is one of those things that everyone assumes was original to the house–of course, that's what we wanted, but it also makes us want to yell out "No, we did that! It was yellow before!" They found the nautical flags at Brimfield and furnished much of the room with purchases from Etsy sellers, including vintage leather chairs from Madsen Modern, the circular table from Oh So Mod Vintage–a driver found on Craigslist picked it up for them in Poughkeepsie–and a brass ceiling light by Triple Seven Home.
Above: For an offhand touch of color and texture, Tara mixed throw pillows (the fringed one is from Target and the tropical from Wilma Long on Etsy). The sofa is Room & Board's Reese Curved Sectional and the White Linen Varanasi Curtains were made in India for ABC Carpet & Home.
Above: The room opens to the dining area, where the table, one of the few pieces that came with the house–"it's great to have a table you aren't afraid to get dirty," says Tara–is set against a bank of windows. "We played up the greenhouse vibe by introducing lots of natural texture and plants. We also washed the windows and couldn't believe what a huge difference that made."
The dining chairs are the Hay J77 Chair from Nest.
Above: The couple replaced the existing kitchen with a clear conscience by selling it on Craigslist: "Someone was looking to buy the whole thing outright and even sent over a bunch of guys to remove it."
"We put so much thought into our kitchens, and this was no different. It's a big endeavor and we first took a lot of time to figure out what sort of drawers you'd want and where, how much space you'd need for big items, and how to avoid having it all look like a hallway of cabinets."
The cabinets are from Jersey Ice Cream Co.'s go-to Conestoga–an Amesbury paneled wood design, paired with Kohler's Whitehaven Apron Front Sink and Newport Brass's Pulldown Kitchen Faucet in satin-finished brass. The brass lights are Cedar & Moss Eight-Inch Pendants from Rejuvenation. The couple had planned to tile the walls but ultimately decided that it would look too modern. Instead, they painted the existing wood paneling and set off-white walls against gray-blue cabinets.
Above: The counters are Taj Mahal Quartzite: "We had planned on marble but fell in love with these slabs. We actually discussed getting a storage unit and buying the stone for ourselves, we liked it so much. It has a smooth feel and this pleasingly imperfect look."
Hardest part? "We struggled so much to find a paint color that we loved for the cabinets. The kitchen is huge and the light varies, so what looks dark in one place looks bright white in another. It also changes throughout the day: What seems like a nice neutral gray in the morning turns blue at night. And there was the red tone of the floor to deal with, which made so many colors just seem off somehow. And, believe it or not, I'm slightly colorblind which really doesn't help in situations like this. I'm not exaggerating when I say we tried about 50 colors until finding this one. It's Porch Swing by Benjamin Moore Aura. It turned out to be a color that couldn't be ordered, so we had to get the cabinets sprayed, and they came out looking less than perfect. So I hand-painted them all again myself. The things we do for kitchens!"
Above: The quartzite reappears as a backsplash. The range is a 48-inch Smeg Opera detailed with a Millennium Pot Filler by Kingston Brass.
"We mixed brass and copper and stainless steel, and we're totally on board with it. Not many of us can afford a brass range or exhaust fan, and that doesn't mean that we can't enjoy a really great brass faucet or hanging rack."
Above: Percy rigged the utensil rack that runs the length of the stove wall: "We ordered an 11-foot brass pipe from Onlinemetals.com. it was a pain to get it shipped that long but worth it." The brass-finished iron cabinet hardware is from Anthropologie. The knives in the see-through rack are a Schmidt Brothers Set from West Elm.
Above: One of the clients' requests was for an office where they could work with their kids on their studies. After plastering the walls of a second-floor room, Percy built a wood shelf along one wall that rests on pegs and has gliding panels. The desk is the Grove design from Room & Board and the brass lights are Schoolhouse Electric's Chapman Swing Sconces. The armchair is West Elm's Writer's Chair with midcentury legs that the couple swapped in for a lighter look.
Above: In the kids' bunk room, Percy built beds to match the existing beams. Tara hung a vintage map of Long Island and made up the beds with anchor-patterned sheets from Homegoods and West Elm's Nomad quilts.
Above: The room has space for a Six-Foot Teepee made by House Inhabit. The circle-patterned tufted rug came from a nearby West Elm outlet.
Above: Melville wallpaper from Cole & Son patterns a second kids' bedroom. The coverlet is from Restoration Hardware.
Above: A vintage bedside table with a built-in book bin. The animal planter is from Anthropologie.
Above: "This was one hideous master bath when we started," says Tara. "There were so many different kinds of ornate tile, two tiny sinks in separate parts of the room, and a bunch of other things that just screamed, 'Why?'" Percy's textured plasterwork replaced the tile. And after a long search, the couple found the right vintage dresser to use as the sink base. The sink is the two-person Duravit Vero and the round mirror was a last-minute find from West Elm.
Above: The guest nook is papered with Farrow & Ball Aranami (the name means "raging waves"). "For the most part, we kept the walls simple, but we wanted a few corners to feel more vibrant," says Tara. "This paper seems very at home in this house by the sea."
See more of Tara and Percy's hard labor: