This week we're revisiting some of the most popular DIY stories from our archives. Read on for end-of-summer project inspiration:
A decade ago, when Abbey and Phil Hendrickson and their two young children moved from Buffalo to the couple's hometown of Owego, New York, their 1881 farmhouse came with many charms. But the kitchen, last tackled 40 years ago, was not one of them. Loaded with a long list of undesirables–faux-stone paneling, avocado green paint, and fake marble, among them–"it was a perfect storm of 1970s renovation work," says Abbey. "But in defense of the previous owners, I'm certain some of the additions we're making now will horrify future inhabitants."
We're not so sure about that. We've been following Abbey and Phil's progress via Abbey's blog, Aesthetic Outburst, and the kitchen is looking pretty timeless to us. And did we mention that the couple did all the work themselves? Abbey, an artist and crafts stylist and author of "You Are Awesome: 21 Crafts to Make You Happy", is also the executive director of the Tioga Arts Council; Phil, meanwhile, is a graphic designer with a deep handyman streak.
Total tally for all additions, including paint, hardware, wood paneling, and new light? Less than $500.
Photography by Abbey Hendrickson.
After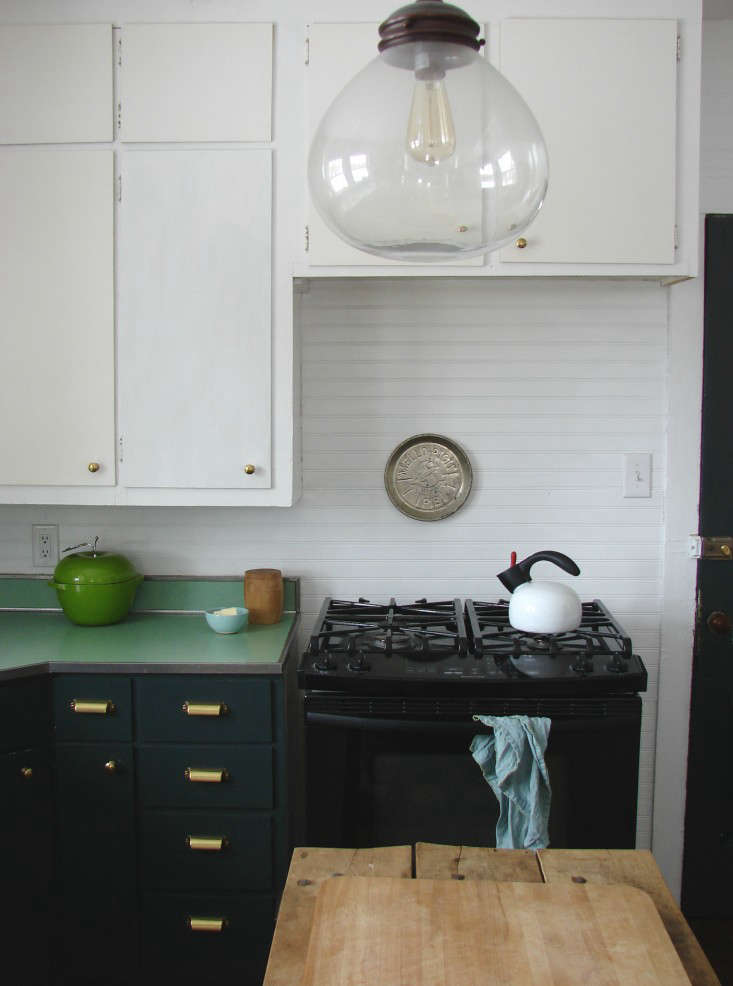 Before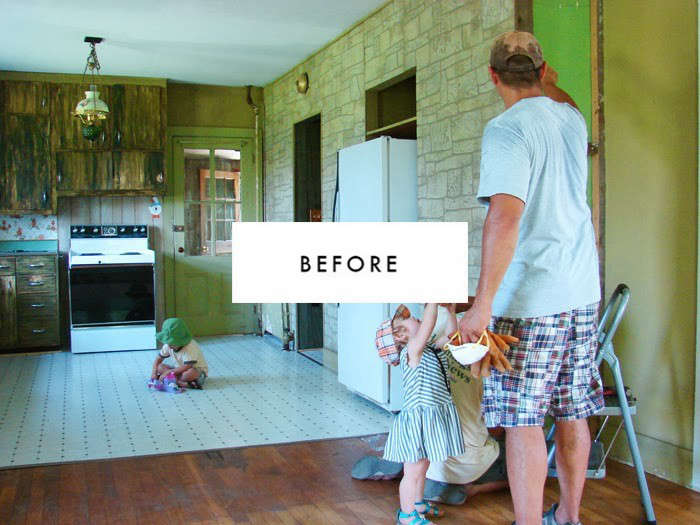 In the midst of some remodeling yourself? Peruse all our Rehab Diaries, including Christine's report on Finding Extra Storage Space in Unexpected Places and Justine's Dream Kitchen for Under $3,000. And don't miss our Remodeling 101 posts. On Gardenista, read Michelle's post-renovation report: 10 Mistakes to Avoid When You Remodel.
N.B.: This post is an update; the original story ran on April 14, 2014.
(Visited 6,287 times, 5 visits today)
Frequently asked questions
Who did the kitchen remodel featured in this post?
Abbey Hendrickson of Aesthetic Outburst did the DIY budget kitchen remodel.
What was the budget for this kitchen remodel?
The budget for this DIY kitchen remodel was $4,000.
What inspired the design of the kitchen?
The design of the kitchen was inspired by the existing vintage appliances and the desire to create a functional workspace.
What type of paint was used for the cabinets?
The cabinets were painted using Benjamin Moore Advance paint in Simply White.
What was used for the countertop?
DIY concrete countertops were used for this kitchen remodel.
Did Abbey use any new appliances in the remodel?
No, Abbey kept the vintage appliances that were already in the kitchen. They were in good working order and added to the design aesthetic she was going for.
What tips does Abbey have for a budget DIY kitchen remodel?
Abbey suggests repurposing existing materials, keeping the existing layout to save on plumbing and electrical work, and prioritizing functional elements over aesthetic ones.
What was Abbey's biggest challenge during the remodel?
The biggest challenge during the remodel was leveling the floor. The house is over 100 years old, so the floors were not level at all. This made laying the tiles and installing the cabinets more difficult.