A few years ago, when Abbey and Phil Hendrickson and their two young children moved from Buffalo to the couple's hometown of Owego, New York, their 1881 farmhouse came with many charms. But the kitchen, last tackled 40 years ago, was not one of them. Loaded with a long list of undesirables–faux-stone paneling, avocado green paint, and fake marble, among them–"it was a perfect storm of 1970s renovation work," says Abbey. "But in defense of the previous owners, I'm certain some of the additions we're making now will horrify future inhabitants."
We're not so sure about that. We've been following Abbey and Phil's progress via Abbey's blog, Aesthetic Outburst, and the kitchen is looking pretty timeless to us. And did we mention that the couple did all the work themselves? Abbey, an artist and crafts stylist and author of You Are Awesome: 21 Crafts to Make You Happy, is also the executive director of the Tioga Arts Council; Phil, meanwhile, is a graphic designer with a deep handyman streak. 
Total tally for all additions, including paint, hardware, wood paneling, and new light? Less than $500. 
Photography by Abbey Hendrickson.
Above: The couple transformed the look of the existing lower cabinets and back door by going dark–they used Valspar Paint Forest Canopy ("my favorite paint color ever," says Abbey). They also swapped in new hardware: Martha Stewart Living Bedford Brass Pulls and Knobs from Home Depot; $4.49 per pull. They had dreams of replacing the existing green Formica counters, but left them as is. Writes Abbey in her kitchen chronicle: "They add a certain charm. And I've convinced myself that if we had nice, brand-new countertops, they'd make the rest of the room look like complete crap."
Above: Phil and Abbey created a makeshift island from a workbench found in the barn. "The height is great and it's perfectly functional," says Abbey, adding that it's a stop-gap piece to be replaced at some point with "a flat work surface and nicer legs." They refinished the floor themselves. "There are four different types of wood on the first floor alone," says Abbey. "The kitchen floor is the darkest, so we sanded and clear-coated it and then stained everything else to match." The light came from Lowe's; it's the Allen + Roth Edison 12-Inch Bronze Pendant Light with Clear Shade. The sconce over the sink is vintage.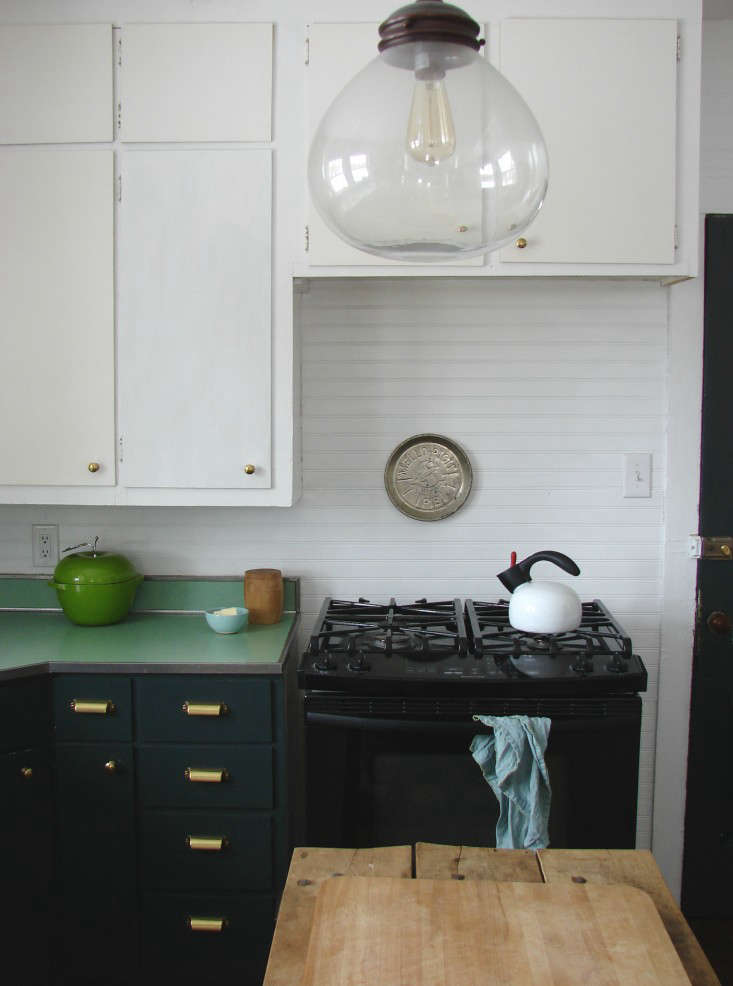 Above: The kitchen's other notable addition: a DIY beadboard backsplash that rises behind a new black range. The paneling was added right over the old yellow linoleum and contact paper. Explains Abbey: "We picked up two sheets of cheapo beadboard paneling from our local hardware store, nailed it horizontally, caulked it, painted it, and voilí ! A solution in less than two hours and for less than $60." 
Above: The counters are 1950s Formica with chrome edging. 
Above: Up close, the beadboard paneling looks as if it was a labor-intensive project. "The Mrs. Smith's pie plate artfully disguises a little dent in the wall," says Abbey. "I have no shame." But she clearly has plenty of ingenuity.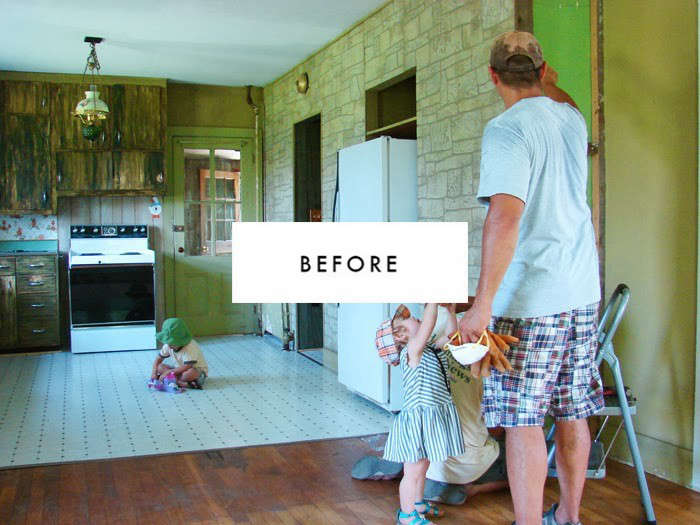 Above: Here's a glimpse of the Brady Bunch–style kitchen as it was; note the faux stone on the fridge wall. The vinyl floor was an addition that the couple made as a requirement for their mortgage–"the existing hardwood floor was in such bad shape, the appraiser didn't think it was viable. So before we took ownership, we put in the cheapest floor we could find. We took it out and refinished the floor weeks later."
Above: Here's a glimpse of the floor in its original state. On the third day that they owned the house, Abbey and Phil started tackling the walls and cabinets. Wanting to do all the work themselves–and to spend as little as possible–they preserved as many original details as they could and used paint as their primary weapon. 
Above: "We removed all the drawers, sanded down them down, and sprayed every surface white," says Abbey. "I was so focused on covering the avocado green walls, I can't remember which white we used. I'm sure it was something inexpensive from Lowe's or Home Depot." To see more of Abbey and Phil's house, go to Aesthetic Outburst.
In the midst of some remodeling yourself? Peruse all our Rehab Diaries, including Christine's report on Finding Extra Storage Space in Unexpected Places and Justine's Dream Kitchen for Under $3,000. And don't miss our Remodeling 101 posts. On Gardenista, read Michelle's post-renovation report: 10 Mistakes to Avoid When You Remodel.
N.B.: This post is an update; the original story ran on April 14, 2014, as part of our Shades of Pastel issue.
(Visited 94 times, 1 visits today)