Several years back Gabe Cohen and Jolie Signorile caught wind that a beat-up houseboat was for sale. Desperate for a weekend ticket out of the city, the two, cofounders of Brooklyn design company Fredericks & Mae, recruited six friends and pooled their cash. Two months later the group stood on the roof of their new purchase as a hired tug pulled it from Saugerties, New York, down the Hudson to Rockaway Beach, Queens, where it's now permanently docked.
Built as a party boat (with wine fridge, Jacuzzi, and washer/dryer) for a Goldman Sachs exec, it had later been stripped of its frills and used as a crash pad for the winter crew of the Clearwater, the historic Hudson River sloop. Gabe, Jolie, and gang, many of whom met as students at Oberlin College, came to the project prepped for teamwork. They ripped out the mildewed carpets, painted every surface, and furnished the boat with Craigslist finds and Fredericks & Mae's own games and accessories (that's one of their windsocks catching the breeze on the roof). It's been more of an adventure than any of them could have predicted, but also more fun. And it's only a subway ride away.
Photography by Douglas Lyle Thompson for Remodelista, unless noted.
(Intrigued? Go to Steal This Look: The Affordable Summer Clubhouse for sourcing details.)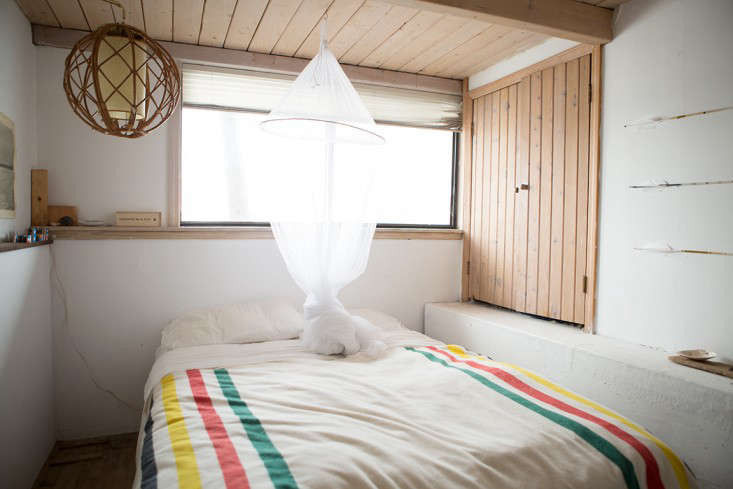 Find more sourcing information in Steal This Look: The Affordable Summer Clubhouse.
For more by Fredericks & Mae, see Back to the Future and A Modern Take on Worry Beads.
Interested in life on the water? Go to Houseboats to see A Mother and Daughter Afloat in Paris and Gardenista's DIY Cobalt Blue Planters (Houseboat Optional).
N.B.: This post is an update; the original story ran on June 25, 2014, as part of our Life Aquatic issue.