The least-fun thing to think about when designing a kitchen? Our vote goes to the range hood, that hardworking, often noisy machine that can hog precious space and ruin sight lines. That's why we were excited to see a new, discreet option starting to appear in open kitchens with center islands. Meet the ceiling-mounted surface vent. Blink and you might not even notice it.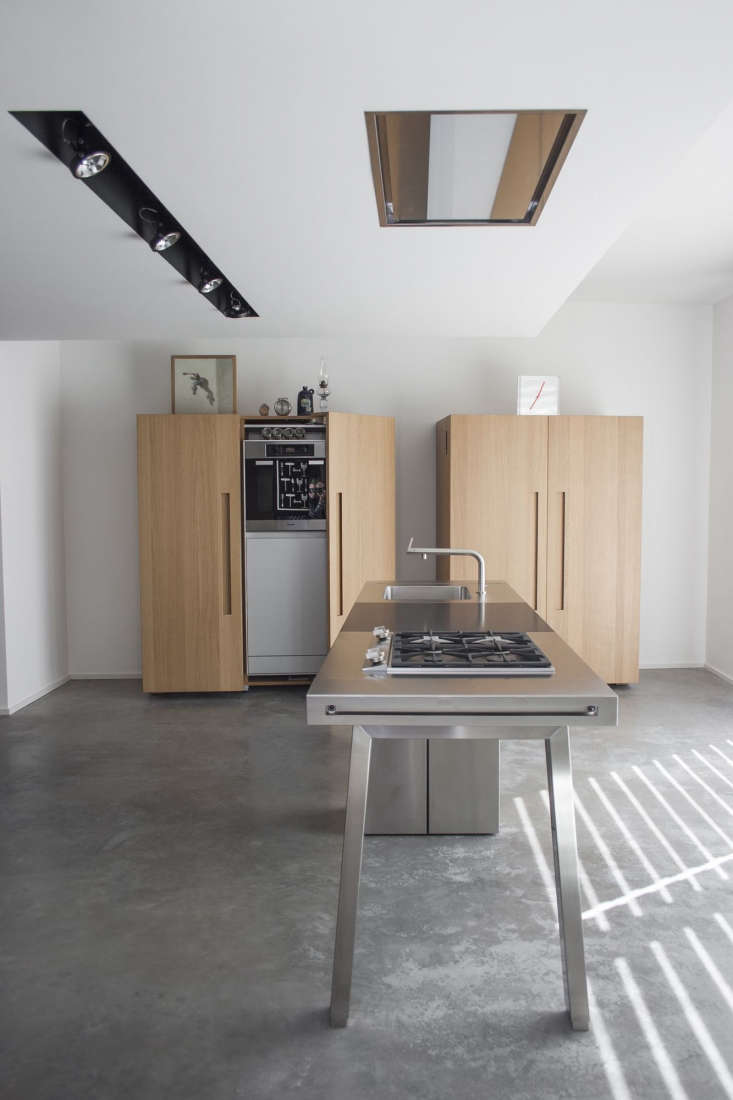 What are these vents?
They're remote-controlled hoods that are inset in ceilings, so that only a stainless-steel frame and panel (often of dark glass detailed with lights) is visible. Positioned directly over a cooktop, the vents, like all hoods, are there to absorb cooking odors and grease. Available in a range of rectangular sizes and increasingly popular in Europe, these unobtrusive versions are just starting to make inroads in the US.
Where do they work–and what's the catch?
The majority of these vents are ducted to the outside, so in most cases, you need to be in a house to have one in your kitchen. (On top of venting considerations, many states have strict requirements for the amount of "makeup air" channeled in in proportion to what goes out, and not all recessed ceiling vents are strong enough to meet these codes. Local appliance specialists can fill you in on the details.)
For a ceiling-mounted recessed kitchen vent to be most effective, it needs to be larger than the cooktop that's under it–for a 36-inch cooktop, for example, use a 42- or 48-inch hood—and to be close enough to do its job: The ideal distance between ceiling vent and stovetop varies, but for optimal effectiveness, Matt Avery of Faber tells us no more than four feet is recommended.
If you have a powerful commercial-style range and do a lot of frying, one of these models isn't likely to do the trick. But if you do regular cooking and there isn't a great distance between stove and vent—a too tall ceiling can be remedied by inserting the vent into a soffit—this open-plan option may be the perfect problem solver.
Who makes ceiling-mounted recessed vents?
A number of familiar brands have started introducing flush ceiling vents, including Best (see its Cirrus models), Miele, Futuro Futuro, Falmec, Zephyr, and Faber.
Are there other unobtrusive kitchen vent options?
Yes, under-the-cabinet hoods are another popular choice (and can work in apartments) as are downdraft hoods, that rise in the back of the range at the press of a button. The latter, we're told, work particularly well with induction cooktops.
Go to our Kitchen Appliance posts for more advice, including:
Finally, get more ideas on how to evaluate and choose a new kitchen hood or vent in our Remodeling 101 Guide: Kitchen Hoods & Vents.
N.B.: This post is an update; the original story ran on October 13, 2015.
You need to login or register to view and manage your bookmarks.