Gabriel Fredericks Cohen and Jolie Mae Signorile, the duo behind Brooklyn design studio Fredericks & Mae, know how to have a good time. We recently featured the Rockaway Beach houseboat that they escape to, via subway, on weekends. Today we look at the collection of old-fashioned games that the two have been redesigning "for home, garden, and sky"–and houseboat.
Photographs by Douglas Lyle Thompson for Remodelista.
Above: A Fredericks & Mae handmade nylon Windsock, $130, flies from the rail of the 1986 houseboat that Jolie and Gabe share with six friends. The two designers met as students at Oberlin College and collaborated for their senior art project. Of their company mission, they write: "Tools, games, and rituals trace arcs through history and across the earth; we trace those arcs, nose to the ground and mouths agape." Take a full tour of the houseboat in Rehab Diary: Ultimate Houseboat in NYC.
Above: One of Fredericks & Mae's first designs was a set of handmade Arrows "for decorative or ceremonial use" that inspired a cult following. They've since introduced a Fredericks & Mae Dartboard made of Baltic birch and silkscreened cork; $140.
Above: Jolie and Gabe play backgammon in their houseboat. During a trip to Greece and Turkey, they learned that a version of backgammon dates to antiquity and decided to try their hand at reinventing age-old games.
Above: Jolie and Gabe make all of Fredericks & Mae's designs in their Brooklyn studio–Jolie is in charge of wood production and Gabe is the finish man. They currently offer a Baltic birch Travel Backgammon set (a smaller, lighter version of the board shown here) for $160. A Travel Checkers set is also available.
Above: Fredericks & Mae darts, like their arrows, are hand wound with thread and fletched with real feathers. The dart bodies are made by Apex, one of the last American dart manufacturers. A variety of color combinations are available; Large Darts are $60 each, and Small Darts are $44 each. A set of dip-dyed, raw ceramic Marbles is $14 for 14 and comes in a cotton pouch.
Above: The Fredericks & Mae Skimboard of waterproof, silkscreened Baltic birch is for riding the shallows at the shore–and for aprés-beach display; $320.
Above: Flag Dominos are made of Baltic birch and adorned with silkscreened nautical flags in place of the classic dots (each flag signifies a number between 0 and 6); $100, wood storage box and instruction booklet included. Jolie and Gabe explain that the game's name comes from "the piece's resemblance to Venetian Carnival masks known as domino."
Above: Fredericks & Mae Darts and a Beach Tennis Racquet; a set of two paddles with a cork ball and a drawstring carrying bag is $140.
Above: A Bocce set of eight painted wood balls with a jack, instruction booklet, and carrying bag is $320. 
Above: Another version of the Fredericks & Mae Windsock, $130. Three banded patterns are available; each is 34 inches long and has a brass hanging ring.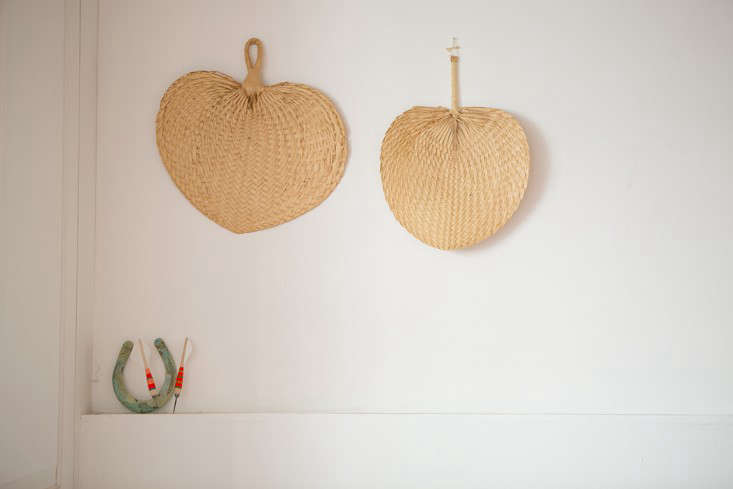 Above: For more of the duo's work, see our posts Back to the Future: Nostalgia from Fredericks & Mae and A Modern Take on Worry Beads. And if you're intrigued by their houseboat, go to Steal This Look: The Summer Clubhouse.
It's the last week to vote for your favorite finalists in the Considered Design Awards. You can vote once a day on Remodelista and Gardenista through August 8. Stay tuned: We're announcing the winners August 9.
You need to login or register to view and manage your bookmarks.