Have you found yourself staring at walls of late? We know we have. That's because plaster in its many transfixing guises is making a big comeback. Interiors finished with plaster have a depth and luminosity that shifts with the light, quietly transforming the look and feel of a house. And there's no paint required: Left in its raw state, plaster is an environmentally sound natural material—breathable, and free of chemicals and VOCs.
True, plaster walls are more expensive than painted drywall; that's because they're more labor intensive to install (most require at least three coats). But they're also typically longer lasting and more beautiful. For interior applications, here are six main categories to consider illustrated by some of our favorite projects of late.
N.B.: Before taking the plaster plunge in your own home, look into substrate requirements; all plasters need to bond to a surface and that varies by type and brand—as does the durability and waterproofness of the particular plaster. Troweling skills are required and patience: You have to wait for each layer to dry.
Clay Plaster
Composed of clay, sand, and pigments, clay plaster is considered so healthy, it's often used by people with chemical sensitivities. It comes in powdered form in a range of earthy shades and has very matte, often rough, finishes. Though not to be used in wet zones, such as bathrooms and kitchens, clay plaster has moisture-absorbing (and desorbing) abilities that make it a humidity regulator elsewhere in the house. To apply, mix with water on-site (achieving the right consistency takes some trial and error) and apply to a sanded, primed surface in four or five layers.
For a US source, consider American Clay of Albuquerque. Photograph by Nicholas Worley.
Slaked Lime Plaster
This is what the plaster walls in your great grandparents' house were made of. Starting with wood lath, a coarse "scratch coat" (plaster mixed with shrinkage-preventing aggregates, such as horse hair) was applied followed by a "brown coat" (plaster mixed with sand), and finally a fine skim coat. Composed of limestone that has been baked at extreme temperatures to remove all impurities, hydrated—or slaked—lime plaster comes in an aged putty form, so, unlike other options, you don't have to hand-mix it and you're not under a time constraint to apply it.
Pure white in its basic form, it now comes in a huge range of colors. Left unpainted, like clay plaster, it takes in moisture and releases it—and unlike clay plaster can be used in kitchens and baths (but shouldn't be exposed directly to water). If desired, a protective layer of bee's wax or Marseilles soap can be added.
Architectural preservationists Master of Plaster of Columbia, South Carolina, specialize in slaked lime plasters, and resident designer, Lauren Dillon, is a fount of information about why, where, and how to use it. She explains: "After being applied, hydrated lime plasters go through a process called curing wherein they don't necessarily dry out like a clay or a paint, but they absorb carbon dioxide and complete the lime cycle on your surface, in essence turning back to stone—so when people say lime plaster looks and feels like stone or marble, it's because it truly is." Photograph by Justine Hand for Remodelista.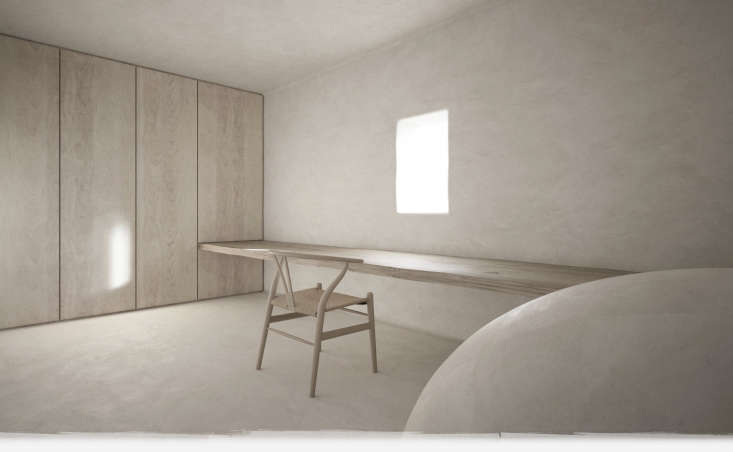 The project shown here was created using the line's
Fine Grain Plaster
not only on the walls but also the floor. Corners, by the way, are the trickiest to trowel, and, once finished, they're the area that's most fragile and prone to chipping.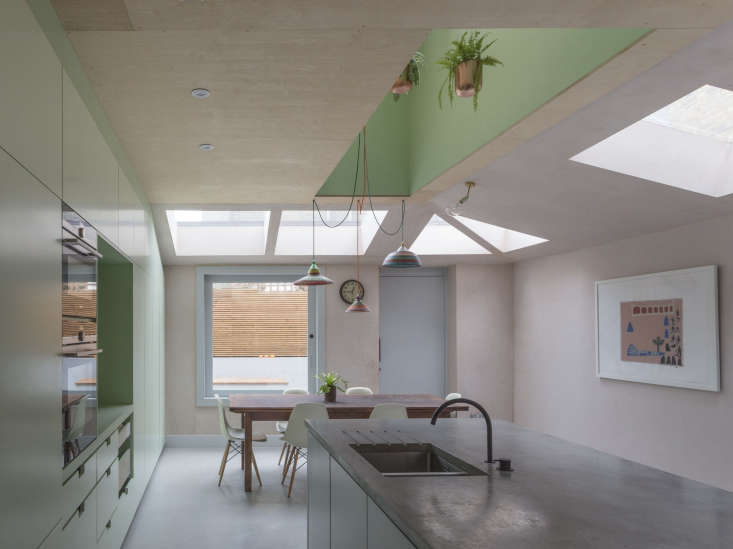 Gypsum Plaster
More humble and finicky than slaked lime, gypsum plaster comes in powdered form: Mix with water and then work fast; once activated, gypsum plaster typically needs to be applied in 35 to 40 minutes. (Stop midway and you get weaknesses known as "cold joints" and have to start over.) It's also a bit less expensive than lime plaster and requires fewer coats. And it can be tinted to great effect.
X-Kalibur is a product from National Gypsum; another big supplier is USG (United States Gypsum).
The difference between colored gypsum plaster and Venetian plaster (see below)? Gypsum is matte-finished and single-hued. Venetian plaster can be polished, and the many layers required create more depth and nuanced shades of color.
Venetian Plaster
When pigment is added to aged slaked lime plaster, it's known as Venetian plaster (not to be confused with any paints that use that name). Sprinkle in marble dust and you get a high level of polish and sheen.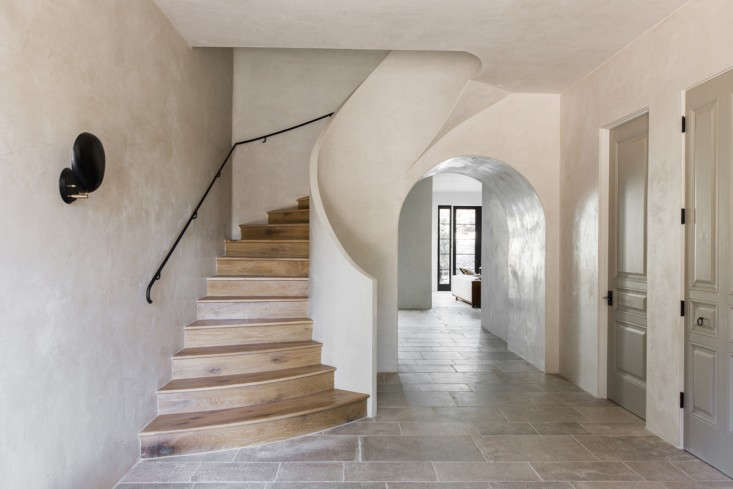 Tadelakt
An age-old and highly durable Moroccan finish, tadelakt is composed of lime plaster and black soap made from olives. When the ingredients are combined, a chemical reaction between the two creates a waterproof membrane, making tadelakt walls the most suitable of all plasters for use in showers and baths and even as sinks and tubs—it's synonymous with Moroccan hammans. Read all about it in our Remodeling 101 post.
"It's completely waterproof—you just clean it with Marseilles soap," says Herzig. "Because it's so durable, I didn't have to add a backsplash, which gives the room a clean look." Photograph by Laure Joliet.
Neo Plaster
A lot of companies are coming up with their own easy-to-apply plaster wall finishes. These often contain acrylics and other ingredients that speed the process and don't require as many coats.
Curious about limewash paint? Read about the mineral-based, chalky wall finish in: