How does a minimalist London kitchen design evolve into a tropical sun chamber? "We were approached by a couple with two young kids to extend and transform a tired Victorian house in North London," says Simon Astridge, whose eponymous architecture firm has been producing some of our favorite streamlined remodels of late. Both parents are journalists and the wife is from Australia, so "there was quite a lot of dialogue about the gloomy London sky versus the bright Australian sun," adds project architect Ruta Dumciute. Wanting to bring in as much natural light as possible, as well as an indoor-outdoor feel, the team set about experimenting with pigmented concrete for a small ground-floor addition where the kitchen would be situated.
"We were inspired by how many actual shades and tones of color Victorian brick has," says Dumciute. "Here in the office, we also love the use of color in concrete architecture from warmer climates, such as Luis Barragán's work. The pink we chose was a nod to it, but a more toned-down version that works with the brick and the muted light we've got here in London." Come see.
Photograph by Nicholas Worley, courtesy of Simon Astridge Architecture Workshop.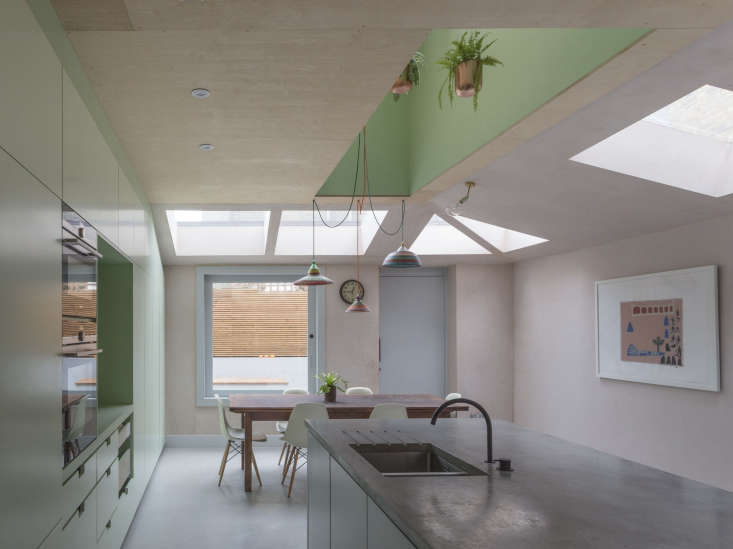 The recess in the birch plywood ceiling—painted to "bring the green from outside in"—offers a view of the kitchen from the study above. "This is where most family life happens," says Dumciute. "We wanted to connect both stories vertically and to allow people to communicate with each other when in different spaces."
The trio of colorful hanging lights are Spanish architect Catalán de Ocón's PET Lamps made from recycled soda bottles: See Fantastic Plastic and At Home with a Master of Recycling in Madrid.
The window frame and door are pale gray. Note that the window slides to the left to open.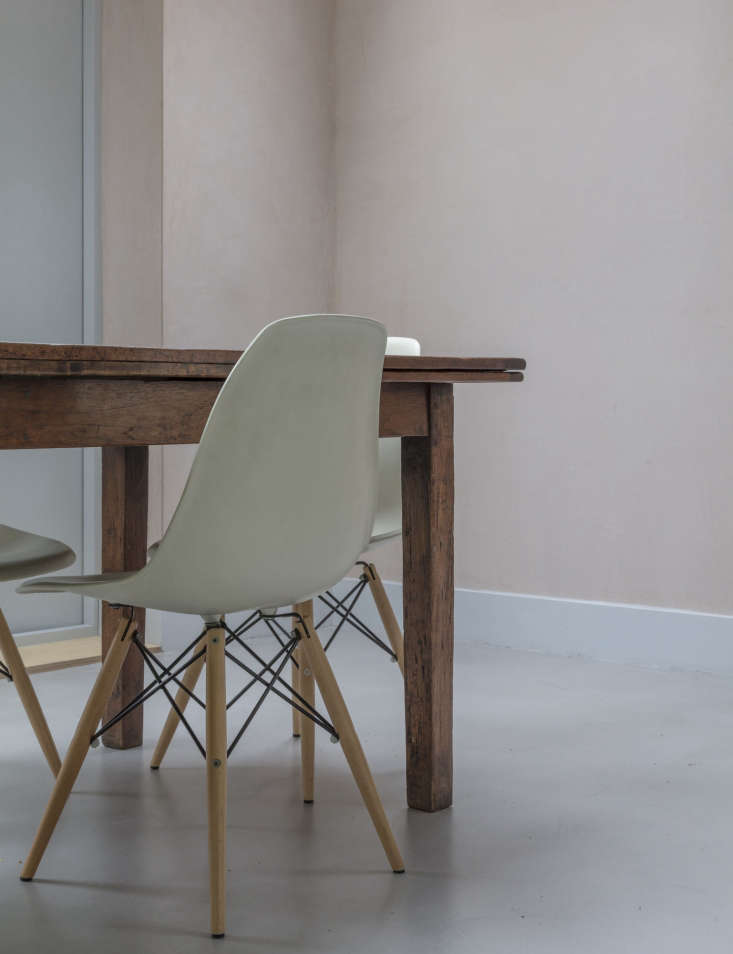 The floor, too, is concrete in a natural pale gray that matches the window frame and door.
Join us for a tour of two more inventive projects by Simon Astridge Architecture Workshop:
N.B.: This post is an update; the original story ran on March 23, 2017.
(Visited 31 times, 2 visits today)