We've long admired the work of Deborah Ehrlich, the Hudson Valley–based designer best known for her fine crystal glassware and refined household essentials (her porch light is a Remodelista favorite). I first connected with her at Remodelista's New York market last spring; we struck up a conversation, and that's how I found myself, a couple of weeks ago, driving across I-90 from Boston to Accord, New York, to photograph my new friend's home. Join us for a tour.
Photography by Justine Hand for Remodelista.
Deborah bought her Hudson Valley house in 1998. "I had just returned from Provence, and the house reminded me of France," she says. She now considers it the perfect complement to her work. "I like the fact that it's so sturdy and raw while my work is so delicate."
Deborah's designs are not about building up, but about reducing. Paring them down to their most minimal, pure form, she pushes the envelope of what the materials can seemingly withstand.
Like her work, Deborah's own house defies convention. It's an exercise in deconstruction rather that renovation. "When I bought the house, it was a series of chopped-up little rooms. I could see the bones of the house, and I just began tearing things down to get to them. I knocked down walls to open up the entire downstairs, exposed the beams and original plaster walls, and sanded the floor. Then I just left it. I kept thinking I would repaint the evergreen trim, which was left over from the previous owners, but I never did. Now I like the archeological history of it."
After earning a degree in anthropology from Barnard, Deborah studied at a private studio of a master sculptor and later worked on large installations in France. Her background in sculpture is evident in all her work, which walks a fine line between utility and art. Deborah's yearlong stint at a design school in Denmark is also reflected in her designs, which exhibit elements of both Gustavian and Danish midcentury styles.
The designer also spent a good deal of time studying early American tools and how these utilitarian objects employ minimal materials and simplicity of design to achieve maximum structural integrity. Likewise, Deborah's pieces, though they look delicate, are actually quite strong. When she designed her chairs, for example, she asked her master woodworker, a RISD grad based in Rhode Island, for the "wood equivalent of crystal."
In her early twenties, Deborah worked to restore the stained glass windows in St. Stephens Cathedral in Vienna. Perhaps that's why, whether crystal or wood, all her work explores the dynamism of light—how it travels through an object or is reflected back. The culmination of this play of light can be seen in her dining room.
When she bought the house, the current kitchen was used to store wood. With its generous light and cross breeze, Deborah recognized its potential as a gathering space. The painted floor and ceiling enhance the functional, farmhouse feel.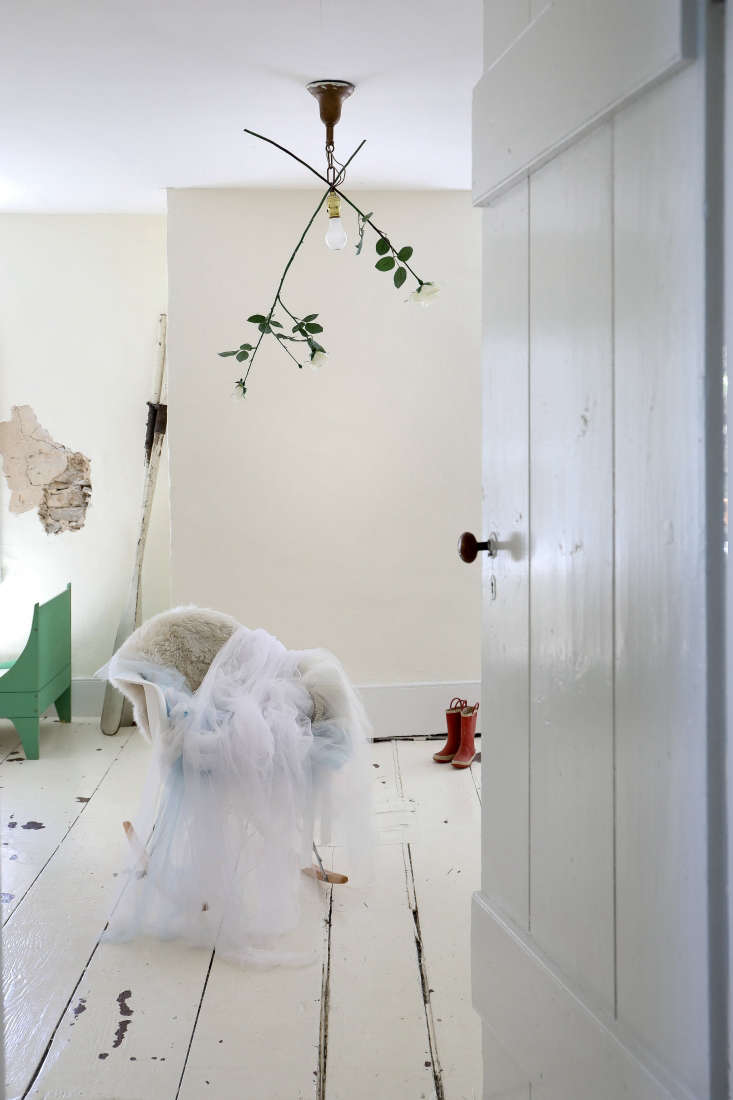 See more of our Hudson Valley favorites:
(Visited 57 times, 4 visits today)