Lately we've been admiring the Catskills farmhouse of writer and florist Lisa Przystup, first spotted via Jenni Kayne's site Rip & Tan. Brooklynite Przystup and her husband, Jonathon Linaberry, had been looking for a weekend escape within two hours of the city when they decided to expand their search to three hours north. "At that point we had looked at about 18 houses," Przystup says, when they found an 1800s farmhouse on a hill in the Catskills. "The house we ended up in was definitely move-in ready, but it still needed work—some of it was about making stylistic choices that suited our taste and some of it was (and is) functional: The porch was crooked and the posts were balancing on stacks of field stones and tipping cinder blocks."
The couple set about transforming the house from the inside, doing most of the work themselves, DIY-style on weekends: "For the larger projects like the porch and excavation we called in the professionals because, well, we don't know how to run an excavator," Przystup says. "We've done smaller things, like painting almost the entire interior and some of the floors, installing tongue-and-groove ceiling in the kitchen, cutting stone for a hearth, installing a pellet stove, knocking out a small wall to expose the chimney, hanging canvas from the ceiling of a bedroom, installing a brass backsplash behind the stove, skim coating and sanding the kitchen walls, building shelves, installing light fixtures, hanging screen doors." (Since we first published this post, they've also transformed the attic into a guest bedroom; see Before & After: An Airy Summer Bedroom in a Catskills Farmhouse, Transformed with Paint.)
We like the sparse, somewhat undone nature of the house—canvas drop cloths draped over tables, wild tumbleweeds hanging from peg rails—but Przystup told us it's still a work in progress: They're still planning on rebuilding the porch, transforming another bedroom, and knocking down a wall in the living room. Join us for a look at what they've done so far.
Photography by April Valencia, courtesy of Rip & Tan, except where noted.
Przystup's first priority on the list of weekend DIYs: whitewashing the floors. "I had been dreaming about white floors for years—they provide such a nice blank canvas and really make pieces stand out in a way they wouldn't otherwise. They're also hugely impractical and a pain to keep clean, but such is life." She and Linaberry painted the existing wood floors and some of the walls in Sherwin Williams Extra White; the living room walls are Sherwin Williams Westhighland White. The rest of the palette, Przystup says, is "monochromatic with shades of earth—wood and woven things, mostly."
For contrast, the couple painted the interior doors in Sherwin Williams Tricorn Black (also recommended in Expert Advice: Architects' Top 10 Gray Paint Picks). "There was a lot of brick red paint in the house that I wanted to get rid of," Przystup says. "We painted everything, actually, and we're still painting. It's unending."
"We are definitely working on a budget," Przystup says. "We basically try to do as much as we can ourselves and source furniture and pieces from Craigslist and yard sales. The previous owner sold us a handful of things at a really great price and that was a huge help." Other decor comes from wild finds, inspired by Przystup's work as the flower designer behind James's Daughter Flowers.
The kitchen is a mix of existing elements (including all appliances and butcher-block counters) plus a few DIY upgrades. "Doing small things like changing out the cabinet hardware was a quick, cheap, and easy way to change the feel of the kitchen," Przystup says. ("I'm pretty sure I just Googled 'brass cabinet pulls' and found them like that," she says.) "We also changed out the vent covers, which made a big difference. It's the small things, really." When old wallpaper proved too tricky to remove, Przystup and Linaberry skim-coated and sanded the walls.
"We have a kitchen table in our Brooklyn apartment that we've had for years—we got it for cheap, but the top was in terrible shape and Jonathon had the idea to cover it up with brass sheets. We decided to apply the same treatment as a backsplash." The result: statement on a budget. The couple made the pot rail out of copper piping from Home Depot.
Above: Kitchen vignettes. Favorite finds include Kentucky stoneware from Kaufmann Mercantile and a bread baking bowl from a friend's shop in Syracuse, Indiana.
The kitchen and one bedroom had acoustic ceiling tiles; Linaberry and a friend removed them themselves and installed untreated pine tongue-and-groove ceiling. (For more, see Remodeling 101: The Ultimate Wood Paneling Guide.) The caned Thonet chairs were a Craigslist find.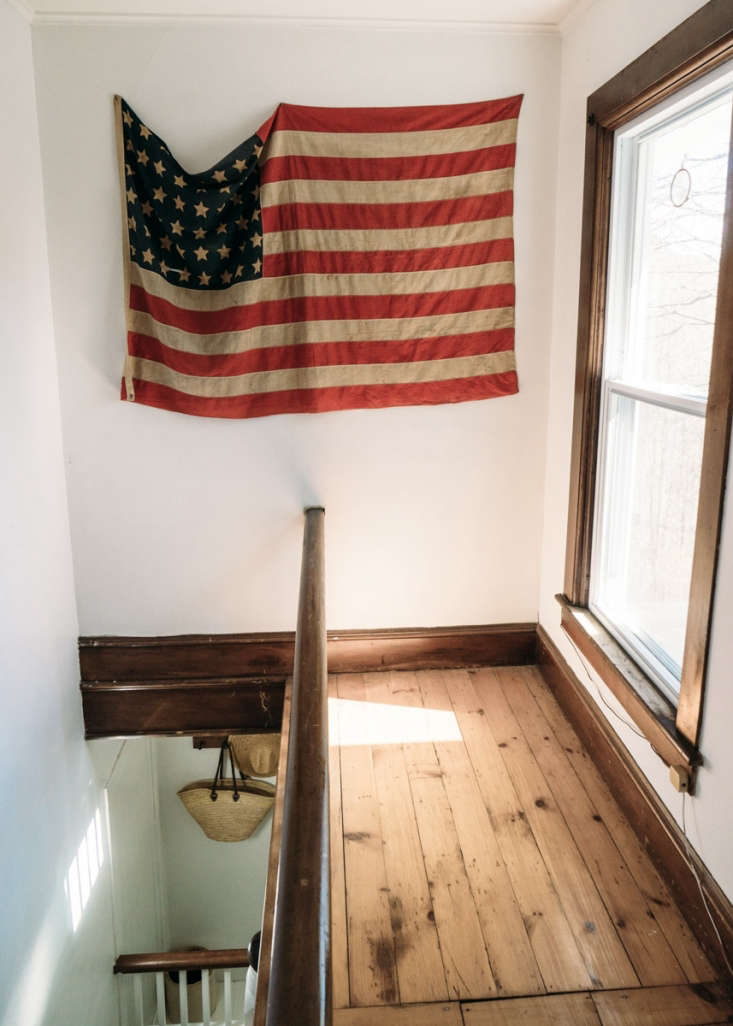 In the bedroom, Przystup and Linaberry sourced a wooden bed frame from Craigslist ("It's an old Ethan Allen—so well-made and sturdy," she says). For a revamp (it was originally forest green), they spray-painted it in Sherwin Williams Tricorn Black. The brass lights and linen sheets are both from West Elm.
In another bedroom, the couple paired an Ikea bed frame with mismatched vintage lights (one is from Adaptations in Greenpoint) and vintage yellow pillows.
The drum is Linaberry's, a musician who plays under the name The Bones of J.R. Jones: "He actually took the whole thing apart and painted it white, and also painted the snake on there," Przystup says. The African fabric is from Mast in Tucson: "It's covering up a closet door I've been meaning to paint white." The glass ceiling light is original.
Follow Przystup on Instagram via @brass_tacks.
More in the Catskills:
N.B.: This post is an update; the original story ran on July 24, 2017.