A few years back we visited Table on Ten, the rustic restaurant in a tiny Catskills town where the locals gather for foraging workshops and community dinners. But no matter how incredible the wood-fired pizza, the town of Bloomville is a hike for those who don't live nearby. Fortunately Inez Valk, the chef/owner behind the restaurant, now lets a small glass-walled cabin (a converted artist's studio) to guests, just an eight-minute drive away from Table on Ten—so you can stay the night and wander down for breakfast and a cup of coffee in the morning. It's the perfect upstate getaway.
Photography by Paola & Murray, courtesy of Inez Valk.
Before Valk added the cabin to Table on Ten's rooms for rent (see the others here), it was a painter's studio: "It was an open space with nothing but electric, so we started from scratch," she says. Valk worked with interior designer Erjan Borren to design an ideal getaway for a small family or two couples.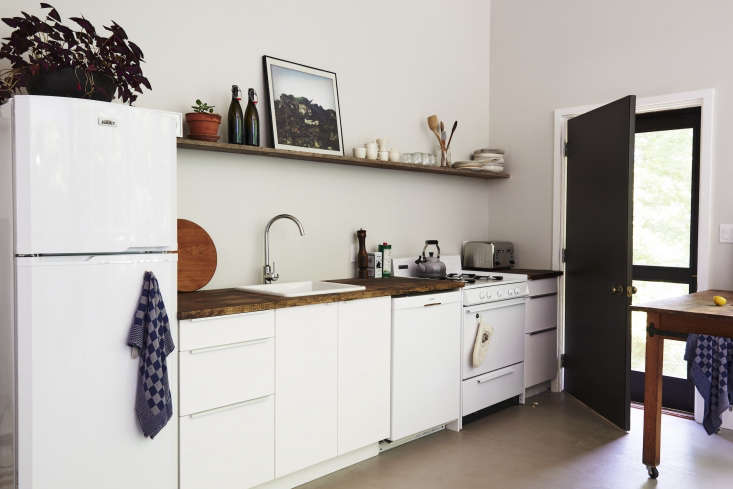 Borren and Valk sourced wood with a Catskills history: "The countertops and tabletop are made of reclaimed wood from old barns around here, gathered over the years and stored to be used for a project like this," Valk says.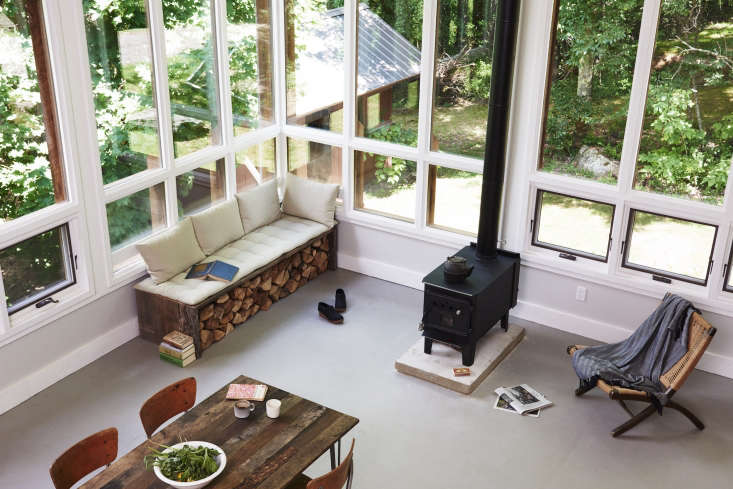 "The big feature of the space was that it had a series of very large north- and west-facing windows [indirect light for painting] overlooking the field and, behind it, the mountains," Valk says. The duo kept the interiors simple, with a focus on the windows—and the mountain light.
In the downstairs bedroom, a hand-crafted queen bed is made up in Muji sheets; overhead is Ikea's Sinnerlig Pendant Light. "We wanted every room to have access to the view," Valk says. "From the upstairs bedroom you can look out, while sitting in bed, over the wall, and from the downstairs bedroom you just slide the big barn door to the side."
Valk worked with a local builder to give the cabin a handcrafted feel: "From the furniture [beds, table, daybed] to the fixed [counters, stairs, doors, etc.], everything was made custom by hand," she says.
"Keeping true to the original shape of the studio (basically a box), we designed rooms that echoed the straight lines, giving it a modern feel," Valk says.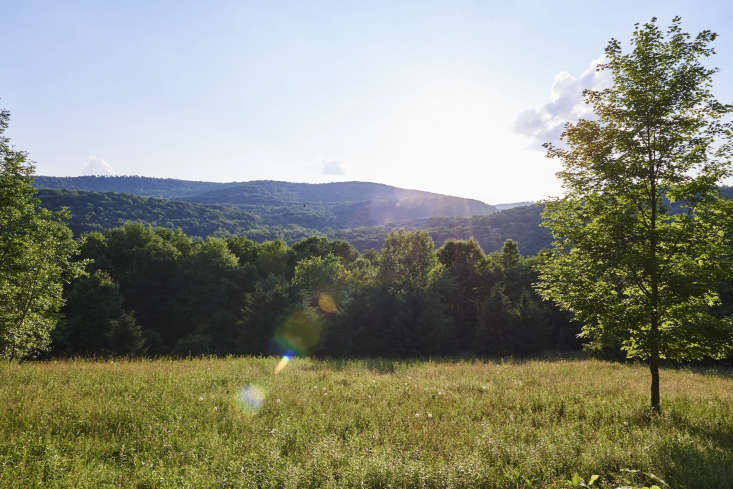 Not pictured: "an outdoor clawfoot bathtub shaded by wild apple and maple trees."
N.B.: "We can point you to trails, swimming holes, pack you a picnic, recommend farmstands, other places to eat, walk, ride," promises the studio's rental page. Visit Airbnb for more.
And for more on Table on Ten, see Steal This Look: Design Ideas from Table on Ten.
Heading to the Catskills? Add these Remodelista favorites to the itinerary:
N.B.: This post is an update; the original story ran on April 28, 2017.
(Visited 389 times, 4 visits today)