Our obsession with Shaker peg rails is well documented: We've sung their praises in our book, The Organized Home, and on Organized-home.com; some of us have even wrapped our hallways in peg rails (see Remodeling 101: How Shaker Peg Rails Saved My Summer Sanity). So today we're offering a little history lesson on this ingenious invention.
A sect of Quakerism founded in the 1700s, the Shakers believed that their furniture and living spaces should reflect their founding tenets: simplicity, hard work, equality, and order. Shaker furniture not only facilitated their way of life (tables were elongated, for example, to accommodate communal dining) but also captured these beliefs in object form.
The peg rail was the Shakers' simple but ingenious way of keeping communal households organized. Made of a length of wood with rounded pegs placed at six-inch intervals along its length, these rails were present in nearly every room and were used to hang everything—from clothing to brooms to chairs—to keep floors sparse and open. (The Shakers even created accessories for the rails, like an adjustable candleholder that could be hung at various heights from the pegs.) These peg rails exemplify the Shakers' striving for order and harmony within the home; even the extremely even spacing of the pegs exemplifies their love of repetition, grids, and symmetry. When it came to design, the Shakers, writes Adam Gopnik in his New Yorker essay, had a way of "imbuing the ordinary with a sense of the numinous."
Though we may not live communally in the modern day, these peg rails are still an easy and artful way to corral kitchen utensils, coats and jackets, bathroom necessities, or wet towels in busy homes. (We've spotted them in hotels too: London's High Road House wraps its guest rooms with them.) Here are five of our favorites.
Five to Buy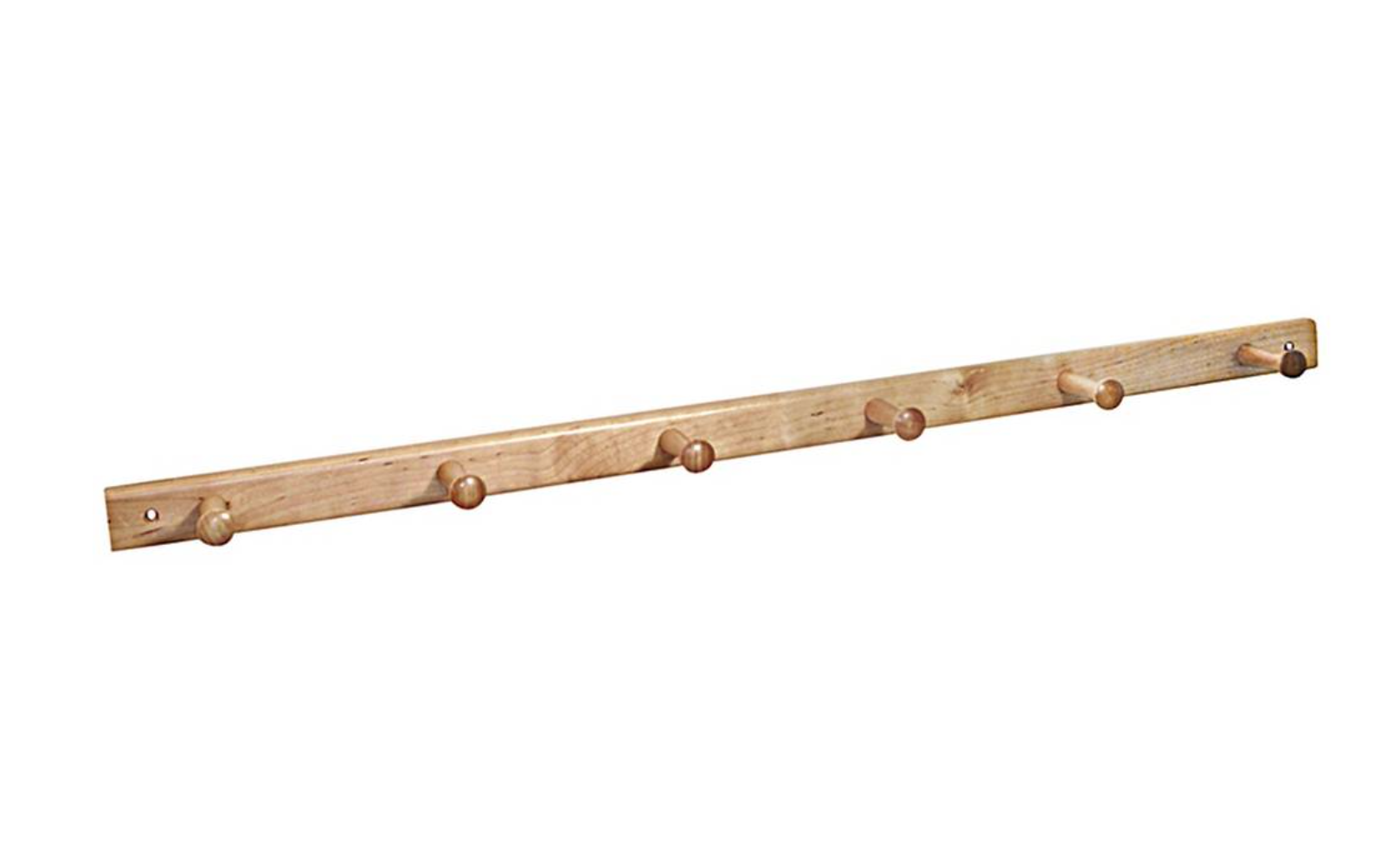 For more options, see 10 Easy Pieces: Peg Rails at the Organized Home. And see our posts on Shaker style:
N.B.: This post is an update; the original story ran on September 13, 2016.
Cover image courtesy of Juli Baker, from O Canada: Mjölk's Renovated Scandi-Style Cabin on a Lake.
(Visited 3,565 times, 9 visits today)