Popularly associated with midcentury modernist lounging, the Butterfly Chair began life as a wood-framed folding chair used during the Crimean and Boer wars and was patented by the British in 1877. Fifty or so years later, three Argentine architects–Jorge Ferrari-Hardoy, Antonio Bonet, and Juan Kurchan–replaced the wood with a single length of steel and exhibited the chair at a furniture fair in Buenos Aires. It caught the eye of MoMA's industrial design curator Edgar Kaufmann Jr., who bought one for the museum and one for his parent's new country house, Fallingwater, designed by their friend Frank Lloyd Wright. Knoll acquired the US production rights in 1947, and about 5 million chairs were sold during the 1950s alone.
The popularity of the Butterfly Chair continues apace and today it is made by a range of manufacturers worldwide, including French company Airborne, which has been producing the chairs since 1951 and has come out with a couple of variations on the theme (it's also faithfully reproduced in the US by Circa50, and will soon be available at Steele Canvas).
Above: The AA Airborne chair is made in France and is available for €783 in leather. Bodie & Fou offers the AA Airborne Chair with a black or white canvas cover for $729. Photo of the Isabel Marant store in LA by Julie Carlson.
Above: There is something very appealing about canvas paired with white stitching. 
Above: The Estancia Chair with linen cover from Roost is $675 from Modish Store. CB2 has just begun offering its own version of the Butterfly Chair for $399 in black or brown leather, and $249 in kilim pattern by Aelfie Oudghiri.
Above: One of the two butterfly chairs bought by Edgar Kaufmann Jr. in 1938. This is in Fallingwater, the other is at the Museum of Modern Art. Photograph by Christopher Little.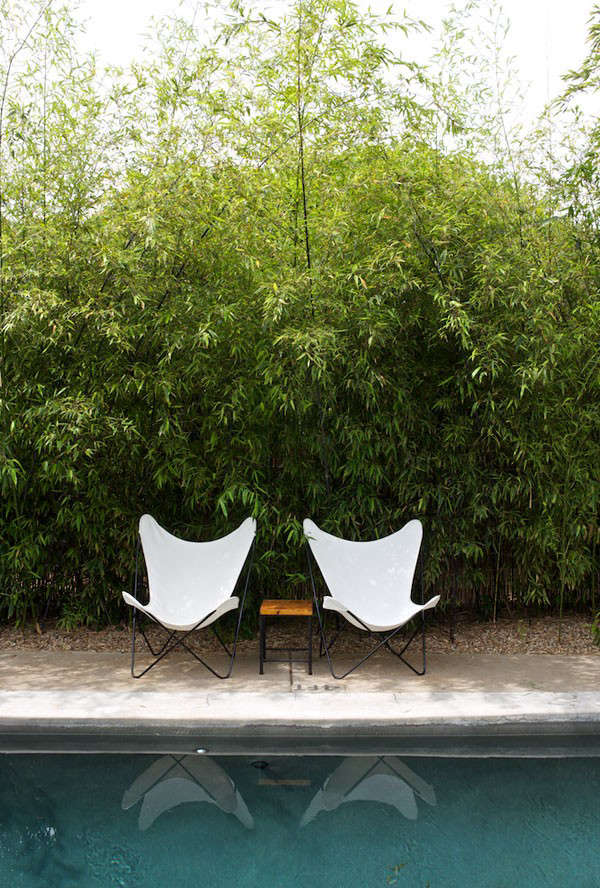 Above: The Hotel Jan José in Austin uses white canvas butterfly chairs outdoors and black leather butterfly chairs indoors. Image via Apartment34.com.
Object Lessons columnist Megan Wilson is the owner of Ancient Industries and curator of the Remodelista 100 presented in the Remodelista book. Watch for her column every Tuesday, and have a look at her past lessons on the Atlas Pepper Mill, IBM Wall Clock, Sheila Maid Clothes Drying Rack, and Hudson's Bay Point Blanket.
(Visited 599 times, 2 visits today)