What's the modern answer to Mary Tyler Moore's Minneapolis studio apartment? Take a look at this masterfully planned mini loft located in a century-old rescued row house in Antwerp, Belgium. Designed for Caroline Van Ranst, a young video producer making the leap from renter to owner, it's the work of Belgian architecture firm Komaan!–translation, "Come on!"
Photography by Lisa Van Damme.
Above: The 430-square-foot space was initially divided into tiny rooms–the building had been converted from a house into apartments. Caroline bought her place from developers who had gutted it and were about to start building walls. She stopped their construction plans and called in Katrien Van Doren and Jerzy Bakker of Antwerp's Komaan. "I asked them to arrange the interior in the most efficient way while keeping a spacious feeling and being creative with a limited budget," she says. 
Using a palette of white paint and plywood, the architects left the space open while providing a place for everything. In the entrance, shown here, a built-in vestibule artfully divides the living room and kitchen zone from the bedroom. To add texture, the living room entry wall is paneled with painted fiberboard.
Above: Caroline works for Antwerp production company Rococo; she furnished the apartment with finds from vintage stores. Asked whether it's hard to live with so much white, she told us, "I love the all-white interior. White makes my small space look big, it keeps everything light, and it's easy to decorate. There's plenty of built-in storage, so I store everything in cupboards. Also not having much stuff helps. I like it bright and simple." Looking for a lamp like hers? See Object Lesson: Noguchi's Iconic Akari Lights.
Above: Built from pine plywood, the vestibule has shelves on one side and hooks on the other. It also encompasses a tiny WC with a toilet only.
Above: Caroline sticks with all-white bed linens and curtains.
Above: The sloping wall opposite the entry is a complex puzzle: "It embraces a bathroom [shower and sink], built-in storage, and kitchen, all in one volume," Jerzy says. The contractor, he tells us, built the bathroom sink to the architects' specs from MDF clad with polyester.
Above: Caroline sits on an Eames Chair at her Ikea kitchen table. The floor is painted oriented strand board, a kind of particle board.  
Above: The kitchen cabinets were custom built. The hanging lights are by Zangra, a Remodelista favorite–see Belgian Basics Arrive Stateside.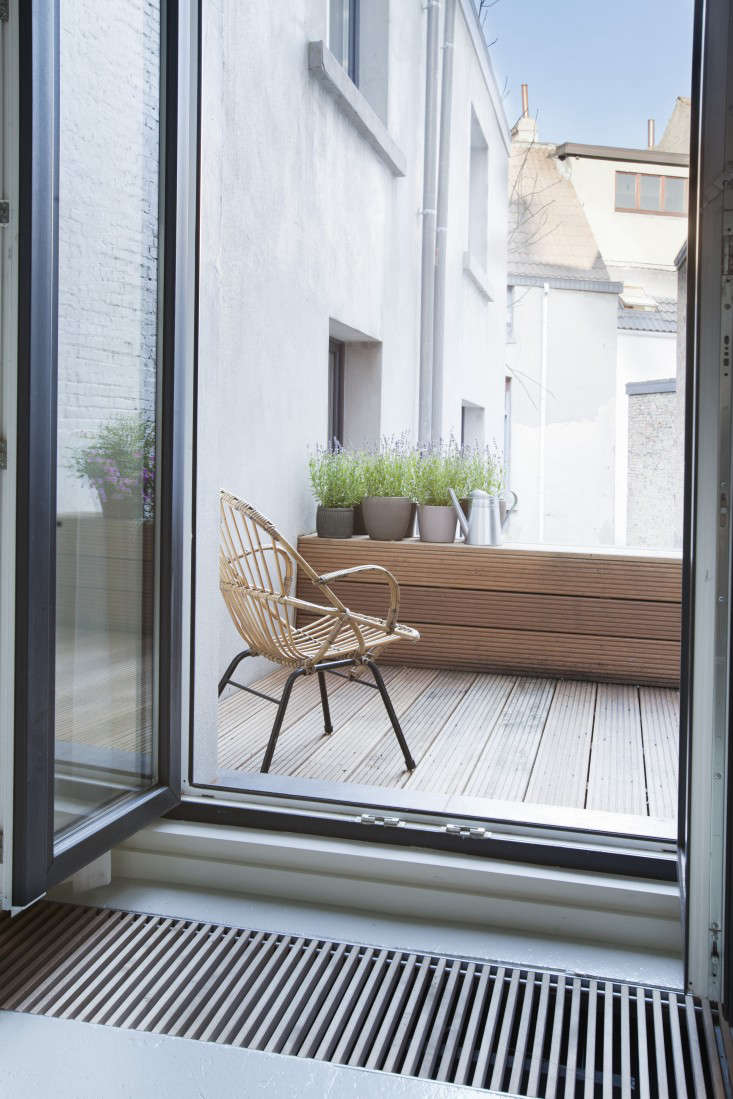 Above: A small terrace opens off the bedroom. What more could you want?
Above: Komaan's plan for the studio: zones within an open space, and a tidy but hardworking kitchen area.
Before
Above: When Caroline bought the apartment, developers had gutted it and were getting ready to do their own remodel. "It looks like four walls and a lot of rubbish," she says.
Figuring out how to make do with very little space? See our postsExpert Advice: 10 Tips for Living in 240 Square Feet, and A Shape-Shifting Studio Apartment in London. And on Gardenista, take a look at a Garage Turned Studio Apartment.
(Visited 472 times, 1 visits today)