If you're feeling a little on the pale side, consider painting a room pink. We asked members of the Remodelista Architect/Designer Directory for their favorite pink paint picks and got diverse recommendations: some light shades, some dark, and some more orange or red.
But we did pick up on one universal response: Pink is flattering–a pragmatic pick for Valentine's Day and well beyond.
Above: Top row, left to right: Benjamin Moore Countryside Pink; Farrow & Ball Middleton Pink; Benjamin Moore Touch of Pink; Farrow & Ball Calamine; and Rodda Prettiest Pale. Bottom row: Eddie Bauer Colors by Valspar Taffy; Glidden Pink Heather; Pratt & Lambert Smokestain Rose; Benjamin Moore Raindrops on Roses; and Farrow & Ball Cinder Rose.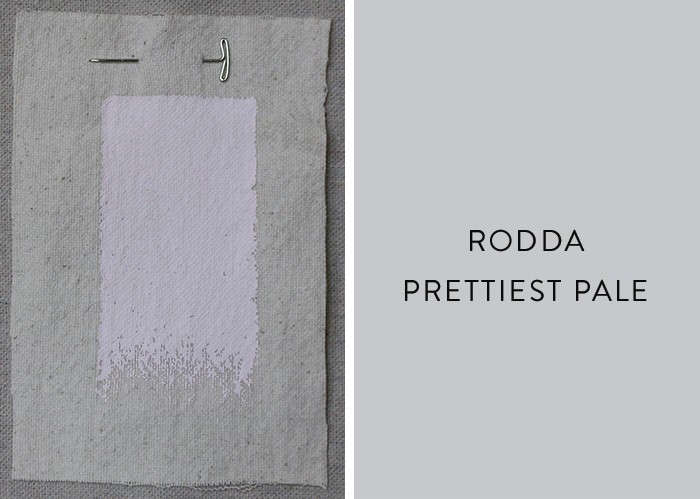 Above: Interior designer (and recent Pacific Northwest transplant) Carole Magness has taken a liking to Rodda paint, based in Portland, OR. She's particularly fond of a shade called Prettiest Pale: "When it comes to pink, I feel quite strongly that pale is best," says Magness. "There is something so purely luxurious about walking into just about any space that glows softly pale pink."
Above: Magness is equally fond of Farrow & Ball's Middleton Pink. She says it's grayer than her Rodda pick, but still quite "perfectly pale."
Above: Los Angeles designer Alexandra Loew chose Farrow & Ball's Cinder Rose as her favorite, saying, "I love using pink in unexpected ways, like in rooms that are more 'handsome' than feminine." Accordingly, she says this hue is "pinkish, and not girly: It has a muddy, earthy, clay-like pigmentation that lends itself to masculine, organic, and even neutral looks."
Above: Loew also likes Benjamin Moore's Raindrops on Roses, which she says "feels like sunshine bouncing off clouds on an overcast day."
Above: NYC designer Ellen Hamilton knows color, and her all-time favorite pink is Smokestain Rose from Pratt & Lambert. She chose the color inspired by what she calls "the most beautiful pink in the world"–the pink found in Renaissance paintings.
Above: Benjamin Moore's Touch of Pink is another favorite approximation of the Renaissance pink Hamilton loves.
Above: We've been fans of Farrow & Ball's Calamine ever since we featured a wall painted in it to create an instant headboard; see Steal This Look: Pale Pink Bedroom by Alexandra Angle.
Above: Remodelista editor Christine Chang Hanway sold us on Benjamin Moore's Countryside Pink when she rebelliously painted her wooden deck chairs in the hue. Get the whole story in A Scandal in New England (Pink Paint Is Involved).
Above: San Francisco designer Kriste Michelini likes Pink Heather by Glidden. She says, "I especially love a soft romantic pink in a bedroom. Everyone loves a pink room because it makes you look softer and younger."
Above: We like Taffy from Eddie Bauer Colors by Valspar, a playful, barely-coral hue.
Keep browsing for the perfect paint color by consulting our Palette & Paints posts, including Moody Paint Picks and Happiness-Inducing Paint Colors.
You need to login or register to view and manage your bookmarks.