The combination of black and white paint can be both simple and dramatic, but it's a look that is not necessarily easy to pull off. We turned to paint expert Eve Ashcraft and interiors writer Heather Smith MacIsaac, who collaborated on the book The Right Color, for insights into how you effectively combine the two colors.
Remodelista: What is it about a black and white interior that is so appealing?
Eve Ashcraft and Heather Smith MacIsaac: Most people think of patterns when it comes to combining black and white. But beyond the obvious and often wonderful graphic possibilities of the duo, like classic checkerboard floors, we love black and white for their muscular ability to shape space and call out architectural details.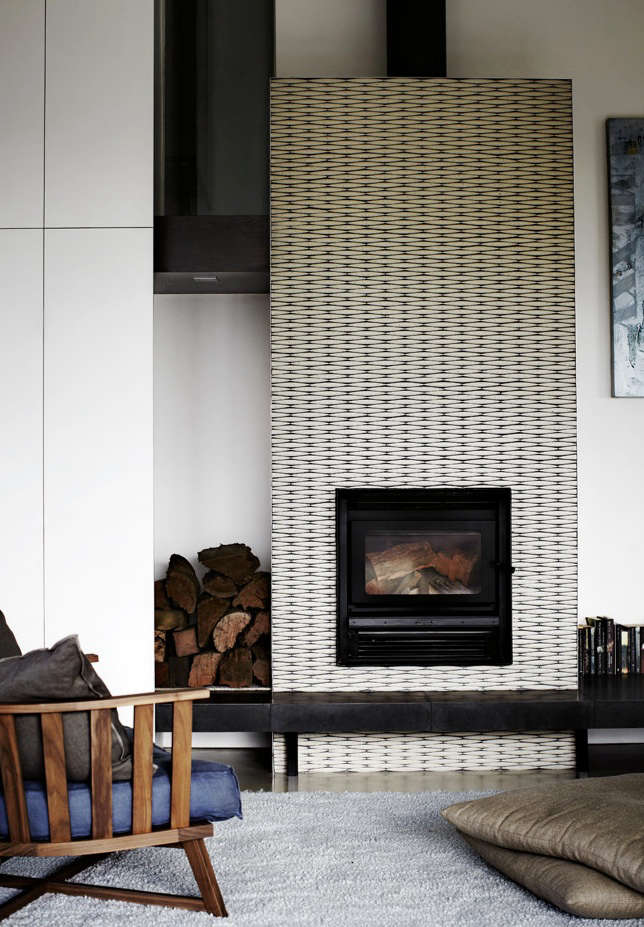 Above: Inax woven tiles on a mantelpiece in a Melbourne apartment. Photograph by Sharyn Cairns for Home Life.
RM: How do you mix black and white without overwhelming a room?
EA & HSM: When combining black and white as a pattern, the smaller the scale the more the pattern will read as texture rather than colors. The tile on this fireplace, the dominant feature of the room, knits together a black and white scheme via its geometric pattern.
Above: Pressed wildflowers hang on a wall in the entry of Jimmy Stanton's antebellum home in Georgia. The wall is painted in Writer's Parchment by Ralph Lauren. Photograph by Bjorn Wallander for Country LIving.
RM: What makes this grouping of black frames so powerful?
EA & HSM: By its very nature, black has a strong graphic quality some steer clear of. Black furnishings like this wall of framed pressed flowers allow you to ease into the commitment to black. One row of prints would be a dipping of the toes, four rows is a plunge, with far greater impact and reward.
Above: An elegant Cuban tiled staircase from the book The Great Houses of Havana by Hermes Mallea. Photograph via Harrison James.
RM: How do you make a bold statement without going over the top?
EA & HSM: Bold black and white motifs can be tricky when applied to walls; supergraphics are not the easiest to live with. Underfoot though, such patterns can animate an otherwise tailored space. Here, black paired with ivory softens the optical effect of the tile floor, the jazzy pattern itself a contrast to the fluid black line of the banister.
Above: A bunk bed featured in our Remodelista post of Ski Cabin Bunk Beds.
RM: How do you add a touch of black to an all-white space?
EA & HSM: In a nearly monochromatic environment, where shadows alone create different shades of white, black sconces act like distinct punctuation, literally commas on the wall. The density of the small black objects is visually commanding.
Above: A black painted armoire in the 19th century home of French designer Sandrine Zigler-Munck via Marie Claire Maison.
RM: Can you mix matte and gloss in a black and white interior?
EA & HSM: Black can be a sinkhole, but in this hallway, texture and finish allow black to deftly play with light and shadow. The floor is a solid plane of black paint, but because it is glossy it acts like a deep reflecting pool. The armoire carries the black right up the wall but its mottled finish tempers the impact of its heft.
Above: A DIY bedside table made from a stack of magazines and a buckle belt found on the blog Varpunen.
RM: An easy color fix?
EA & HSM: Not only is a stack of magazines bound by a single band a clever provisional nightstand, the band is a brilliant stroke made bolder by being the only black in a spare all-white room. Here black provides direct simple drama.
RM: Suggestions for good black and white paint pairings?
EA & HSM: Here are a few different options:
Need more paint suggestions? Check out more posts from Eve Ashcraft. Explore more Palette and Paints.
You need to login or register to view and manage your bookmarks.