"It wasn't a house and it had no details you'd feel bad about getting rid of, so we could sort of do what we wanted." Textile designer Eleanor Pritchard—our Material Girl—is talking about the converted flour storage building with its own tiny courtyard in East London that she and her husband, Peter Pritchard, purchased 12 years ago. The plan: after years of living in a 1930s apartment with detailing that they found "quite prescriptive," the two creatives—Peter is a lighting designer—wanted to start from the ground up. The couple enlisted just-launched architecture firm Al-Jawad Pike to take their 1880s structure back to its original footprint and build a two-story house on the compact site.
While preserving the original brick front walls, architects Jessam Al-Jawad and Dean Pike (both formerly of David Chipperfield) devised an inventive contemporary cube-like solution that makes the most of the space and washes the interior in natural light. It was completed in 2015, and the couple, now ready for a new creative project maybe outside of the city, have put their place on the market with The Modern House. We ourselves are ready to move in. Come see.
Photography courtesy of The Modern House.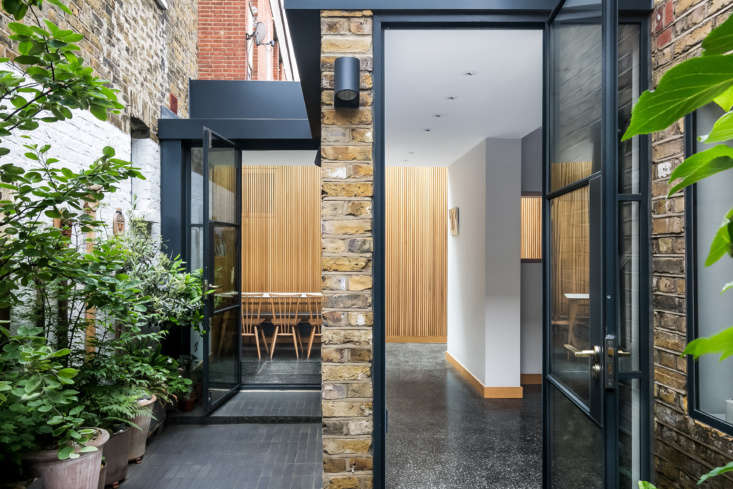 "Nestled within a very confined space between buildings, the existing interior spaces lacked sunlight," explain the architects. "Our idea was to create a new linear box spanning along the back of the house that accommodates the kitchen and dining area. The outer walls to this volume are lined in oak and framed by a new large glass roof that brings daylight into the heart of the home."
Their flour storage structure was initially converted into a dwelling in the 1980s, a low-budget job that they lived in for a while but always planned to redo.
The downstairs floor is polished asphalt: "It's a material that Dean had seen used in the Turner Contemporary project while he was at Chipperfield, " explains Eleanor. "It has the feel of a black terrazzo, and its advantage over concrete is that it can be poured in a relatively thin, impermeable layer. (The asphalt is mixed with your choice of color and size of stone—we went for quite small gray granite—poured at a hot temperature and then polished and sealed.) It runs throughout the ground floor, which creates a sense of openness."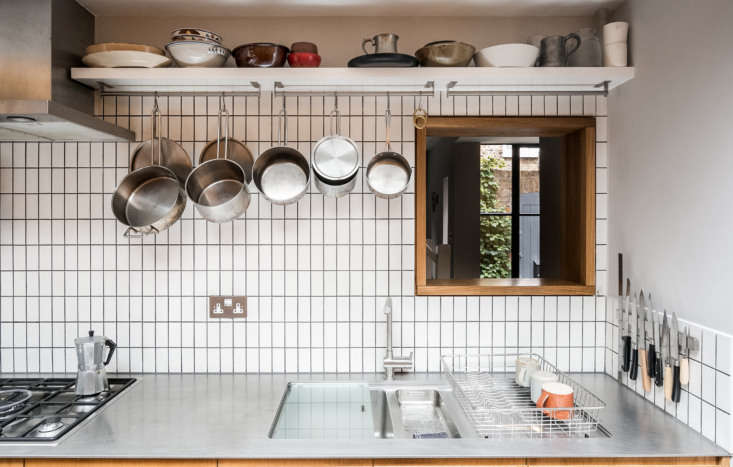 Overhead, Ikea Grundtal storage rails have been put to good use. (For more inspiration, see Ultimate Budget Storage: 10 Kitchens with Ikea's Grundtal Rail System. N.B.: Ikea recently replaced the Grundtal with a similar stainless-steel rail called Kungsfors.)
The lighting throughout the house is by Peter, who is co-owner of Pritchard Themis, a lighting design company specializing in large architectural projects of all sorts: "In our house we have a mix of slim, inset dimmable LED systems that give a lovely warm wash to the oak paneling at night; small, inset dimmable spots for the paintings; and the linear LEDs in the bathroom above and below the mirror and in the shower (they have the feel of mid-century architect's lamps)."
Three more creative London house remodels:
Artful Victorian: Architectural Provocateur Alex Chinneck's Family Home
Start from Scratch: A Food Writer's First Renovation in South London
Under the Eaves: A Brick House Reinvention by Simon Astridge
You need to login or register to view and manage your bookmarks.