We've been thinking a lot about the guest room recently, as we anticipate the upcoming wave of holiday guests. Yesterday, we featured Rivertown Lodge, a new hotel on Hudson, New York's main drag designed by Workstead. The bedrooms have a simple, serene quality we'd like to co-opt. Here are a few resources to pick and choose from for a room in your holiday home.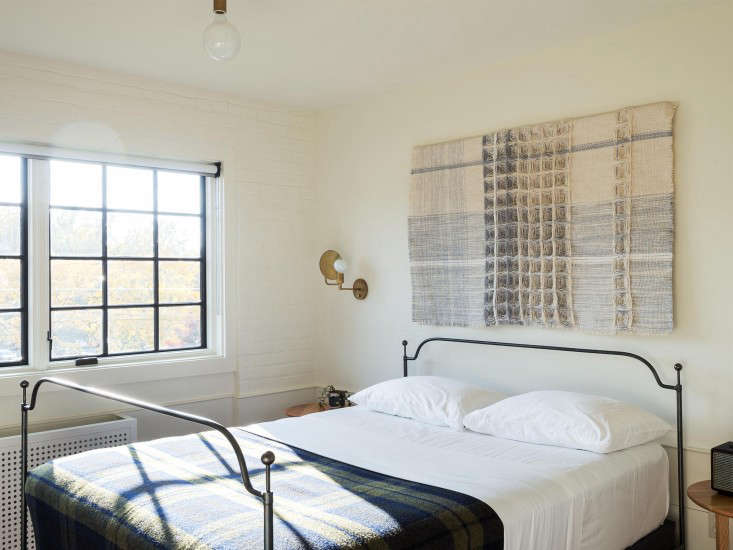 Above: A custom iron bed frame by Workstead is flanked by the studio's brass sconces, at Rivertown Lodge.
Above: An original Hiroko Takeda textile hangs above the bed.
Above: A glimpse into one of the bedrooms of the hotel's guest suite.
Above: The Italian Campaign Canopy Bed from Anthropologie resembles the bed in Rivertown Lodge's bridal suite. It's $1,698 for the queen size.
Above: Faribault's Herringbone Wool Blanket in taupe is $225 for the queen size.
Above: The Classic Core Sheet Set from Brooklinen is a simple queen size flat sheet, fitted sheet, and two pillowcases for $109. For stocking a guest room we also like their Classic Hardcore Bundle with a duvet cover and extra pillowcases for $164.25. For more in the way of sheets and bedding, see our post Bedding Disrupters: Luxury Linens for Less, Online Edition.
Above: The Foot Soldier Military Wool Blanket in Shadow Plaid is $215 for a twin size from Faribault.
Above: Workstead's Orbit Sconce was custom designed for Rivertown Lodge; the sconce is available through their studio for $725.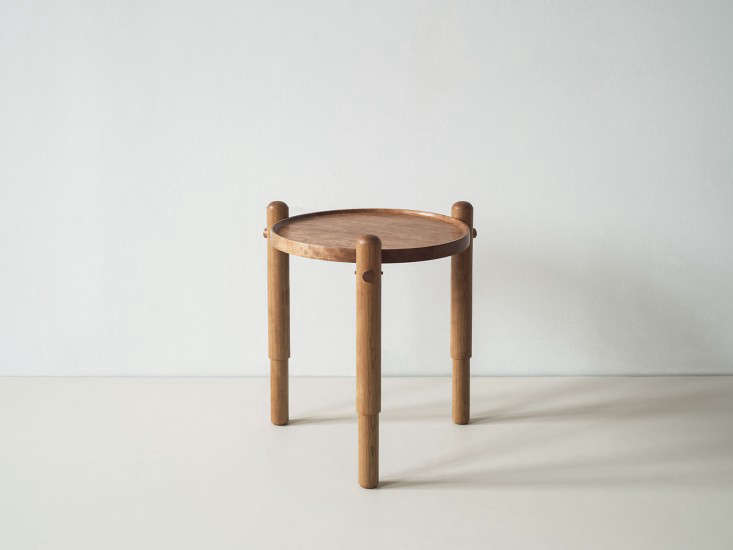 Above: The Spool Side Table in cherrywood is $975 at Workstead.
Above: From Brooklyn ceramicist Helen Levi the Riverbed & Cloud Planter with a marbled gray pattern is $65.
Above: Ikea's Tupplur Block-Out Roller Blind is $14.99 for the 24-by-77-inch size. For more on the window treatment, see our post Remodeling 101: Simple Roller Blinds. 
Above: Schoolhouse Electric's Cylinder surface-mount light fixture in brass finished with antique black is $119.
Above: The Lewis Triple Push-Button Switch Plate is made of hand-forged solid brass (shown in an oil-rubbed bronze finish); $30 at Rejuvenation.
Above: The Shaded Table Lamp with a linen shade is $575 at Workstead.
Above: The Marshall Stanmore Portable Line-In Speaker is $294.99 at Target.
For more guest rooms to replicate, see our posts:
(Visited 11 times, 1 visits today)