Why does the word "kitchenette" sound so retro? When we featured a tiny 186-square-foot summer cottage as our Outbuilding of the Week on Gardenista, we admired the way it relies heavily on Ikea to make modern use of every inch of space (giving houseguests an excuse to stay out of sight till after breakfast). Here's how to re-create the look.
Above: Furnishings first. The secret to making a 186-square-foot cottage look spacious is diminutive furniture. A 30-inch wooden Tripod Table ($199 from West Elm) seats two comfortably. Ikea's birch plywood Frosta Stool (£8 in Great Britain, not available in the US) is a copy of the Alvar Aalto original and extremely versatile; it doubles as side table or nightstand as needed. Photograph by Nicole Franzen for Gardenista.
Above: The back wall is covered in four-by-eight-foot Wainscot Panels ($19.97 each) from Home Depot. Photograph by Nicole Franzen for Gardenista.  
Above: On the shelves, Open Kitchen Salad Plates ($20 for a set of four) and Open Kitchen Mugs ($20 for a set of four) are available from Williams-Sonoma.
Above: Before we get started on the fixtures, let's fix ourselves a nice pot of tea. From Staub, an Enameled Cast Iron Round Tea Kettle in basil green is $159.99 from Big Kitchen. 
Above: Bellocq's 3.5-ounce reusable travel caddy filled with Majorelle Mint Tea is $38 from Sundance.
Above: Guests can boil water in the microwave and then pour it into the kettle to brew. A GE 1,200-Watt Black Countertop Microwave sits on its own recessed shelf; $179 from Lowe's.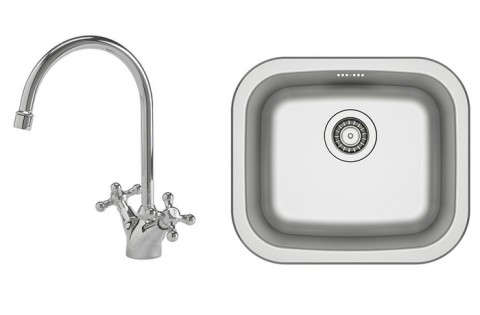 Above: Braced to deal with the plumbing? An Edsvik chrome faucet is $49.99 and a Fyndig Single Bowl Sink is $26.98, both from Ikea. They're mounted on a 1 1/2-inch-thick beechwood Karlby Countertop ($99 for a 74-inch length from Ikea).
Above: Made of recycled glass, the Copper Soap Dispenser holds 13.5 ounces; $30 from Terrain.
Above: A nickel-plated Fintorp dish drainer ($14.99 from Ikea) attaches to the wall with two screws and holds a removable tray.
Above: Ikea's freestanding two-door Sektion Base Cabinet Faced with Grevsta Stainless Steel is 30 inches wide; $195.
Are you looking for inexpensive and stylish ideas to kit out a summer guest cottage? See Steal This Look: A Finnish Cottage Kitchen and Dining Room and Steal This Look: Beach Cottage on the Dutch Coast.

(Visited 551 times, 1 visits today)