When art stars Brice and Helen Marden took over the Hotel Tivoli, the Wall Street Journal likened the project to Martin Scorsese deciding to run a diner. Julie recently checked in for a night. She returned beyond impressed–and ready to channel their fearless way with color (French's Mustard yellow, included).
Above: The Mardens remodeled the 10-room hotel in collaboration with designer Laura Flam and her colleagues at Reunion Goods & Services of NYC. Take a tour in our post The Artists' Retreat: Brice and Helen Marden's Hotel Tivoli. "The place is an extension of the Mardens' lives," Laura told us. "They're into color and surprisingly open to risk."
Here's how to re-create this bright bedroom–with thanks to Laura for sharing all the details. The Roman shades (which have concealed blackout shades that can be pulled down at night), she reports, were made by Timshell Rivers Studio of Brooklyn: "They also provided the fabric (they represent very nice and moderately priced mills)."
Above: Room & Board's Parsons Bed comes in five sizes and 14 colors (Blossom, shown here); $999 for queen size.
Above: Serena & Lily's white Pickstitch Matelassé Quilt is $258 for the full/queen size. It's also available in natural, navy, and aqua.
Above: The Norwegian lamb's wool Berg Throw, designed by Torbjí¸rn Anderssen and Espen Voll and made in Norway by Rí¸ros Tweed, is 79 by 53 inches; $375 from DWR
Above: The hotel is filled with art and interesting objects made or collected by the Mardens, such as Dutch designer Piet Hein Eek's Bedside Table in Scrapwood. It comes in a matte or high-gloss finish (with six coats of water-based lacquer); $535 from The Future Perfect. (See more of Hein Eek's scrap wood designs here.)
Above: A 1940s design classic reissued by Gubi, the Grasshopper Lamp by Greta Grossman, comes in six colors; $875 at DWR. The room's other bedside light is a vintage design from eBay.
Above: There are a lot of butterfly chair options out there: See Object Lessons. "I always buy butterfly chair frames vintage from eBay. They have the right patina and new reissues sometimes have some subtle design changes that aren't as nice as the original," says Laura. "I buy Butterfly Chair Covers from Circa50 in Vermont. Amazon and a bunch of others also offer them, but Circa50 sells them in a few sizes and has a simple guide to help you measure which vintage size you purchased to buy the right cover for it."
We also like longstanding French manufacturer AA Airborne's stitched canvas butterfly chair covers. They are waterproof and come in 15 colors; the Basque Red cover (shown here) is €126 ($135.24), marked down from €251 ($269.40).
Above: From Etsy seller My Blue Meadow, this machine-knit Pale Dusty Pink Throw Blanket of 100 percent natural linen yarn is $45.90.
Above: Helen Marden gathered the Tivoli's Moroccan rugs during her travels and from Imports from Marrakech in New York's Chelsea Food Market. Laura notes that Tuareg rugs, such as the one pictured next to the bed, "tend to be very pricey when they're in large sizes." This mid-20th-century Moroccan Tuareg Mat of straw and leather, 10 by 7 feet, is $3,000 on 1st Dibs from Kelly Behun Studio. "Pieces of bigger rugs are less expensive," adds Laura. "I personally stole this look for my own house by buying a mat from an African importer at a flea market. Small ones pop up on eBay too sometimes."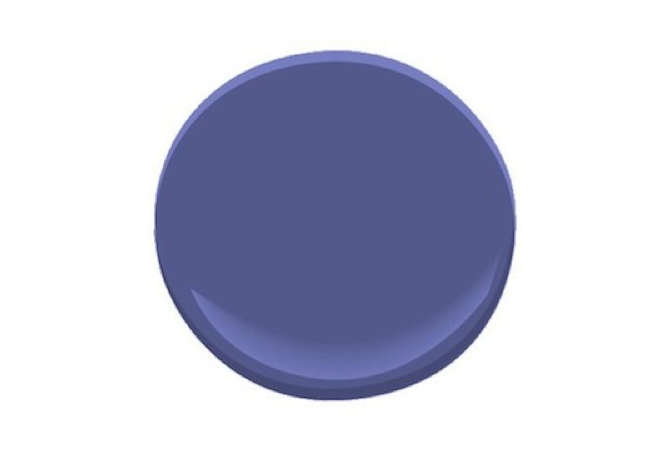 Above: The hotel's old wood floors were given a purple cast with Benjamin Moore Bistro Blue paint. The walls are painted Benjamin Moore White Dove and the gray window trim is Brice Gray, a mix of an undisclosed Benjamin Moore gray that Brice himself doctors with cadmium orange oil paint.
Above: A Vintage Moroccan Flatweave Kilim, 5 feet 4 inches by 13 feet 3 inches, is $5,500 from J&D Oriental Rugs via 1st Dibs. Source much less expensive options via Etsy seller Art of Vintage Souk.
Explore the rest of the hotel in our post The Artists' Retreat: Brice and Helen Marden's Hotel Tivoli.  And to go Reunion Goods & Services to see more of the firm's work.
Get more ideas from our Steal This Look archive, including:
(Visited 292 times, 1 visits today)