On a quick trip upstate a couple of weeks ago, we dropped in on the newly opened Rivertown Lodge on Warren Street in Hudson, NY. Located in a 1920s movie house, the hotel (and soon to be dining spot) is the first venture of Ray Pirkle and Kim Bucci, two friends and hospitality veterans who work under the name Ramshackle Properties.
Rivertown Lodge solves the vexing neighborhood problem of where to stay on a visit upstate, beyond the usual hotels and Airbnb offerings, according to Ray, who relocated to Hudson a couple of years ago as a "full-time guy," as he says, drawn to the sense of community: "It's a different mentality."
Ray's aim was to take a slower route when he approached the project, sourcing from within the community and working with collaborators such as Brooklyn-based Workstead. "We knew that we wanted color, and Workstead tends to love muted tone on tone, so we wanted to push that as far as possible," he says. "The idea for us was to stack color on color and pattern on pattern in a muted, diffused way." The result? Vintage Danish furniture reupholstered in yellows, rusts, and greens; subtle patterns like houndstooth, tartan, and abstract prints from Zak + Fox; and the warmth of cherrywood in the shape of custom woodwork throughout the 27-room hotel.
Photography by Matthew Williams for Workstead, unless otherwise noted.
Above: Custom log racks designed by Workstead and manufactured by Arrowhead flank a freestanding fireplace by Morsí¸. The furniture includes two lounge chairs of unknown origin, found on eBay and reupholstered in a custom, pale yellow fabric with houndstooth seats, a plywood table with leather feet by Tyler Hays's M. Crow and Company, and a pillow-covered settee, another vintage eBay find that was re-webbed and reupholstered.
Above: The light-filled lobby is partially partitioned with cherrywood walls designed by Workstead and fabricated by woodworker Markus Bartenschlager. The handwoven garnet jute rug is from Naniquina's Vegetal collection.
Above: A brass light fixture above the hotel's front desk was designed by Workstead and built by Markus Bartenschlager. Two stools from local studio Sawkille are among a few floating around the property.
Above: The kitchen is located in the hotel's public space; breakfast is made in the mornings and dinner is served in the evenings (Rivertown Lodge is planning a menu of 12 to 14 small plates under Jean Adamson of Brooklyn's Vinegar Hill House starting in mid-December). The kitchen cabinets are painted a deep yellow and the countertops are burnished schist.
Above: Ray, the former food and beverage director of Soho and Tribeca Grand Hotels, included a selection of Hudson-brewed craft beers on the bar menu.
Above: The bar is painted in Farrow & Ball's Tanner's Brown with cherrywood framing and the bar top ismade from a single piece of bronze. The stools are M. Crow and Company's Jack Stools, which were customized to bar height.
Above: A custom chair by woodworker David Wright and a built-in cubby by Rowland Butler in the hotel's bridal suite.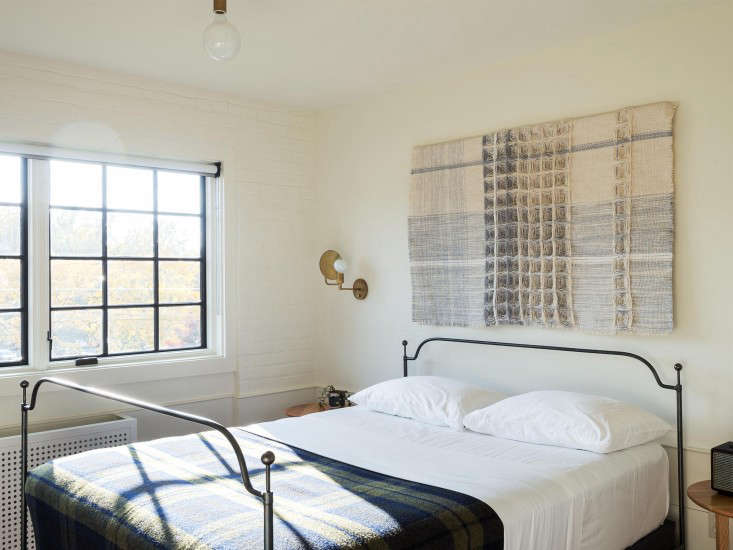 Above: A three-dimensional fibrous waffle textile by Hiroko Takeda hangs above an iron bed by Workstead.
Above: For the bathroom faucets, Workstead sourced classics from Chicago Faucets and stripped off the chrome to reveal the bare brass. The wood doorknob was left unfinished. Photograph by Emma Tuccillo for Rivertown Lodge.
Above: An armchair upholstered in Plus from Zak + Fox (each room has a Zak + Fox fabric upholstered chair) and a built-in bed in a corner cabin.
Above: Workstead's brass Orbit Sconce was custom made for Rivertown Lodge that the studio expanded into a full series.The cherrywood two-poster bed is also an original design by Workstead; it's finished with a matte Monocoat oil. Photograph by Emma Tuccillo for Rivertown Lodge.
Above: A screened-in porch area off one of the guestrooms.
Above: An update to the original movie theater sign from 1928, Rivertown Lodge is located at 731 Warren St. in Hudson, New York.
For more on the designers, see our posts:
(Visited 978 times, 1 visits today)