After a few years as a full-time art teacher, ceramicist Cara Taylor finally found her way back to the studio. But what started as an evening and weekend hobby soon blossomed into a full-time endeavor. An online shop and craft shows ensued. 
Today Cara splits her time between the classroom and studio, where she forms the porcelain planters and vessels that make up Taylor Ceramics. Characterized by elemental forms, sometimes folded or layered in unexpected ways, and finished with quirky details such as stitching or beadwork, Cara's pieces are often intriguingly paradoxical: both fluid and sculptural, organic and modern, "funky" and familiar. Each item is glazed in celadon, a transparent, blue-green finish, that emphasizes the form.
"I use porcelain to create forms that speak to the aspects of life where I find meaning and create ritual," explains the artist, "serving pieces to use with friends and family at mealtime as well as vessels to hold the plants and garden clippings that transform a house into a home."
Come meet Cara in person at our upcoming New England Market, November 14 and 15 at Lekker.
Above: Made from porcelain with waxed black linen stitches, Cara Taylor's Hanging Pillow Planter works as either a vase or planter. Available in small, medium, and large; starting at $38.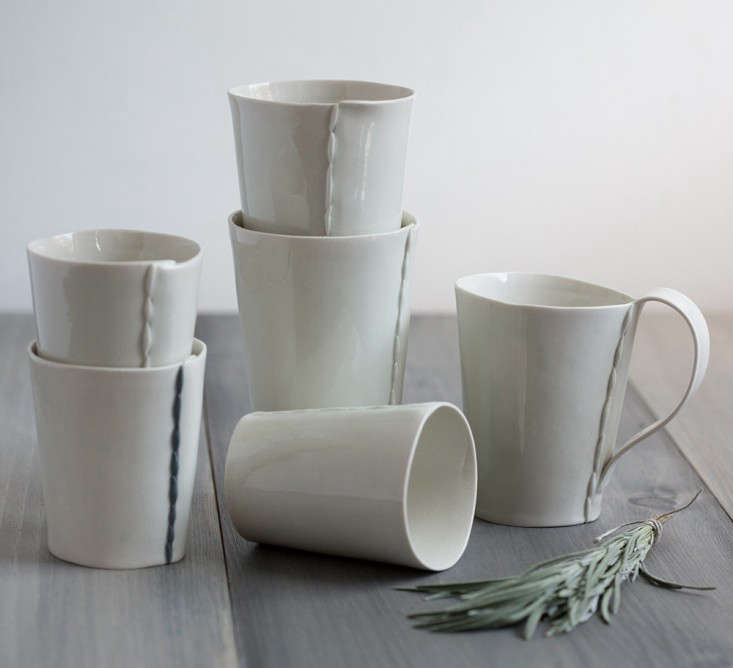 Above: Formed from one slab of clay and adorned with ceramic beads; Taylor Ceramics' Beaded Porcelain Mugs are dishwasher and microwave safe; $34.
Above: A single folded piece of clay, stitched with black waxed linen accents, forms Cara's Hand-Built Porcelain Planter, Stitched Design; $48.
Above: Hanging from an organic hemp cord, this graceful Large Porcelain Planter measures 9 by 7 by 5 inches; $76.
Above: Fashioned on a wheel, these Striped Porcelain Nesting Bowls are fired twice to a temperature of 2,230°F, which makes them very strong and durable; $130.
Above: Made from thin slab of clay, Taylor Ceramics' delicate Oval Porcelain Dish is a perfect serving piece for the holiday table; $60.
Above: Cara's Striped Planters come in eight different colors and three sizes–large, medium, and small (shown); $22–$46.
Above: The Saber Porcelain Hanging Planter is suspended by a leather cord. Available in small and large; $48 and $76.
(Visited 34 times, 1 visits today)