Jo Anne Butler and Gearoid Muldowney make household objects and botanical prints that someone living in toadstool would appreciate. Drawn from nature and designed to accommodate small spaces, their work, they say, "tells the story of the ever-changing colors, patterns, and textures of the wildlife, wild food, geology, and seasons of Clew Bay" on the west coast of Ireland, where they're based.
The two met in art school in Dublin in 2005 and three years later established their own design studio, Superfolk (see our post Art Foragers). They use sustainable, made-to-last materials and nothing goes into production before it has been test-driven in their own tight quarters. The results are so of a piece and tantalizingly evocative of their corner of the world that we asked them to show us where they live. Come join the cottage tour.
Photography by Superfolk.
Though they met in Dublin and spent time living in Scandinavia, Jo Anne and Gearoid both hail from County Mayo and knew they wanted to return: "We both have happy memories of childhoods spent outdoors, and of the strong sense of community and belonging that comes from growing up in the country. This was something we wanted for our own children."
Their cottage is part of an enclave of dockworker and fishermen's dwellings in the town's docks area, and, Jo Anne tells us, has "really shaped how we live: When the sun shines, this house pushes us outside to the beach to go exploring or fishing. When the wind howls around us in January, our place is solid, unmoving, and so cozy."
To accommodate life in tight quarters, almost all of the couple's designs are made to hang. Shown on the stair wall is an oiled black steel candlestick from Meander, Superfolk's newest collection that was just unveiled at the London Design Festival. And their Oak Folding Stool hangs in the back hall.
Gearoid made the rail using pegs that Jo Anne purchased on a visit to the Sabbathday Lake Shaker Village in New Gloucester, Maine (the unfinished Shaker Pegs are available from the museum's online shop for 60 cents each, 25 for $14.25). The table, a charity shop find, is paired with Superfolk's leather-slung Oak Folding Stool, £440 ($594) from TwentyTwentyOne.
The sink counter is covered with the couple's ingenious Wooden Tablecloth, a design-in-progress for a "solid wooden counter that can drape and roll away like a tablecloth." Dealing with your own counters you'd like to cover? See another solution in Sarah's Refined Rental.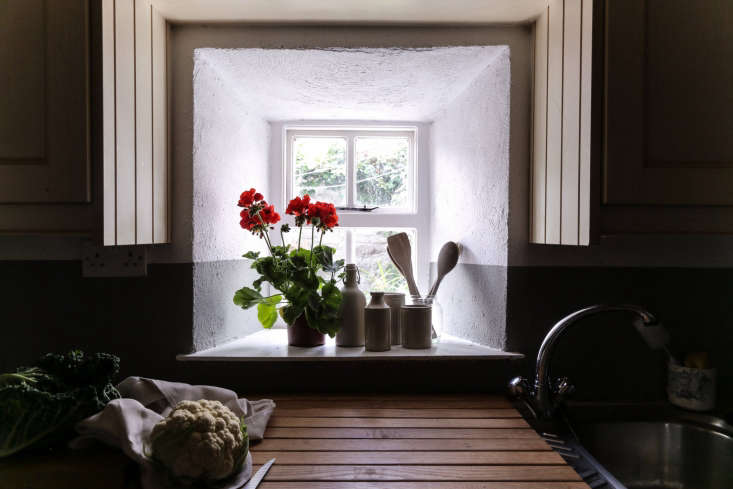 The armchair is an Ikea design slung with a Foxford Woollen Mills throw—"a 'second' bought in the factory shop in Foxford; it's made from all of their yarn ends."
More small-space inspiration: