Whenever I head back to my hometown of Seattle, I stop in at Peter Miller Books (and I always tell my design-minded friends to do the same). Two summers ago, after 25 years in the landmark Terminal Sales Building near the Pike Place Market, Peter Miller Books moved to a new space just four blocks north. Located in the heart of Seattle's Belltown neighborhood, the shop is housed in a building owned and designed by Suyama Peterson Deguchi architects (a perfect match as building mates). 
Above: Located at 2326 Second Avenue in Seattle (about the halfway point between the Pike Place Market and the Olympic Sculpture Park), Peter Miller Books has been a mainstay in the architecture and design scene in Seattle for more than thirty years. The bookstore occupies one of two retail spaces that adjoin Suyama's architecture studio; the other is occupied by 3 x 10, Suyama Peterson Deguchi's own furniture and accessory showroom. Situated in a third dedicated space in the center of the building is the Suyama Space art gallery.
Above: Miller offers a range of titles for the architect, the architecture lover, and the design enthusiast, with a focus on building, landscape, urban, product and graphic design.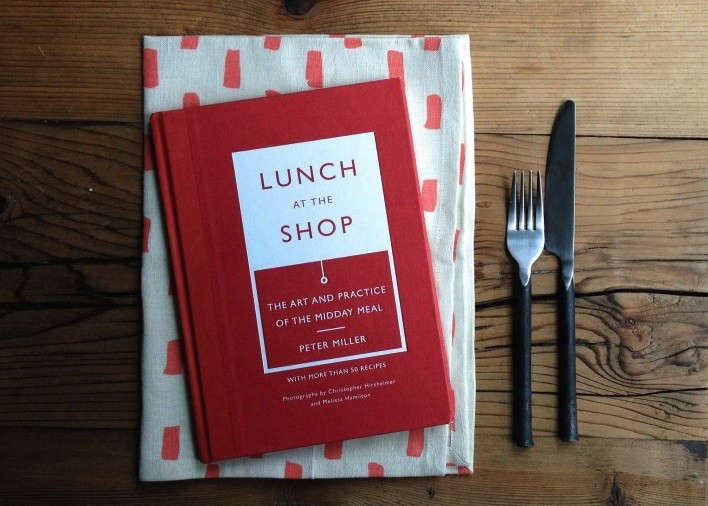 Above: Miller's 2013 book, Lunch at the Shop: The Art and Practice of the Midday Meal is $16 from Amazon (photo via To Die For). Miller trained as a chef with Maurice Thuillier before launching his shop; a compendium of easy yet sophisticated midday meals, his book was was photographed by Christopher Hirsheimer and Melissa Hamilton, cofounders of Canal House.
Above: The building started as a livery stable over a century ago and then spent nearly 60 years as an automobile repair shop before George Suyama purchased it in 1995 and transformed it into his architectural studio (with additional retail spaces in the front).  
Above:The store also offers a collection of office tools and stationery supplies (some items are available through Peter Miller's Online Shop).
Above: The stacks look like tall buildings.
Above: Drawing materials on offer include the Le Corbusier Stencil Set available in a variety of sizes; $36.
Above: The Stendig Wall Calendar hangs in the shop; $40.
Above: Peter Miller Books carries a small but well-curated collection of housewares, including Orskov Glassware from Denmark. A staple at the store for nearly 20 years (Miller first admired the glasses on a trip to Copenhagen), the delicate glasses are surprisingly durable because they're made of heat-resistant borosilicate (laboratory glass), and are microwave- and dishwasher-proof; $8 to $13 each, depending on size.
Above: Peter Miller Books is open Monday through Saturdays from 10 am to 6 pm.  
Heading to Seattle? Peruse our Seattle Design, Restaurant, Shop, and Architectural Finds. And on Gardenista, discover a Century-Old Glass House (with 3,426 window panes) in Seattle's Volunteer Park.
N.B.: This post is an update; the original ran on July 17, 2013 as part of our Best of Architecture issue.
You need to login or register to view and manage your bookmarks.