Seattle-based Suyama Peterson Deguchi Architects, founded by George Suyama, merges the traditions of Japanese architecture with contemporary Northwest style, creating homes characterized by tranquility, finesse of detail, and a strong relationship to landscape. Working within the constraints of the dark Northwest climate, the architects are adept at maximizing natural light while celebrating the natural beauty of the region, maximizing views, and creating spaces that connect the homes to their landscape. Following are highlights from their residential portfolio.
Photos courtesy of Suyama Peterson Deguchi.
Above: Designed for avid bird watchers, this Mt. Vernon, Washington, cabin is designed in the spirit of a tent.
Above: Sliding wood panels similar to shoji screens define the living and sleeping areas; the architects used Japanese blind mortise and tenon joinery throughout.
Above: The cabin features design elements found in traditional Japanese residential architecture, including two screened porches that flank both sides of the main living space and run the length of the house. Photos by David Story.
Above: The architects designed a new kitchen in a rustic barn residence on Lopez Island; the interior features cedar tongue-and-groove paneling and polished concrete floors. Stainless steel in both a highly polished and in an unrefined raw state creates visual interest, and a trio of dramatic five-foot XXL Dome by Ingo Maurer illuminates the space. Photo by Jamie Cobeldick.
Above: A 1,500-square-foot island retreat built atop a forested ridge on Decatur Island, Washington.
Above two photos: Large wood and glass planes maximize views, blurring the boundaries between indoors and out creating a pavilion effect when the weather is warm. Photos by Michael Burns.
Above: The unassuming entrance to a Suyama Peterson Deguchi-designed house in Broadmoor. Photo by Michael Burns.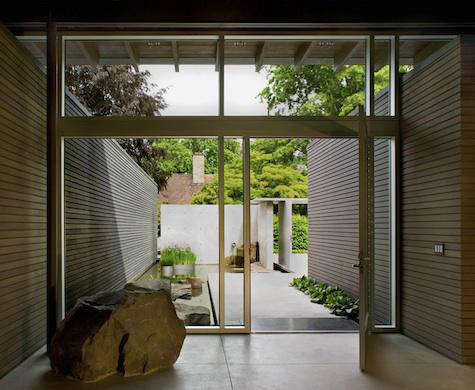 Above two photos: A Seattle house featuring a seamless connection to the landscape (images by Paul Warchol).
You need to login or register to view and manage your bookmarks.