Like it or not, the holidays are upon us, and while we're not keen on rushing into December, we do like the idea of being prepared: ordering decorations ahead of time and stashing the boxes for a couple weeks to better ease into the holiday season.
Here's a preview of some of this year's decor, edited down to our favorites.
Above: From Finnish design brand, Samuji, the Branch Candle with three branches of white tapers is $30 at The Dreslyn. For more on Samuji, see our post Style Counsel: Finnish Fashion from a Marimekko-Trained Designer.
Above: This year's "it" holiday string lights? Terrain's indoor Glass Globe Light Strand is a string of LED bulbs on a fine iron wire; $34 for a 6.9-foot length. A Smokey Globe Light Strand is also available for the same price.
Above: A flock of Handmade Sheep are made from recycled wool and virgin wool fleece; $29 per sheep from Alder & Co.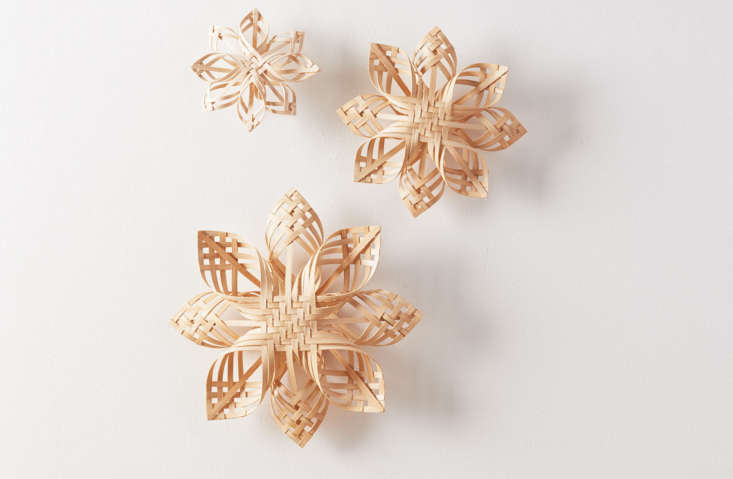 Above: An annual favorite from March in San Francisco, Handmade Basket Reed Woven Stars blends the tradition of Native American basketry with Scandinavian decor; $27-$32 each, depending on size.
Above: Anthropologie's Bell & Tassel Garland made of wool, metallic thread, and brass bells reminds us of the decor seen at architect Johanna Molineus's house in Notting Hill.
Above: A Two-Piece Laser-Cut Wood Village from Crate & Barrel is $24.95 (more pieces available).
Above: A touch of Scandi from none other than Iittala, whose Oiva Toikka Mediator Dove is appealing enough for year-round decor; $375 from Tiina the Store.
Above: Painted glass for the modernist: a Set of 6 Shiny Opaque Ornaments is $19.95 at CB2.
Above: West Elm's Felt Ball Wreath is the kind that won't get sap on your front door. It's on sale for $39 for the 12-inch size and pairs with the Large Felt Garland at $15 per strand. The wreath reminds us of a favorite holiday DIY, a Wooden Bead Wreath from Sweet Paul.
Above: New stockings for a new season from Schoolhouse Electric: the Holiday Plaid Stocking, the Heather Gray Stocking, and the Buffalo Plaid Stocking are $34 each.
(Visited 211 times, 4 visits today)