Isabel and George Blunden are now happily ensconced with their three-month-old daughter in their fully remodeled Victorian railway cottage in southwest London. On Monday, in Rehab Diary, Part 1, Isabel showed us the Before shots and detailed the couple's plans. On Tuesday, in Rehab Diary, Part 2, she chronicled the construction process, and yesterday, in Rehab Diary, Part 3, she unveiled the finished results. In our final installment, she shares her top 10 takeaway tips.
Photography by Jonathan Gooch for Remodelista.
1. Hire an architect or interior designer.
We didn't, but, in hindsight, we should have. Working with a professional, even if only on an hourly basis, would have been more efficient and helpful on so many fronts, from space planning to figuring out the best places to locate outlets and switches. There's the impression that calling in a pro is always expensive, but I now realize that having someone's wisdom and guidance could have actually saved us money–and certainly would have reduced stress.
2. Look to your heritage.
Our inspiration for our furnishings came not only from what we had seen in magazines and online but also from what we knew. Incorporating styles and actual pieces from our childhood has made our rooms feel personal and instantly like home.
Above: My mother made the cushions on our sofa from offcuts of her own curtain fabric.
3. Spend here, save there. 
Prioritize the luxuries that you don't want to give up on, and work your budget around them. In the kitchen we splurged on a Perrin & Rowe gold tap and marble countertop but went with affordable cupboards. We also had to forgo the dream of steel-framed factory doors and went with aluminum instead.
Above: Our two luxuries, the tap and the countertop, do much to heighten our enjoyment of daily chores, not to mention the overall look of our kitchen.
4. Be open-minded along the way. 
Sometimes plans don't turn out as expected, which isn't always a bad thing. For instance, we had decided to paint our walls throughout a Farrow & Ball soft gray. But then we liked the brightness of the Dulux Primer so much that we left it as is–and spared ourselves the extra work. Of course, some changes can be expensive and time-consuming, so be aware of cost and schedule implications.
Above: The guest room is just wide enough for a double bed, but it feels light and airy thanks to the brightness of the Dulux Primer.
5. Don't postpone parts of the remodel.
As time-consuming and expensive as some of your plans may be, it's better to get them done while your house is under construction than it is to wait. For budget reasons, we chose to redo our upstairs bathroom at a later date, a decision I now regret. The thought of calling the builders back in, with the accompanying upheaval and mess, means that this bathroom will probably not get redone. Remember, once the builders are gone, they are gone.
Above: With the debris removed, our bathroom is OK as is.
6. Small details can have a great impact.
Things like hardware add personality and can really color a space.
Above: We jazzed up the blank kitchen with flashes of gold, courtesy of a few £3.50 ($5) cup-pull handles purchased on sale at Graham & Green. 
Above: The new carpentry in the sitting room is dressed up with blue-and-white French porcelain cupboard handles from my mother's house.
Above: We used the same porcelain knobs on our cupboard doors upstairs.
7. Beg, borrow, and steal furniture–especially from family members.
As detailed in my last post, our furnishings include shelving that had once been in George's grandfather's garage, a lamp from my uncle's house, and a chest of drawers discovered in a storage room. When various relatives moved house, we struck gold. 
Above: The curtain across our new back door came from George's parents' old sitting room. Miraculously, it fit perfectly.
Above: The newly repainted pine chest under the stairs was in George's childhood bedroom.
8. Embrace DIY.
Though we're first-time remodelers, we learned along the way that there's a good deal of work we can tackle ourselves– and if we can, you can. 
Above: We painted the cupboard doors and staircase ourselves over the course of a weekend or two.
Above: George cleared the garden, put in new plants, and resurfaced the brick and concrete pavers.
9. The character of your house comes from you, your things, and your stories.
By installing white walls and neutral flooring, we created a blank canvas, so that anything textured or patterned or colored stands out and bears our imprint.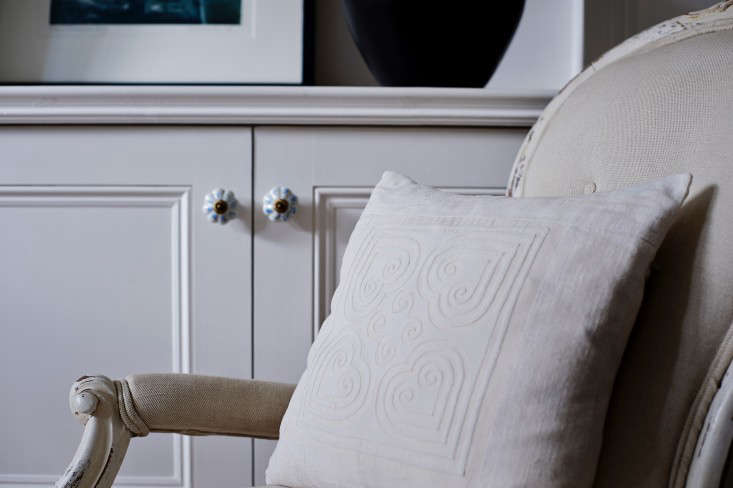 Above: When the 2004 tsunami hit, George was one of the first to volunteer his services and flew to Sri Lanka to work in the Galle and Tangalle areas, where I joined him a month later. We brought home this cushion made by craftsmen of the area as a reminder of all the things we have to be thankful for.
Above: This framed poster of Amy Winehouse's famous lyrics was a present from George. I like the way it picks up the colors of our book spines.
10. There will always be too many good ideas.
Editing is a must. There's never the space or budget to do it all; some ideas you'll have to save for next time.
Above: We were lucky to find space in the kitchen for a washing machine and dryer, but I still dream of a utility room.
For more remodeling tips, have a look at our Remodeling 101 series, including:
(Visited 355 times, 1 visits today)
Frequently asked questions
What is the Rehab Diary series about?
The Rehab Diary series is about the renovation of a small house in London and the tips and takeaways that were learned along the way.
What are some of the top tips and takeaways from the Rehab Diary?
Some of the top tips and takeaways include the importance of planning, budgeting, and prioritizing; using natural light and open spaces to create a sense of flow; and finding creative solutions to maximize storage and functionality.
What are some of the challenges that were faced during the renovation process?
Some of the challenges that were faced during the renovation process included working with a small budget, dealing with unexpected problems and setbacks, and maximizing the limited space available in a small house.
What are some of the design elements that were incorporated into the renovated house?
Some of the design elements that were incorporated into the renovated house included a mix of vintage and modern furniture, a neutral color palette, and plenty of natural light.
What advice do the authors of the Rehab Diary offer for others embarking on a renovation project?
The authors of the Rehab Diary advise others embarking on a renovation project to plan carefully, budget realistically, and be prepared for unexpected challenges and setbacks. They also recommend finding creative solutions to maximize storage and functionality, and incorporating plenty of natural light and open spaces into the design.