A time-honored choice for countertops, marble is a classic that's versatile enough to look good in all sorts of kitchens. That said, it's not without its downsides: Susceptible to staining, scratching, and etching, marble is a natural product that develops a patina with use. Some people like a surface that reflects their cooking history, others don't. Read on to determine if this high-maintenance beauty is the material for you.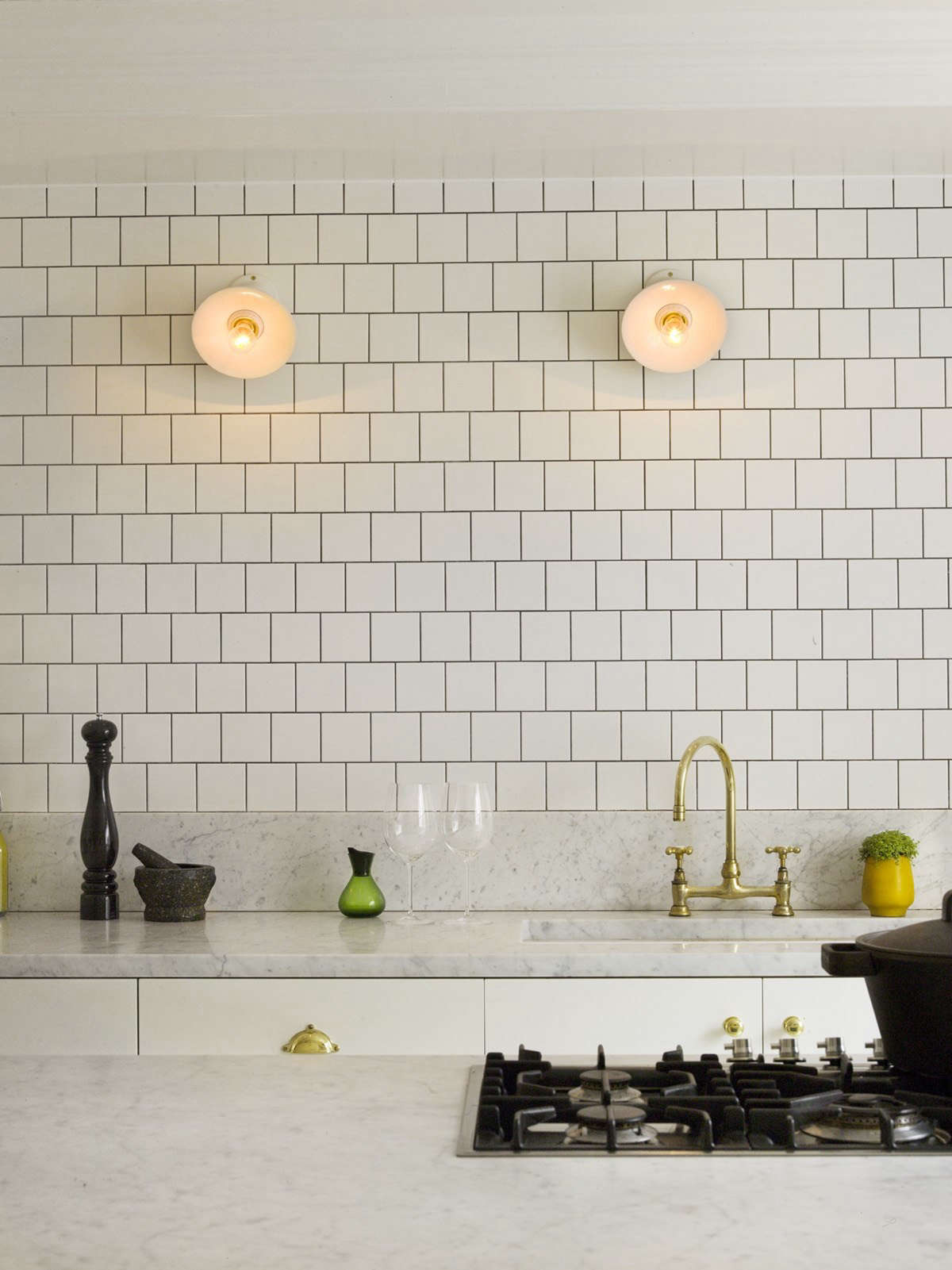 Above: London designer Charles Mellersh paired honed marble with brass trimmings in a Notting Hill Kitchen. "Marble adds character and an inherent charm that helps ground a modern kitchen," says Mellersh. Are there circumstances when he advises against marble? "Don't use it in a kitchen where spills can't be cleaned up quickly," he warns. Photograph courtesy of Charles Mellersh.
Exactly what is marble?
Marble is a metamorphic stone found in mountainous regions of North America, South America, Asia, and Europe—from Colorado to Brazil and Italy. It's created by the physical or chemical alteration of sediment into a denser form through heat and/or pressure. The resulting rock has a crystalline nature enabling it to take a polish. It also has veins of mineral deposits that pattern it, no two slabs are exactly alike.
Marble is one of the more porous of the metamorphic stones, which is why it's prone to staining. While not as hard as its metamorphic cousin granite (which comes from deeper in the earth where it's exposed to more heat), marble is not as soft as soapstone. It generally has a low abrasion rating, meaning it scratches quite easily. The stone's chemical makeup (calcium carbonate) makes it particularly sensitive to acidic solutions, which can result in etching on the surface (see below to learn to manage this). On the plus side, marble is heat resistant, strong, and generally doesn't chip or dent.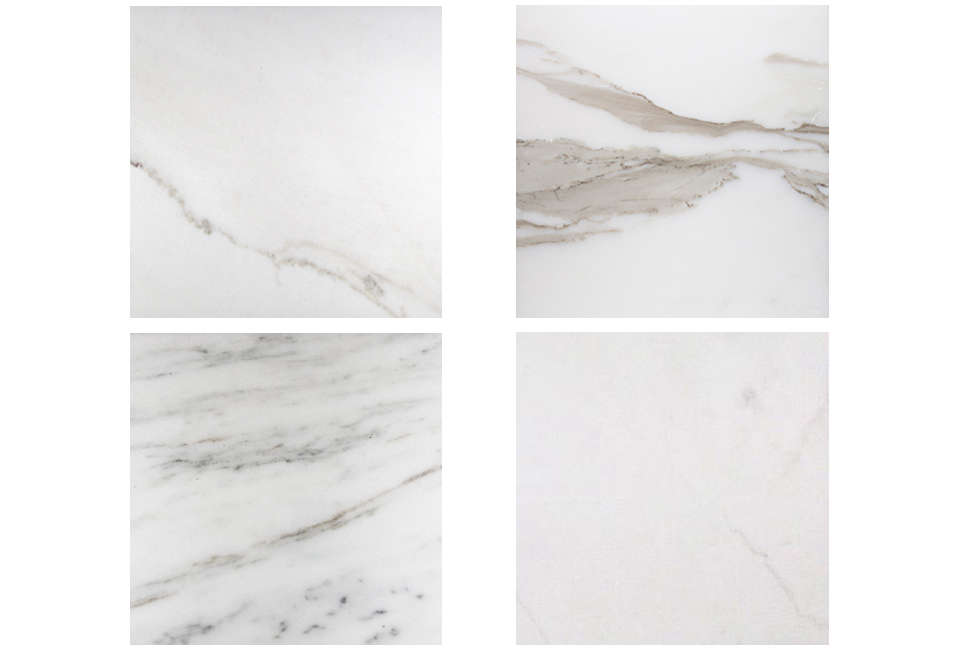 Above: A selection of white marble slabs at Stone Source. Clockwise from top left: Bianco Oro, Calacatta Vision, Imperial Danby, and Bianco Dolomiti.
What colors can marble be found in?
One of the attractions of marble is that it's available in a wide variety of natural colorations. Marble comes in hues of white, black, gray, yellow, green, and pink, some with dark, prominent veins and others with more subtle patterning. Architect Elizabeth Roberts points out that the irregular lines of veining can be a nice contrast to the straight lines inherent in kitchens.
Despite the variety of colors available, white marble is generally the first choice for use as kitchen countertops. Like a white button-down shirt, white marble is adaptable, mixing well with different styles and a wide variety of materials (stainless, wood, tile). It can be dressed up with a polished finish, or made more casual with a honed finish. Another benefit is that etching is less visible on white marble than on dark. Worried about white? Stone Source offers useful Insights on White Marble.
Above: Elizabeth Roberts designed a kitchen to feature a slab of pink-hued marble. "My client mentioned early during the design phase that she loved pink marble. When I saw the slab at a stone yard, I knew it was perfect for her," says Roberts. "I don't know the name of the marble, and I've never seen it since," she adds—a reminder that stones are one of a kind, especially those with unusual hues or patterns. Photograph courtesy of Elizabeth Roberts Design.
For a tour of Elizabeth Roberts own house, see House Call: Elizabeth Roberts in Brooklyn, and go to pages 76-91 of the Remodelista book to learn Roberts's tricks for creating a clean look on a budget.
Above: A white Calacatta marble countertop in the kitchen of a Remodeled Oakland Bungalow by architect Ian Read of Medium Plenty in San Francisco. Why white? "We know people's tastes can change over time, and we like to make the fixed elements, such as countertops, look timeless. This allows clients to change the feel of the room with accessories, paint, flowers, and linens—and without having to remodel again," says Read. "In addition to Carrara and Calacatta, we also love Yule marble from Colorado, a great solid white (think Lincoln Memorial)." Photograph courtesy of Medium Plenty.