We were saddened to learn of the recent passing of Maureen Doherty, the founder of London store Egg Trading. For those who haven't yet had the experience of visiting this magical store, tucked away in an unassuming mews behind Belgrave Square in Knightsbridge, now is the time to go. As Remodelista editor Christine Chang Hanway puts it: "Egg was always more than a shop. It was Maureen's view of how the world should be: creatively engaging on every level, whether you were an artist, designer, or client. Maureen's ability to transform her vision into the soul-enriching and calm oasis that we have all come to know and love is her greatest legacy."
Photography courtesy of Egg unless otherwise noted.
Maureen studied at the London College of Fashion before helping to establish labels such as Fiorrucci, Elle, and Valentino in the UK. She then relocated to Paris to work for the emerging designer Issey Miyake, who went on to become a life-long friend. Maureen set up three of Miyake's stores in London before returning to England to work for the high street retail chain Jigsaw. One year later, in 1994, she left Jigsaw behind and opened Egg, with the sole purpose of realizing her vision of what a shop should be: a place for "the beautiful and everyday."
From the outset, Egg stocked timeless clothes and objects, including Maureen's own playful, beautiful designs, which were often inspired by workwear from around the world. (We've read that she once stocked butcher's smocks from London's Smithfield Market and that "customers thought they were Miyake.")
Volume and shape, weight and color defined Maureen's designs, which were untouched by trends and made to last. "These are clothes that get better with time," according to the Egg website. "They are loved and distinctive, often passed down through generations. They are for men and women, young and old, large or small. They become your own."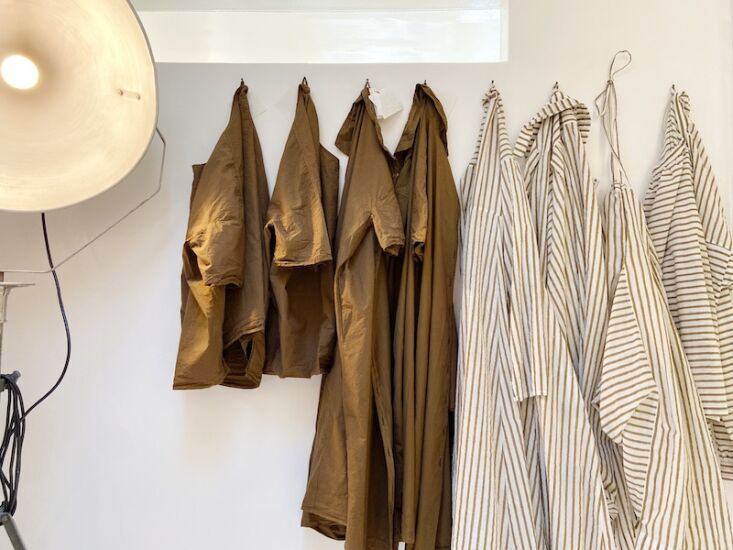 Designers and creatives come to Egg for what Maureen described as their "weekend and at-home clothes." Tilda Swinton, Diane Keaton, Meryl Streep, Emma Thompson, and Maggie Smith all shop here. (In fact, Maureen dressed Maggie Smith entirely in Oxfam for her role in Alan Bennett's film The Lady in the Van.) In 2017, then-UK prime minister Theresa May was photographed by Annie Leibovitz for American Vogue wearing a red Egg coat and cashmere jumper.