It's the kind of project every designer dreams of: a vast, raw space—in this case, a well-located London loft stripped down to its brick and mortar—and the freedom to "do what you do best."
What Mark Lewis does best could be defined as channeling the past and improving upon it. Here, he was asked to not only transform an empty shell into a glamorous two-bedroom apartment but to furnish it down to the pots and pans. "And to add soul," he says.
Lewis's client is the owner of a tech company who bought the property with an eye to creating a high-style, fully furnished rental. Lewis, in turn, took inspiration from the century-old building itself and reimagined the setup as a modern Victorian loft.
Photography by Rory Gardiner, courtesy of Mark Lewis Interior Design.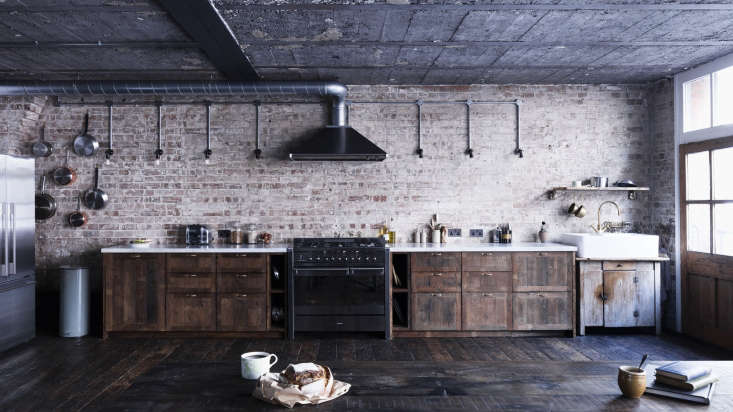 The cabinets are made of salvaged pine roof boards, one of several key elements in Lewis's arsenal that he's begun offering on his site. The floor is original and was unearthed under layers of weatherproofing material. "We had to remove and clean each plank and then reassemble it all," says Lewis. "We used motorized brush tools to remove the dirt. But I don't sand because it strips the top layer and you can lose a lot of character."
Inexpensive custom industrial lights run along the perimeter of the loft: "We didn't want to damage the fabric of the building, so I came up with surface-mounted designs," says Lewis. "In the kitchen, we used galvanized conduit with aged bronze wall lights that fit well in a factory environment."