Designed by Frédéric Périgot for Rossignol, the French manufacturer of ski and snowboard equipment, the Frisbee Trash Bin is a sleek column of color for the kitchen. 
An industrial designer, Périgot started his eponymous brand in 1995 and has been reinventing a catalog of utilitarian products ever since. When collaborating with Rossignol on the bin, Périgot chose to work with epoxy metal. "I didn't want to design just another trash bin. This one is shaped like the body of an aircraft, with a perfect finish. It's ultra-flat lid resembles a Frisbee, and when you close it, it sounds like the door of a sedan," he says. The robust design is likely to withstand the test of time–a good thing since the price tag ensures that the trash can is a life-long investment.
Above: The Frisbee Trash Can holds up to 30 liters, or about 8 gallons, of garbage. It's 27.5 inches tall and costs $610 NZD (about $500 USD) from Everyday Needs in New Zealand.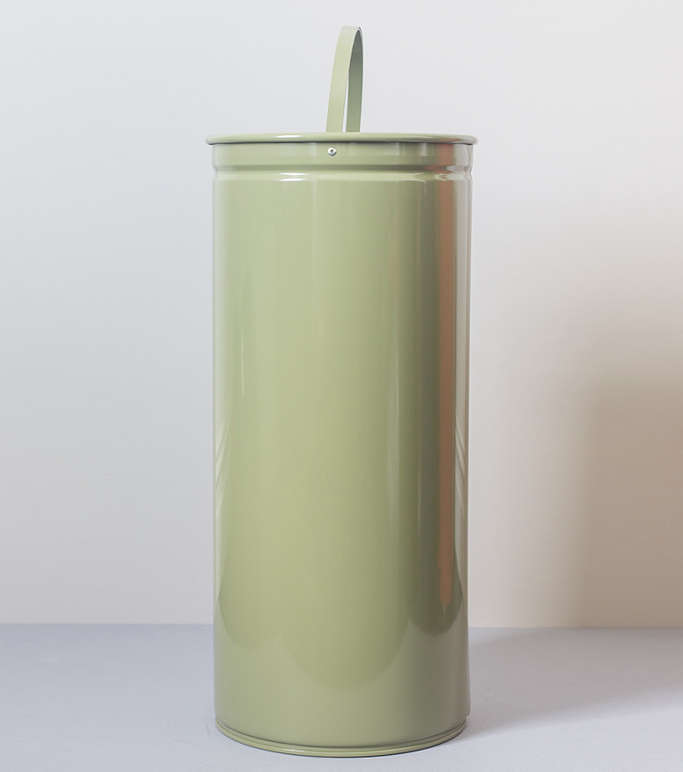 Above: The design features a removable liner bucket. This one pairs with the gray design, shown above.
Above: The Frisbee in a palette of primary colors (including a yellow liner bucket), from Everyday Needs.
Above: Périgot describes the object as the "belle, belle, belle" trash bin.
Above: Each trash bin is made by Perigot in France; shown here, the Frisbee Bin in olive green.

Above: A variety of color combinations are also available directly through Perigot for €298, as is a rectangular trash can with two interior bins.

Shopping for a kitchen garbage can? See our previous posts: Trash Bins from a Cleanliness-Obsessed Nation and The Mercedes of Trash Bins.
(Visited 716 times, 1 visits today)