To be filed under Bigger Is Not Always Better: Recently we've noticed a slew of tiny kitchens that are reinvigorating the concept of the kitchenette—so much so that we're calling it a trend for fall 2017. These new kitchenettes are design-forward, super-efficient, and not lacking in style. "I find many kitchens too big for the size of the apartment," says Karin Montgomery Spath, a New Zealand–based designer with a penchant for taking on the smallest of small-space projects. Somehow she manages to squeeze in fully equipped but postage-stamp-sized kitchens in each one. We asked her how she does it; here are her tips.
1. Resist the urge to install an island.
"These are big space wasters in a kitchenette," Spath says. "Instead, use the dining table, or attach a table lying flush against the wall (painted the same color as the wall) and flip it out when needed."
2. Build in everyday necessities.
"Just under the countertop, on either one side of the sink or both, have pullout chopping boards," Spath says. There's no need to buy and store cutting boards—and they're always at the ready.
3. Enlist multitaskers.
Spath suggests sourcing a combination oven/microwave to serve double duty (and save space). Or consider a compact speed oven: See Remodeling 101: Beyond the Microwave, the Speed Oven.
4. Weed out the pantry.
"Challenge how much food you really need to store. Do you need all of those packets of dried goods?"
5. Make use of wall space.
"Knives and utensils can be stored on the wall," Spath says. Install peg boards, peg rails, or an Ikea Grundtal rail system to hang kitchen tools and make use of vertical space.
6. Rethink the stovetop.
How often do you really use all four burners on your stove? "A two-burner cooktop (along with an oven/microwave) is all one needs to whip up a great dinner," Spath says. See 10 Easy Pieces: Compact Cooking Appliances for a few options.
7. Hand-wash the dishes.
"Unless you plan to entertain a lot, do you really need a dishwasher?" Spath says. (We happen to think washing dishes by hand can be pleasurable if you have the right tools—more on that here.) If you can't imagine living without one, "a dish drawer is probably the answer," Spath says.
8. Remember these numbers: 9 by 15.
When it comes to sinks, Spath keeps in mind the ideal ratio: "A small sink 25 centimeters wide by 40 centimeters deep [about 9 by 15 inches] will fit an oversized dish for washing and is all one needs for washing dishes," Spath says. Ikea's Fyndig Sink is just slightly larger, 15 by 13 inches, and is $31.99.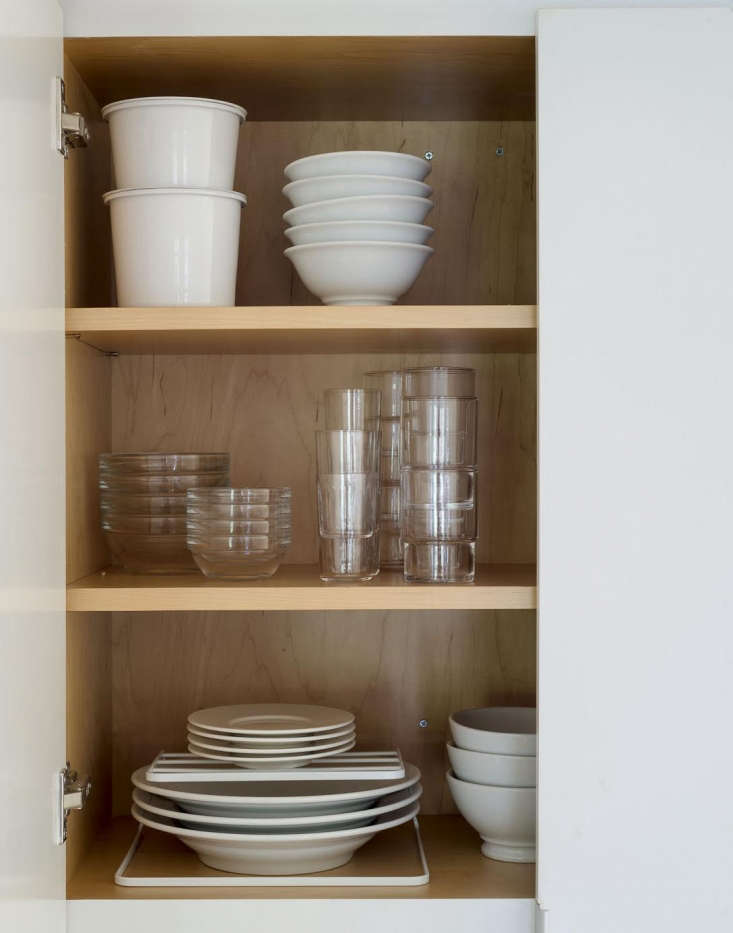 9. Find the ideal dishes—but be honest about how many you need.
Be judicious with your dishware. For really small spaces, Spath suggests finding "bowls that double as dinner plates, soup plates, and cereal bowls, and glasses that double as wine, beer, and water glasses.." And don't be tempted to overbuy in case someday you have a big dinner party: "How many people, at most, are you likely to entertain?" Spath says. "Perhaps six, so six bowls are all you will need." Consider also: Space-Saving Stackable Drinking Glasses.
10. Scale down the fridge.
Most refrigerators are the size of a small car—and maybe bigger than your new kitchenette. Think small: "A good under-counter fridge is a must. The Liebherr UIK 1550 holds a lot," Spath says. Bonus: A small fridge will curb how many perishables you can buy, cutting down on food waste at the end of the week. For a few more options, see 10 Easy Pieces: Compact Refrigerators.
11. Omit one-use appliances.
"Take a good look through all of your kitchen appliances and cull down to get only those that you use on a weekly basis," Spath says. "Use a pretty jug sitting on the stovetop, or just a teapot instead of an electric kettle." Never use your waffle iron or panini maker? Donate them or give them away. Keep the coffee maker or anything else that (truly) sees regular use.
More tricks for small kitchens:
(Visited 1,273 times, 3 visits today)
Frequently asked questions
What is a kitchenette?
A kitchenette is a small kitchen, usually located in an apartment or studio where space is limited.
What are some tips for designing a small kitchenette?
Some tips for designing a small kitchenette include using light colors, maximizing storage space with cabinets and shelves, and choosing compact appliances.
How can I maximize storage in my small kitchenette?
You can maximize storage in your small kitchenette by using tall cabinets, installing shelves above the counter, and using a kitchen island with built-in storage.
What are some compact appliances for a small kitchenette?
There are many compact appliances available for small kitchenettes, including a mini-fridge, a single burner cooktop, and a combination microwave and convection oven.
What is the best lighting for a small kitchenette?
The best lighting for a small kitchenette is task lighting, such as under-cabinet lights, to illuminate the work area. You can also use pendant lights or a small chandelier for ambient lighting.
What type of countertops are best for a small kitchenette?
Countertops that are durable and low-maintenance, such as quartz or solid surface, are best for a small kitchenette. They are easy to clean and will last longer than other materials.
How can I make my small kitchenette look bigger?
You can make your small kitchenette look bigger by using light colors, creating an open floor plan, and using mirrors to reflect light.