Being confined to small cooking quarters doesn't mean being limited to subpar appliances. Yes, we've seen cooks be creative with camping stoves and fireplaces. But if you're living day to day with a tiny kitchen, there's a growing selection of compact cooking appliances that offer big performance in a small package. Here's our roundup.
Have a tiny kitchen? Share your experience with cooking appliances in the comments section below.
Reduced-Size Ranges
Above: Professional style downsized: the BlueStar Companion Series 24-Inch Freestanding Gas Range in stainless steel has a generously-sized 3.5-cubic foot convection oven and four open burners with up to 22,000 BTUs. Available for natural gas or propane fuel source, it's $3,814 at AJ Madison.
Above: The freestanding stainless steel Bertazzoni 24-Inch Professional Series Gas Range has four sealed aluminum burners, a 2.4-cubic foot convection oven, and a storage drawer; $1,999 for natural gas or liquid propane fuel at AJ Madison.
Above: A tiny kitchen can house a taste of the British countryside (for a price). At 24 inches wide, the Aga Duel Fuel Companion has four burners, two ovens, and is made of cast iron with three coats of glossy vitreous enamel. Available in 11 colors, it ranges from $5,699 to $6,199 depending on color at AJ Madison.
Above: Super small but well detailed, the Summit Professional 20-Inch Slide-In Gas Range has four burners, a 2.5-foot capacity oven, and a broiler drawer; $899 at AJ Madison.
Above: Limited to electric? Summit offers its electric professional style ranges in 20-inch and 24-inch options. The Summit Professional Series 20-Inch Electric Range and the Summit Professional Series 24-inch Electric Range in stainless steel feature four coil elements, towel bar handles, and a storage drawer; $859 and $899 respectively at AJ Madison.
Compact Cooktops
No room for a range? Consider a cooktop.
Above: The demure Miele Double CombiSet Gas Cooktop measures just 12 inches wide. Designed to coordinate with other built-in, independent cooking modules, it also works well on its own. It has sealed burners, a cast iron grate, stainless knobs, and electric ignition. Available for natural gas or liquid propane; $999 at AJ Madison.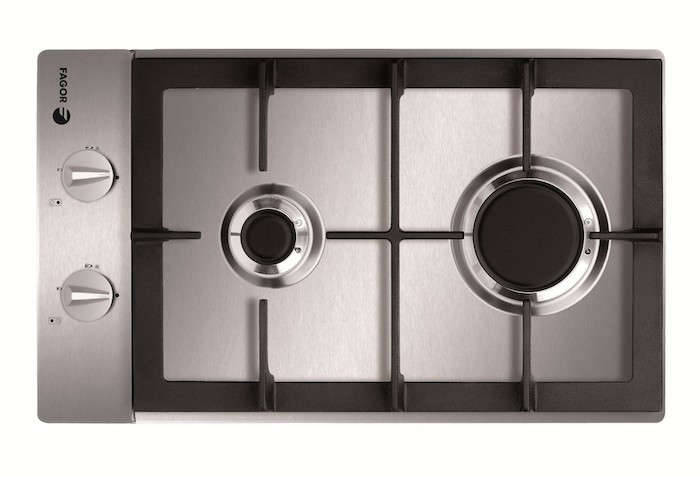 Above: A more affordable option is the Fagor Metro Suite Gas Cooktop. It measures 12 by 20 inches and is $449 at Wayfair.
Above: No hard wiring required. The electric plug-in Broil King Professional Double Burner Space Saver Range is fully portable and features two cast-iron burners with a stainless steel body. It measures 13.5-by-22.75 inches and is $224.99 at Compact Appliance.
Above: The Fagor Portable Induction Cooktop offers energy-efficient, high-power cooking in a small package. The 12-by-14 inch induction burner packs 1,800 watts of power and seven power level settings, ranging from warm to boil. It plugs into a standard outlet and has a hard-wearing Schott Ceran glass surface; $129 at Amazon.
Countertop Ovens
Your compact cooktop needs a partner: a new generation countertop oven. What used to be known as toaster ovens have moved far beyond just toasting, while still maintaining a countertop-sized footprint. More aptly called countertop ovens, here are two to consider:
Above: The Breville Smart Convection Oven is a countertop convection oven with nine operating modes, including bake, broil, toast, and roast. It measures 18.5-by-16.25-by-11.25 inches, and has a 0.8 cubic-foot interior–large enough for a 13 inch pizza (and yes, 13-by-9 baking sheets are available); $249.95 at Williams-Sonoma.
Above: The Cuisinart Combo Steam Convection Oven (CSO-300) is a countertop convection oven that also has steaming and poaching capabilities. It has nine single and combination functions, enabling it to bake, broil, steam, and even proof bread. The water reservoir limits the interior to a 12-inch maximum width, but it's able to hold a 5-pound chicken and 12-inch pizza; $299.95 at Williams-Sonoma.
For more small kitchen ideas, see 10 Ingenious Space-Efficient Kitchens. And for more space-saving kitchen appliances, see our posts on Compact Refrigerators, Skinny Refrigerators, and Dishwasher Drawers.
Considering a kitchen remodel? Go to our Remodeling 101 posts for advice on choosing a layout, cabinets, countertops, and much more. And if you're considering a formal eat-in kitchen, you'll likely be further convinced by Michelle's Domestic Dispatch on The Death of the Dining Room.