Mark Lewis began his career as a costume designer; he then segued into set design before becoming an in-demand London interior designer—all of which explains his ease at referencing the past, thinking on both a sweeping and a microscopic scale, and staying mindful of budget. Leave the details to him.
For a young family of four, Lewis introduced an addition to the back of a North London Victorian that serves as kitchen, dining space, back entry, home office, and more. Lewis's client came to him with five-year-old magazine clippings of his work and a request to replace the worn-out Ikea kitchen in her family's quarters with something multipurpose and expansive. Join us for a tour of Lewis's design, including a look at his use of characterful materials and finishes: Many are surprisingly economical, and all look both at home and of the moment in this new stage set for daily life.
Photography by Rory Gardiner, courtesy of Mark Lewis Interior Design.
The Kitchen Extension
The resulting space, approximately 45 square meters (484 square feet), is double the size of what had been there and required inserting steel supports—"to hold up the chimney and the WC wall"—in the interior. Lewis says permitting wasn't an issue: "In the UK, we have a committed development rule: You're allowed to add fifty cubic meters, or 1,765 cubic feet, if you own the house, and don't have to apply for permission."
The sink is set in an antique pot cupboard from John Cornall Antiques of Warwick, and the adjoining drawers are made of old pine floorboards. Lewis used the client's existing range—"It's going to carry on for another ten years, so why change it?"—and inserted a wall-mounted Smeg hood. (Browse our Hoods & Vents posts for ideas.)
As for the wall hardware, it's all Lewis's own,
S-hooks
included: Finding that it was impossible to keep sourcing his favorite vintage details, he started fabricating reproductions—see 
Custom Cast Bronze Hardware from Mark Lewis in London
. The dark-blue- and yellow-rimmed
Paris Bowls
are by 
Manufacture de Digoin
and came from the Conran Shop.
Kitchen Details
The cast bronze pulls are Jake Handles; £15 ($19.80) each, which Lewis also makes in cast iron and brass.
The kitchen wall is lined with inexpensive square white tiles—about £7 (roughly $9) a square meter—in a brick bond with off-white grout. For more white wall tile pattern ideas, go to
Remodeling 101: Subway Tile Pattern Glossary
.
The bronze-finished sconces are Maria Wall Lights; £103.32 ($136.78) from Urban Cottage Industries.
Workspace
In lieu of baseboards, Lewis inserted a 35mm (1.3-inch) shadow gap for a contemporary twist: "You need a balance between old and new."
Above L: The German Angled Bakelite Wall Sconces, £57.60 ($76), are from Urban Cottage Industries. Above R: Computer cords are tidily threaded through a Cast Bronze Wire Cover, £22 ($29.04), that Lewis also makes.
Utility Room
The exposed brick wall is original and had been hidden behind plaster. A compact Belfast Sink by Twyford sits on a counter made from salvaged Swedish pine: "It's very thick, so it's great for a worktop." A washer-dryer and the boiler are tucked below, and the fuse box is hidden behind the wooden doors.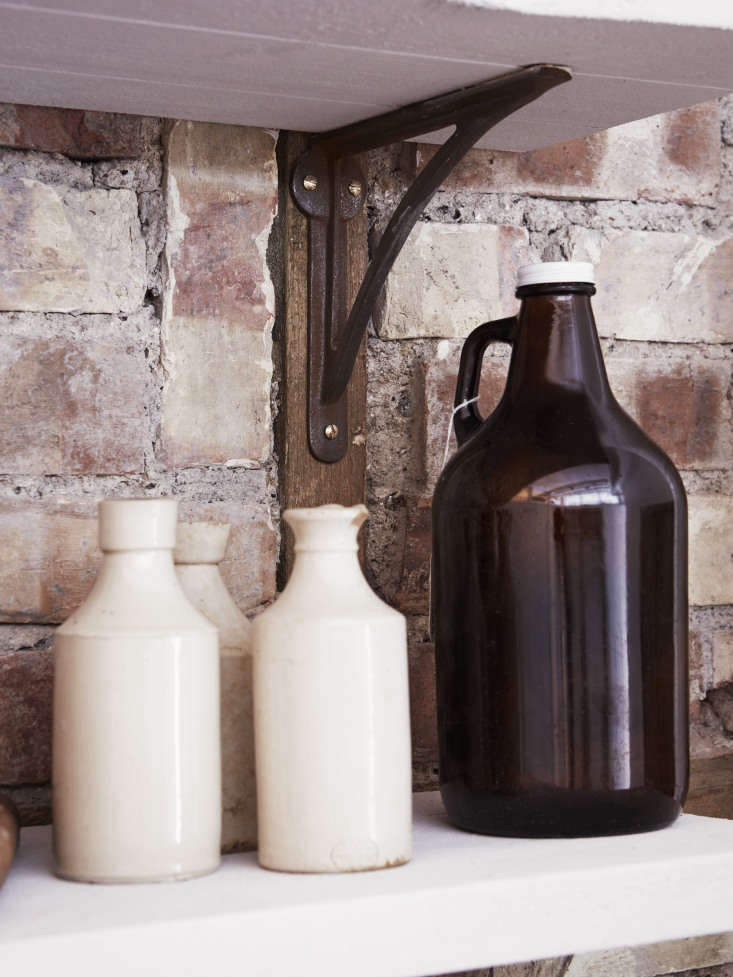 Powder Room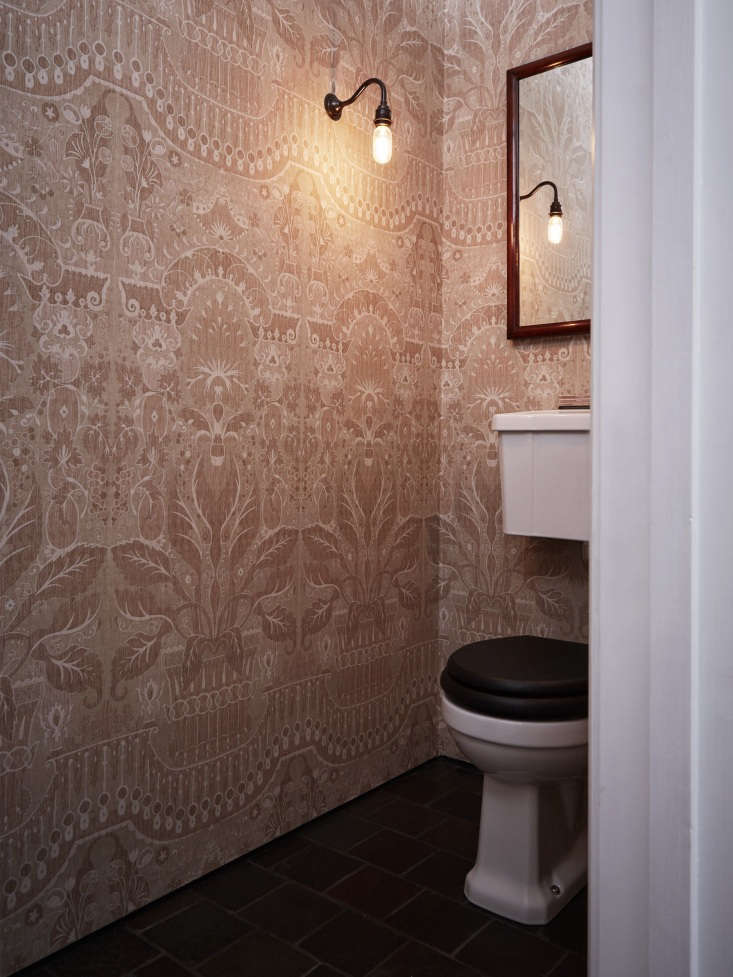 Here are two more Mark Lewis projects: