Like so many of us, Stephan Weishaupt considers real estate browsing a leisure sport. And so a few years ago, while on vacation in Miami Beach, he took up a friend's offer to show him a 1932 Art Deco villa the day before it was to go on the market. "I never had any intention of buying a place here," he told us. "But a few weeks later, I owned it."
Designed by local architect Martin L. Hampton—whose midcentury landmarks include Miami Beach's city hall and Miami's Congress Building—the house was "in a rather tired state and in bad need of a major update but had great charm," according to its new owner. Weishaupt, in turn, has his own charm to bring to the project: A contemporary design aficionado, he owns the furnishings showroom Avenue Road, which has locations in Toronto (Weishaupt's home base) and New York, and represents a who's who of international talents—Michael Anastassiades, Ted Muehling, Paola Navone, and Michaël Verheyden, to name but a few. And so after tackling the remodel with a series of contractors and crews, Weishaupt had more than a few friends to turn to for help accessorizing.
Photography by Richard Powers, unless noted.
Above: Weishaupt grew up in Munich amid contemporary design in his own home. After earning a degree in economics (with "a focus on logistics and supply-chain management") at the University of Applied Sciences in Munich, he worked in marketing for BMW before founding Avenue Road.
Of this project, he says: "There was the technical challenge of bringing a 1930s home to today's standards (which included high-efficient, hurricane-proof windows, LED lighting throughout, solar panels, and water-saving toilets). And on the décor side, I restored almost all the original Art Deco detailing, while also simplifying the floor plan to allow for slightly bigger rooms. I did most of the plans myself, but wasn't shy to ask for help when needed. Toronto architectural firm Mason Studio did the plans for the bathrooms, for example. And my friend George Yabu helped me with the bedroom layouts."
Above: Among the house's most compelling features are its newly preserved terrazzo floors and baseboards, layered in the living room with Kelly Wearstler's water-patterned Flaunt rug from the Rug Company. The space is anchored by a Vladimir Kagan Serpentine Sofa in coral velvet, a 1950 design still in production. "I wanted an organic shape floating in the space," says Weishaupt. "I think it goes nicely with the round window." Photograph by Max Zambelli.
Above: "I carefully restored the Art Deco features as the frame for my contemporary furniture and art," explains Weishaupt. Shown here, the living room and adjoining entry open to a period stair, fluted column, and scalloped moldings. The game table was custom made by ETEL of Brazil and is patterned after a mid-century mosaic by Brazilian artist Paulo Werneck.
Above: "The pattern on the floor needed to be a focal point of the house," says Weishaupt, who commissioned a yellow-glazed table from Tuscany-based ceramic artist Christiane Perrochon, and benches in brushed oak from Christophe Delcourt: "The warm gray tones were to be calming and to lend attention to the table. For this concept, Christophe and I sat together during one of my visits to Paris."
Above: Weishaupt bought this midcentury bar cart on a visit to Sao Paolo. The Jetson-esque chair is the Anel, a Ricardo Fasanello design from 1969, and the satin brass Abstract Wall light is by UK designer Chris Turner.
Above: "It was important to take some risks with color; this is Miami after all," says Weishaupt of his soft blue kitchen, a Massimo Castagna design from Rossana with bespoke elements (read about it in our spotlight on Italian Kitchen Systems). The island is clad in Caesarstone and the Wire Stools are by Dutch workshop Pastoe. And the glowing yellow Plexiglass display case? "Again, a daring addition—at night it casts a beautiful light in the space and sets the tone for entertaining."
Above: A ground floor guest room is now the office, done up in a color scheme inspired by a Trevor Paglen Drones series photo ("It's taken from a helicopter; the drone is only visible when you get up very close"). Weishaupt works at Christophe Delcourt's lacquered YBU table, and the lamp is Delcourt's BUL design of lacquered steel with a neoprene shade. The chair is the Jinbao Street, a Yabu Pushelberg piece for Avenue Road.
Above: The ethereal palette continues in the master bedroom, which has an upholstered bed made in Italy by Meridiani and Claudia Moreira Salles's Cantante Sconce of Brazilian hardwood. Photograph by Max Zambelli.
Above: "I requested a sofa that stretches from one corner to the opposite. It's a spot for reading and resting—perfect for an afternoon nap," says Weishaupt of the custom Christophe Delcourte design.
Above: "My guests come for a fun Miami experience, and I wanted to give them that environment—playful, not too serious," explains Weishaupt of the lilac-accented guest room with peacock rattan chair and vintage Pan Am poster. Photograph by Max Zambelli.
Above: Splashy marble alert in the master bath: Italian Rocky Mist meets the Agape Vieques Tub. "The contrast of the plain white against the busy marble makes it stand out like sculpture (and though the tub is a new design, it has an Art Deco reference); the white veining makes the two connect."
See more dramatic marble in 10 Favorites: Exotic Marble in Modern Spaces and 15 Top Interiors Trends.
Above: "The exterior needed a lot of repairs due to corrosion." New trees and plantings screen off the house from the street. Not visible: the solar panels on the roof: "They feed two batteries and allow the house to be energy self-sufficient."
Above: Rio Manso chairs by Brazilian designer Carlos Motta on a side deck. "I leave them out all year; I love the weathering of the wood." Photograph by Max Zambelli.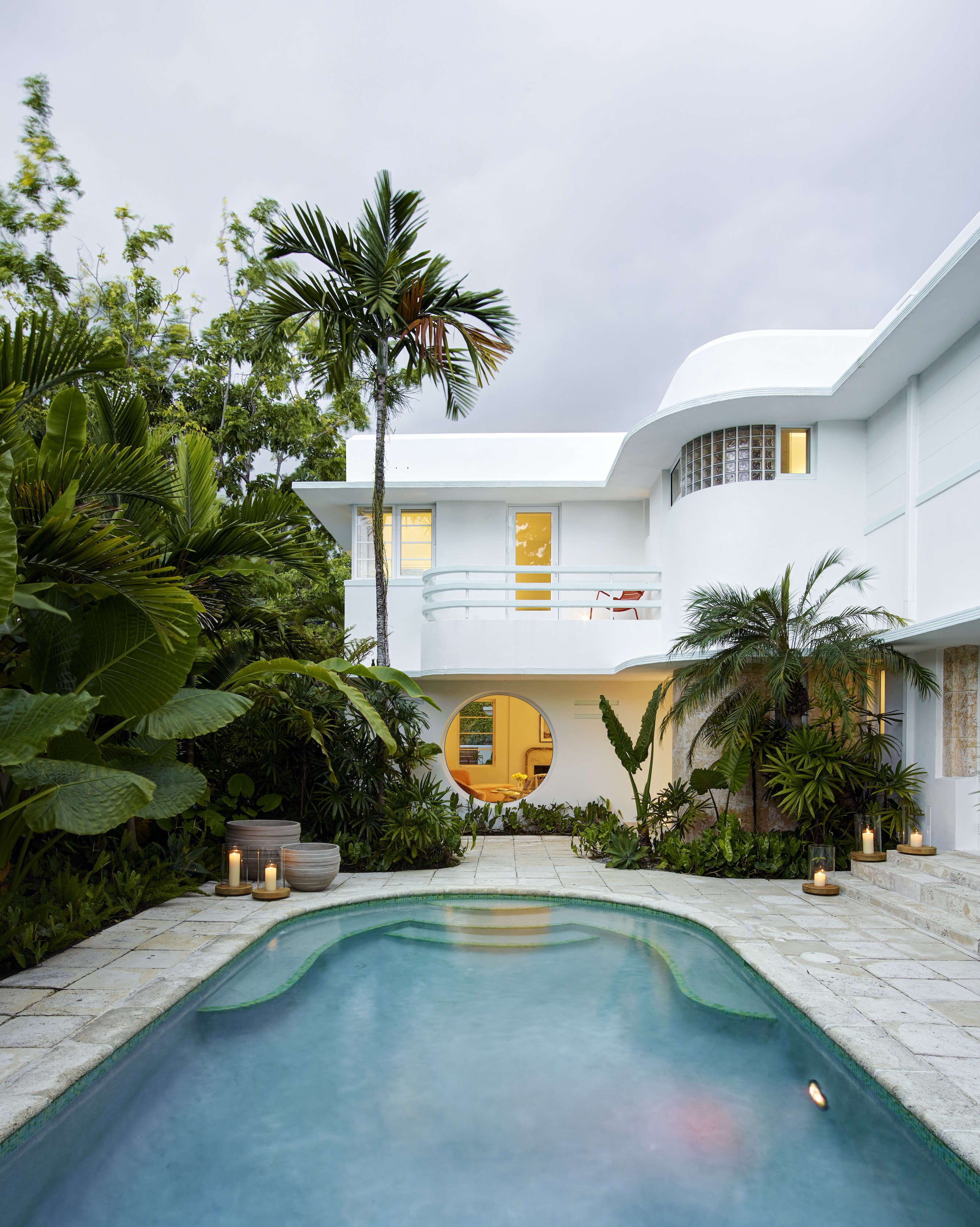 Above: The original Deco detailing extends to the pool—now lushly landscaped.
N.B.: Weishaupt's Avenue Road showrooms cater largely to design professionals but are open to the public.
For another masterful revival, take a look at Back to the Future: An Art Deco House in London.
(Visited 34 times, 1 visits today)