Here's a look at the latest modular kitchen systems from Italy: practical, precisely engineered, and, yes, pricey. The advantages? Modular systems offer the entire package, with an all-of-a-piece design so you don't have to cobble together elements from different sources (cabinets from here, counters from there). And most of the companies featured here have been in the business for decades and cater to a worldwide market. The drawbacks? You sacrifice a certain amount of aesthetic control, and most of these designs are pricey. Interested? Here are eight good examples of Italian kitchen ingenuity:
Alpes Inox
Above: Alpes Inox's freestanding, stainless-steel kitchen systems are multifunctional and made to come with you should you move–none are built-ins, so they can be rearranged as needed, and most designs are available on wheels. See Race-Car Style Appliances for Compact Kitchens.
Based in Bassano del Grappa, Italy, Alpes Inox is a family-run business; it's been fabricating kitchen equipment since 1954 using high-nickel stainless, which has a durable, bright, white shine. For more information and prices, see Alpes Inox, and contact Mr. Passalacqua in the company's export department at [email protected]
Arclinea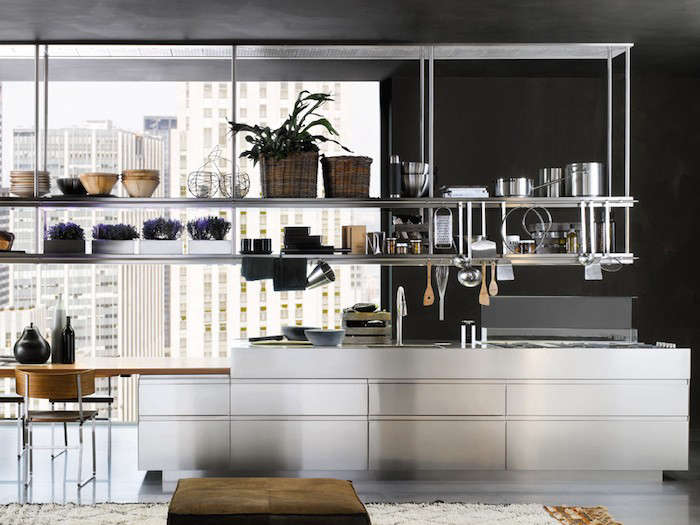 Above: Arclinea's Convivium Kitchen System is an open-living design, a "true center for rapport between the cook and the others." 
Arclinea was founded in 1925 in Caldogna, Italy, where it's still based. Since 1986, Italian architect and industrial designer Antonia Citterio has directed the company's designs. There are 13 Arclinea Distributors in North America, including Arclinea showrooms in San Francisco, New York, Chicago, Los Angeles, Miami, and Washington, DC. 
Boffi
Above: The Boffi Aprile Kitchen, designed by Piero Lissoni, integrates rustic materials in the design: Its cabinet doors are made using wood staves of varying widths and thicknesses. 
Situated north of Milan and in business since 1934, Boffi has a worldwide presence, including Boffi North American Studios in Washington, DC, New York, Miami, Chicago, Los Angeles, and San Francisco. In addition to kitchens, it offers bathrooms, storage systems, and a range of interior items, such as lamps. The company's long list of contributing designers ranges from Marcel Wanders to Claudio Silvestrin. 
Dada
Above: Dada's INDada Kitchen System, designed by Nicola Gallizia.
Above: Dada recently introduced the linear Vela Kitchen System.
The region around Milan is home to several notable kitchen system manufacturers, including Dada (which has been part of the high-end furnishings group Moldeni since 1980). Dada offers seven kitchen system designs, all of which are on view in the company's New York and Miami flagship stores, and at In-Ex in Los Angeles. 
Poliform
Above: Poliform's Artex Kitchen offers ample work surfaces.
Above: Storage details in a cabinet from Poliform.
Poliform started in 1942 with a focus on bookshelves, wardrobes, and other home furnishings. Situated in the Brianza region of Italy and still family-run, it added kitchens to its repertoire in 1996 through the acquisition of the Varenna brand and now offers nine kitchen system designs. Poliform's North America Network includes more than 40 dealers, and there are dedicated Poliform stores in San Francisco, Los Angeles, Chicago, New York, and Miami.
Rossana
Above: The TK38 Linear Kitchen was designed by architect Massimo Castagna is outfitted for professional-level cooking.
Rossana has been in the kitchen design business for more than half a century and has collaborated with big names like Michele De Lucchi, Rodolfo Dordoni, and Vincenzo De Cotiis (his burnished brass DC10 kitchen can be seen in the Milan apartment of Britt Moran and Emiliano Salci of Studio Dimore).
Schiffini
Above: The Cinqueterre, the first all-aluminum kitchen, was designed in 2000 by Vico Magistretti for Schiffini. Photograph via DesignSpace London.
Schiffini was established in the 1920s to supply nautical fittings to the Italian Navy dockyard in La Spezia and later specialized in the furnishings of military and civil ships. In the 1950s, Schiffini reoriented itself to kitchen furniture design, and claims to be the first Italian company to produce a series of modular offerings. Still located near La Spezia (think Italian Riviera), Schiffini is available in the US through McDuffee Design in Chicago.
Valcucine 
Above: The fully equipped back section of the Valcucine Logica System Kitchen comes in aluminum or stainless steel, and can be fitted against a wall or used in an island. Clutter averse? The unit can be fully enclosed with cabinet fronts. 
Above: The Sine Tempore system features a modern farmhouse spirit; see more at Modern Italian Rusticity from Valcucine.
The youngest of the Italian companies in our lineup, 35-year-old Valcucine is known for revolutionizing kitchen ergonomics with its 1996 Logica Kitchen (picture wall units with lift-up doors and cabinets with removable drawers). The Logica was updated recently and remains one of the more technologically advanced modular systems available. If you are looking for something with less drive, Valcucine offers several other kitchen systems, too. Valcucine US Dealers are located in New York, Minneapolis, Tulsa, Chicago, and Dallas.
Coming Soon
Above: Coming next? Binova is an Italian to watch. We're hoping its kitchens, including the Regula Ad design, shown here, will soon be available on the US market. 
For more on modular kitchens and kitchen cabinetry see: 
For more Italian kitchen design inspiration, see: 
You need to login or register to view and manage your bookmarks.