When it comes to washing machines, are we biased? Yes. In our opinion, front-loading washers are it. Here are our ten picks.
In the five years since we last reported on front-loading washers, manufacturers have tackled the one big issue that plagued the machines: mold and mildew from standing water. They took the issue head on and created anti-bacterial surfaces, improved water drainage, and developed automatic door-propping devices. With that issue fixed and entry-level pricing at more affordable levels, what is there not to like about front-loading washing machines? They offer superior cleaning with far less water than the best top-loaders. They accommodate larger loads and achieve better moisture extraction in the spin cycle, which means shorter (and less costly) drying times. And they can either be put side-by-side or stacked with a dryer to save space. 
We've researched the current market offerings of full-sized (typically 27-inches wide) washers and used reviews, personal experience, and consults with appliance repair and sales experts to narrow our picks. All the offerings are Energy Star certified, have stainless steel drums, glass doors, and can be installed side-by-side or stacked for flexibility. 
Have a front-loading washer you love? Share your experience in the comments below.
(OK, we admit it, there is a downside: having to stoop down to access the machine. An accessory worth considering is a laundry pedestal with a drawer that raises your washer off of the floor to eliminate stooping and provide storage space for detergents or other laundry tools.) 
Above: LG front loading machines have the best repair record on the market. The LG SteamWasher Series (WM2650HRA) offers a 3.6-cubic-foot capacity stainless drum, nine wash cycles, and a steam option. We like LG's door plunger feature that secures the door in a slightly open position when not in use to allow the interior to dry and stay mold and mildew free. The direct-drive motor has a 10-year warranty, and the drum carries a lifetime warranty. Available in white or cherry red as shown; $895.50 ($805.50 for the white) at AJ Madison.
Above: The entry-level LG Front Load Washer (WM2250CW) has nearly all the same features except steam. Its drum is slightly smaller (3.5 cubic feet) and it has seven wash cycles. And it has the direct-drive motor and LG's warranty of 10 years on the motor; lifetime on the drum; $715.50. Both at AJ Madison.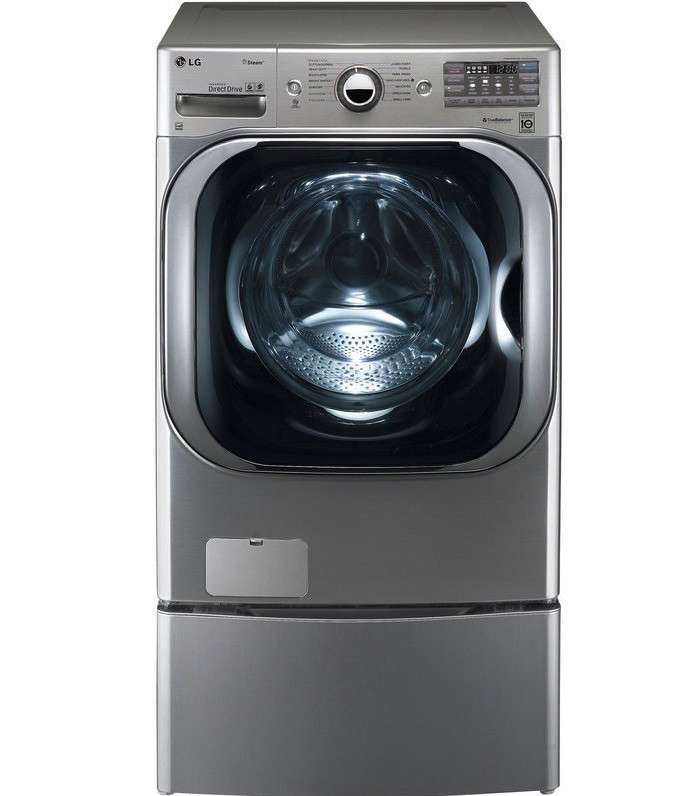 Above: What do you get with the top-of-the-line LG washer? The LG TurboWash Series (WM8000HVA) has the largest drum capacity on the market at 5.1 cubic feet. To get that capacity, the washer measures in at 29 inches, 2 inches wider than the standard washer size. It offers 14 wash programs, steam options, and a fast but effective cleaning cycle (LG claims it is 20 minutes faster than standard) that is super energy efficient. Available in white or graphite steel (as shown); $1,255 and $1,345 respectively at AJ Madison.
Above: The entry-level steam washer from Samsung offers eight wash cycles, including steam and sanitizing, an internal water heater for temperature control, and vibration reduction technology for super quiet operation. The Samsung Front Load Steam Washer (WF365BTBGWR) is $809 at Plessers.
Above: Samsung is known for pushing the technology envelope in the appliance department: case in point, the Smart Control app for the Samsung Front Load Washer (WF455ARGS), which allows you to monitor your laundry's progress from afar. The high-capacity (4.5 cubic feet) drum has a diamond-shaped drain holes to reduce fabric damage. Available in white or onyx; $1,169 and $1,259 respectively at Plessers.  
Above: The highly rated American-made Whirlpool Duet Steam Washer (WFW9750WW) offers a 3.9-cubic-foot capacity and 14 wash cycles, including steam and sanitizing. It offers temperature and load-size sensing technologies for efficient cleaning and water conservation $894.60 at AJ Madison. N.B.: See the Duet in Allison's Laundry Room.
Above: Also manufactured in Ohio by Whirlpool, the Maytag Maxima Series Front Load Washer (MHW6000AG) has a 4.3-cubic-foot capacity, a steam-for-stains option, and 11 wash cycles. Maytag has been working to repair its reputation and offers a 10-year warranty, a direct drive motor, and commercial grade parts. Available in white or granite; $984.60 and $1,074.60 at AJ Madison. Looking to buy "local"? See our round-up of American-Made Appliances.
Above: The Electrolux IQ-Touch Series (EIFLS55I) has a 4.07-cubic-foot capacity and a steam option among the 11 wash cycles. Its load balancing system means that it is especially quiet, a good choice if you need laundry near (or in) your bedroom; $899 in white and $1,073.70 in Mediterranean blue at AJ Madison.
Above: The GE Profile Front Load Steam Washer (PFWS4600LWW) offers 4.3 cubic feet of space and features like a Smart Dispense system, which holds up to six months of detergent and dispenses with each wash, plus an overnight cycle that washes and dries a small load in eight hours while you sleep; $1,409 (white) and $1,699 (champagne) at AJ Madison.
Above: The GE (GFWS260) Front Load Washer at 28vinches wide has a slightly broader girth than the standard. With that comes a 4.5-cubic-foot capacity, as well as steam and sanitizing cycles with 12 wash settings. Available in white, metallic, and red; $987.30 in white and $1,077.30 in the color options at AJ Madison.
No laundry room? See our ideas to Cleverly Camouflage the Washer/Dryer. 
You need to login or register to view and manage your bookmarks.