When it comes to rental appliances, we're partial to the European style of installing your own kitchen gear–investing in a good oven and refrigerator and taking it with you from one rental to the next. By that logic why not bring your own sink, cooktop, and counters with you too? Here are 10 recent finds in the area of modular kitchen workstations.
Above: Danish company Vipp makes an Island Module that can be assembled with various front cabinets, a sink, and gas burners in the worktop; $34,300 at Vipp.
Above: The March Work Table is built of white oak and steel and can be customized with leather accessory boxes, a wine rack, or an ash basket. The worktable is $15,180 with accompanying components starting at $900.
Above: German industrial designer Dirk Biotto's ChopChop is a well-thought-out storage kitchen worktop. Contact Dirk Biotto for more information.
Above: Boffi's Mini Kitchen Cart has a built-in mini refrigerator, storage compartments, and sockets for electical cords. Contact Boffi for retailer information.
Above: The Barnstaple Oak Kitchen Dresser is a mix of lacquer and oiled wood with three drawers and a cubby system for small items; £1,200 ($1,818) at Habitat.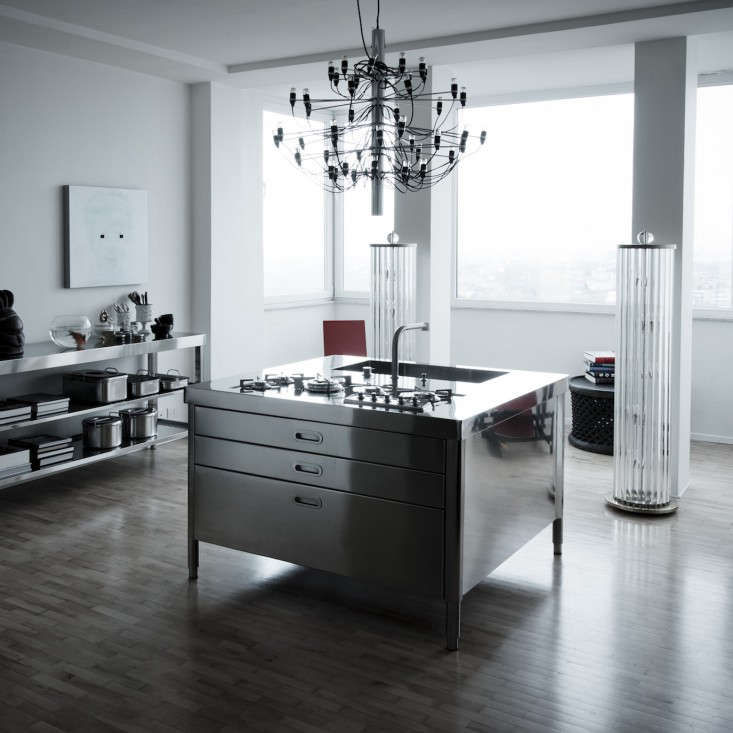 Above: A kitchen island from Alpes Inox features a five-burner gas cooktop, a sink, and drawers. Read more about it and more modular kitchen pieces at Race-Car-Style Appliances for Compact Kitchens.
Above: Katrin Arens, a German in Italy, designed a wooden kitchen workbench. Contact Katrin Arens directly for more information.
Above: Danish company CPH Square's Travel Kitchen in a range of colors and customizable styles. The workstation is on wheels but has all the necessary hookups. For pricing and information, contact CPH Square.
Above: The In-Vitto 120 Stainless Steel Kitchen by Metalco in Italy is a powder-coated kitchen trolley with a stainless steel sink and double burner cooktop. For pricing and shipping information, contact Metalco.
Above: From German kitchen design house Bulthaup, the b2 Workbench, a modular kitchen island with the option of including a cooktop, one of three widths of sinks, and a worktop. For more information, visit Bulthaup.
Above: Designed by Michelle Villa for Lgtek Outdoor, the Steel and Wood Outdoor Kitchen is best for in-between indoor/outdoor spaces or kitchens that open onto patios. For more information, visit Archiproducts.
For more modular kitchen ideas, see our posts:
You need to login or register to view and manage your bookmarks.