Salah Sfar, the founder of Tinja, worked in the Parisian art scene before starting Tinja. Her son, Zeineb Sfar, a fashion designer and colorist, and her daughter, Yasmine Sfar, an interior designer, have joined her in the family business celebrating their Tunisian heritage by offering contemporary interpretations of Tunisian-made handicrafts.
Above: The Tinja team also takes on interior design projects such as the Fondouk El Attarine in Tunisia.
Above: Tinja collaborates with local craftspeople to make its designs; the company offers seven product lines, each of which celebrates a specific material or technique. The Bâtons Bascule Armchair with a goatskin cover, shown, is part of Oud, a collection of olivewood furniture.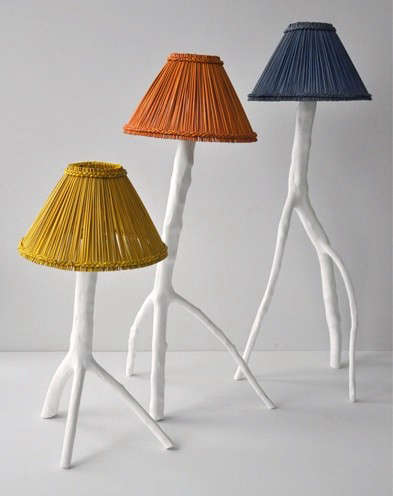 Above: The Big Branche Lamps have white painted wood bases and jaunty rush shades.
Above: Curtain Tiebacks are made of terracotta and rope.
Above: The terracotta Horizontal Stripes Pitcher is "made by women from Tunisia's northern regions who pass on the art of pottery making from mother to daughter."
Above: Maison Medium Lamps are made of rush with metal frames. Maison Table Lamps are also available.
Above: The White Teapot (also made in red, turquoise, and black with accompanying mugs) is part of the Fokhar line of brightly glazed ceramics.
Above: The Bâtons Hanger is made of olivewood. Tinja offers a group of natural wood bowls, cutting boards, and serving pieces (see Zitoun).
Tinja's designs are sold in the United States at Bergdorf Goodman, Calypso St. Barths, Hollyhock, and Dennis & Leen, and in Paris at Merci. Go to Tinja for more details and a list of vendors worldwide.
For more artisan-made designs, see:
(Visited 194 times, 1 visits today)