Scotti Sitz and John Davidson, the owners of Garde in LA, discovered textile collaborative Gruppo di Installazione a couple of years ago at Maison Objet. "We were walking through the exhibition halls, and we stopped in our tracks when we saw their work," John says. "Their work is both primitive and modern and has an entirely handmade look."
Founded by three young Italian fashion-world insiders, Samanta Mancone, Fabio Timodei, and Fabrizio Flaccomio, who share a passion for textiles and traditional folk craft, Gruppo di Insallazione makes handcrafted trousseau classics rooted in traditional design but with a contemporary, and decidedly artful, edge. The trio set up shop in an old factory in Abruzzo, in central Italy, where they employ century-old looms to create innovative, contemporary textiles. The work is available at Garde in LA (new pieces will be arriving soon).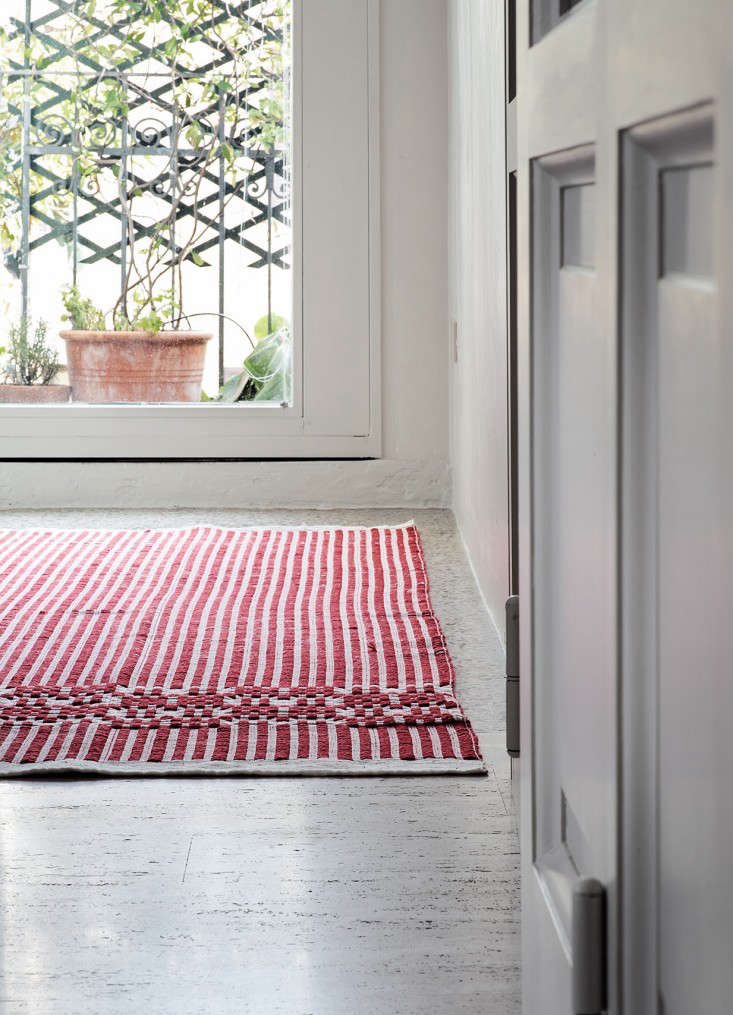 Above: Tappeto Calabrese rugs are woven from a combination of wool, cotton, and genesta, a now-rare vegetable fiber; $2,585 from Garde.
Above: The Coperta Italiana throw blanket, the company's "manifesto product," is made of taranta, a material traditionally used by Abruzzo shepherds to weave tabarri, cloaks worn while moving livestock between summer and winter pastures. It has "Coperta Italiana" embroidered on it in red.
Above: The linen and cotton Tovaglia Agugliata Tablecloth with needle-punch embroidered stripes is $499.95 (down from $980) at Anthropologie.
Above: The Plaid Agugliato II blanket is Italian lamb's wool woven on looms from the 1950s. Its stripes hearken back to traditional blankets but are made by the modern technique of needle-punch embroidery; $650.
Above: The Ready-to-Embroider linen tablecloth is a concept piece: Some of the embroidery is finished, while the remaining design is outlined in black, encouraging the new owner to complete the design; $795.
Above: The Ready-to-Embroider linen tablecloth.
To see traditional weaving and slow design on the domestic front, read our posts on Farm-to-Table Textiles from Voices of Industry and The Olli Lounger: Slow Design for the Modern World.  
(Visited 129 times, 1 visits today)