Zeroing in on the right faucet can be daunting–unless it's your job to do it regularly. A few weeks back we asked members of the Remodelista Architect/Designer Directory to fill us in on their favorite kitchen faucets. Our recent 10 Easy Pieces post presented Architects' Go-To Modern Kitchen Faucets. Here's the bookend: The experts' favorite bridge faucets, pot fillers, and other options for kitchens with more traditional sensibilities.
Note that the models singled out here are in most cases part of collections that include deck- and wall-mounted faucets as well as single- and two-hole options. So if a particular design doesn't meet your requirements, take a look at all the options.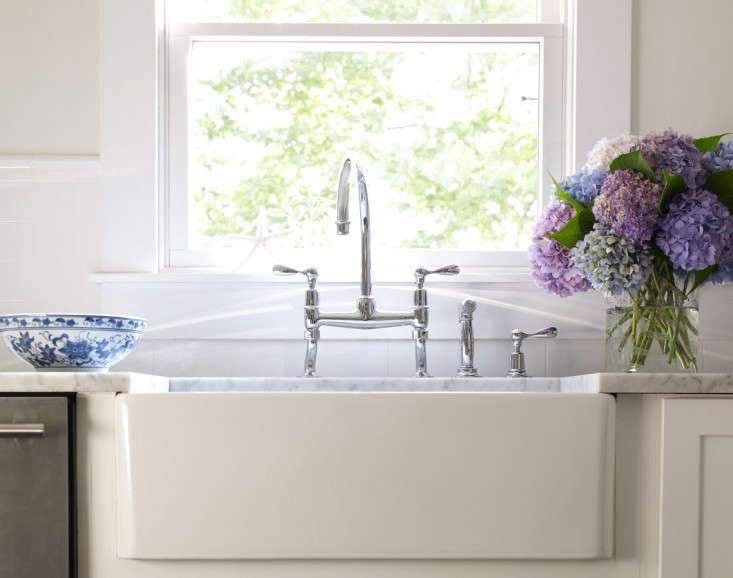 Above: The Waterworks Easton line is the hands-down traditional faucet favorite. NYC interior designer Bella Mancini used the Easton Classic Two Hole Bridge Gooseneck Faucet with Lever Handles (starting at $1,250 in chrome) in her Greenport, New York, beach house, shown here, and said the model is "a favorite that we've used time and time again." It's also the standard for Joe Williamson of Hollymount design/build in Upstate New York, who says: "We love its clean, classic lines and its versatility, especially since the handles come in different finishes."
Connecticut architect Rafe Churchill also singled out accessories, such as the Easton Vintage Spray with Metal Lever Handle; starting at $580 in chrome. And Chambers + Chambers Architects in Mill Valley, California, specifies the Easton Classic Wall-Mounted Extension Pot Filler with Metal Cross Handle; starting at $613 in chrome.
Above: LA interior designer Wendy Haworth installed the Rohl Perrin & Rowe Bridge Kitchen Faucet with Sidespray in her own home. So did Gardenista editor Michelle Slatalla in her Mill Valley remodel shown here. The faucet starts at $1,247.25 in chrome at Faucet Direct.
Above: For a San Francisco kitchen overhaul, interior designer Alison Davin of Jute chose the Quincy Deck-Mounted Bridge Faucet with Lever Handles by Kallista, calling it "a classic bridge faucet with a streamlined shape." Available in three finishes, it starts at $1,265 in chrome. For the rest of Davin's project, see Rehab Diary: A Small-Kitchen Makeover with Maximum Storage.
Above: Jayne Michaels of 2Michaels design in New York loves Chicago Faucets, a longstanding Remodelista favorite for both kitchens and baths. "The simple, timeless design can be used in both a traditional and modern setting," says Michaels, pointing to this Wall-Mounted Sink Faucet as an example.
Michaels also reminded us that Emerick Architects used a budget-friendly Chicago Faucet (shown here) stripped of its chrome in a Seaside, Oregon, project that was a finalist in the 2014 Remodelista Considered Design Awards. "Unable to find a budget-friendly, unlacquered brass faucet (who wants to spend $1,500 for a cabin?)," they said, "we instead used a trusty Chicago Faucet design in chrome and had the plating removed. The whole thing cost a tenth of the alternative."
Above: Star London chef Skye Gyngell has an Ionian Two Hole Sink Mixer Faucet with Crosshead Handles from Perrin & Rowe in her British Standard kitchen. Available in four finishes, the faucet starts at £328 ($516) in chrome, marked down from £386 ($607). See the rest of Gyngell's kitchen in Steal This Look: A Chef's State-of-the-Art Home Kitchen and her latest restaurant in Pretty in Pink: Spring at Somerset House.
Above: Krista Schrock of DISC Interiors in LA likes Waterworks' Henry One-Hole Gooseneck Faucet. She favors the unlquered brass finish: "It has a industrial elegance to it and works in many different kitchen styles." Shown here in nickel, the faucet is available in 13 finishes starting at $2,283 for chrome.
Above: After a long hunt for a faucet that wouldn't take months to arrive, architect Barbara Bestor and client Abby Weintraub chose the Axor Montreaux Widespread Bridge Faucet from Hansgrohe for Weintraub's LA overhaul shown here. The faucet is available on Amazon in three finishes starting at $910.47 for chrome. See the rest of the project in A New England Kitchen by Way of LA.
Above: Alice Park of Park McDonald in LA says,"For traditional homes, the faucet really depends on clients' taste–whether they want separate hot/cold handles, or single lever, wall-mount, a bridge faucet, etc. There are plenty of options, whereas for modern homes, it's pretty straightforward." When narrowing traditional faucet selections, she likes Lefroy Brooks' designs, such as the White Ceramic Lever Monobloc Mixer Faucet, shown here. It's available in four finishes starting at $983.25 in chrome from Plumb Tile.
Above: Park likes the Chesterfield Kitchen Bridge Faucet with Side Spray for a deck-mounted, two-handle version. Available in 27 finishes, it starts at $1,481 in chrome.
Above: Rohl is also a Park McDonald go-to, including the Country Kitchen Low-Lead Wall-Mounted Pot Filler Faucet, shown here; $219.75 from Faucet Direct.
Still haven't found the perfect one? Take a look at:
Finally, get more ideas on how to evaluate and choose your kitchen sink and faucet in our Remodeling 101 Guide: Kitchen Sinks & Faucets.
You need to login or register to view and manage your bookmarks.